The Chinese Communist Party (CCP) is preparing to commemorate the 70th anniversary of its takeover of China on October 1. 
In anticipation, the National Radio and Television Administration (NRTA), the state agency that supervises China's radio and television industries, published a rule on July 31, requesting that all television channels in China broadcast so-called "red drama" programs that praise the Party.
The agency released a list of 86 TV drama programs which television channels must broadcast in the next 100 days, explaining that it's a priority that broadcasters are "politically right." 
Directive
The NRTA requested that all broadcasters "must not broadcast any historical dramas or idol dramas"—referring to soap operas that are set in ancient China or feature young popular celebrities—in the following 100 days.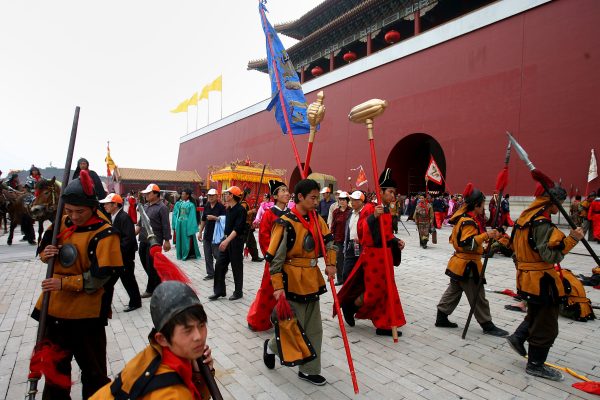 Broadcasters should instead pick dramas similar in style to the approved list, "with a clear theme… that focuses on the different glorious, fighting phases in which Chinese people stood up, became rich, and became strong."
Programs on the list, produced in 2018 and 2019, include "Lovely China," a biographical retelling of the life of former CCP senior official Fang Zhimin, who led villagers to fight the Kuomintang government during China's civil war of the 1920s and 1930s; and "Great Turn," a retelling of how former CCP leader Mao Zedong led armed soldiers to defeat the Kuomintang and win the civil war.
Other dramas, like "Diplomatic Events," casts the Chinese regime as internationally respected. That television series depicts former Party leaders Mao, Zhou Enlai, Deng Xiaoping, and Chen Yi as skillful diplomats who won great honor for the Party.
A number of Chinese and Taiwanese media also reported on Aug. 1 that the Chinese regime has pulled six films that were slated for screening this summer. They include "Eight Hundred," a dramatic portrayal of how 800 Kuomintang soldiers defended the country against the Japanese army's invasion in 1937; and "The Legend of Guan Gong," about the eponymous general (160-220 AD) from China's Three Kingdoms period. In modern times, he is often worshipped as a deity. The film may have upset the Party's atheist tendencies.
Commentaries
China observers say that censorship has been on the uptick as this year coincides with sensitive timings, such as the 30th anniversary of the Tiananmen Square Massacre.
"The decline of the Chinese economy is another important reason," commentator Li Jiabao told Radio Free Asia on Aug. 1, noting that the regime is concerned that economic woes could cause citizens to express dissent against the Party's rule.