China Reports Bird Flu Outbreak in Inner Mongolia
October 19, 2005 12:00 am Last Updated: October 19, 2005 12:00 am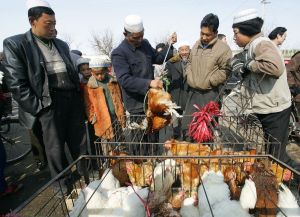 BEIJING – Bird flu has killed at least 2,600 birds at a poultry farm in China&#039s northern region of Inner Mongolia and the outbreak has since been brought under control, news reports said on Wednesday.
The birds were killed by the H5N1 strain, which can be fatal to humans, near the regional capital of Hohhot, the report said, citing information from China&#039s Agriculture Ministry.
The report said the outbreak had been contained, without mentioning any human infections or when the outbreak was discovered.
The Health Ministry said it had not heard of any human infections. Scientists fear H5N1, which emerged in Hong Kong in 1997 and has infected 117 people in four countries and killed 60, could mutate into a form easily transmitable among humans and spark a global pandemic.
Only a Matter of Time
The World Health Organisation has said that the strain is endemic in poultry in China and across much of Asia, meaning it may only be a matter of time before it develops the ability to pass easily from human to human.
China neighbours Vietnam, where the H5N1 strain has killed 37 people, and hosts sections of three global migration routes for migratory birds. It also has the second largest domestic poultry industry in the world.
China reported two outbreaks in far-flung western regions of Qinghai and Xinjiang earlier this year.
But it was also widely criticised for trying to cover up the outbreak of SARS, which emerged in southern China in 2003 and spread around the world, infecting 8,000 people and killing 800.