The Russia-Ukraine war has brought significant constraints to the global energy supply as many countries have long depended on Russian exports of coal, oil, and gas.
On April 26, China's Ministry of Finance announced it would remove import tariffs for all types of coal, starting from May 1 to March 31, 2023. Analysts believe that this policy change may largely benefit Russia as the European Union and Japan have recently moved to ban coal imports from the country.
The current import tariffs range from 3 percent to 6 percent, depending on coal type. For anthracite and coking coal, primarily used in steelmaking, tariffs will be cut to zero from the current 3 percent. The rates for various types of coal will be cut down to zero from the current 5 percent to 6 percent, the ministry said in a statement.
Chinese coal mines have accelerated production due to the soaring global energy prices following the Russia-Ukraine conflict. China's major coal-producing provinces and regions have expanded their production capacity to increase supply, according to its National Statistics Bureau.
In 2021, China imported 323.33 million tons of coal, about 8 percent of its total coal consumption. However, its coal imports are down 24.2 percent through the end of March this year as global prices have soared, the bureau said.
In April, the United States, the EU, Japan, and others have moved to ban Russian coal, further exacerbating the tight supply in the global coal market.
On April 8, the EU adopted its fifth package of restrictive measures against Moscow, which includes an import ban on all forms of Russian coal given a 120-day buffer period. Additionally, Russian and Belarusian freight road operators will also be banned from working in the EU, and Russian-flagged vessels will be prohibited from entering EU ports.
Immediately following the new EU measures, the United States and Japan, among others, also announced bans on Russian coal. As finding alternative coal sources has become a top priority, countries worldwide have rushed to purchase the material.
According to data from European shipping firm Braemar ACM, in March, Europe imported 7.1 million tons of thermal coal used for power generation and heating, up 40.5 percent year on year, the highest level since March 2019, CNBC reported. Thermal coal imports from Colombia were up 47.3 percent year on year, the United States up 30.3 percent, and imports from South Africa also increased significantly among them.
Meanwhile, in March, Japan's coal imports were also up 15 percent from a year earlier.
China's Strategy to Cope With Surging Coal Prices
On April 18, China's National Development and Reform Commission warned that "it would be illegal to drive up prices in the coal sector," emphasizing the need to ensure price stability in the domestic coal market and stable output of coal-fired power.
A week later, Beijing announced cutting coal import tariffs to zero.
A macroeconomics researcher at China Economic Information Network, Tian Shuo, told Chinese state-run media Sina News that the zero-tariff policy would ensure that China's energy supply remains stable amid the historic high coal prices.
The top sources for China's coal imports in 2021 included Indonesia, Russia, Mongolia, the United States, Canada, and South Africa.
Australia was China's largest source of imported coal until 2019. In retaliation against Australia on several issues—ranging from Australia's call for an international investigation into the origins of COVID-19 to the decision to block Huawei from Australia's 5G network rollout—Beijing effectively all but banned coal imports from Australia as of December 2020 as part of its efforts to pressure Canberra.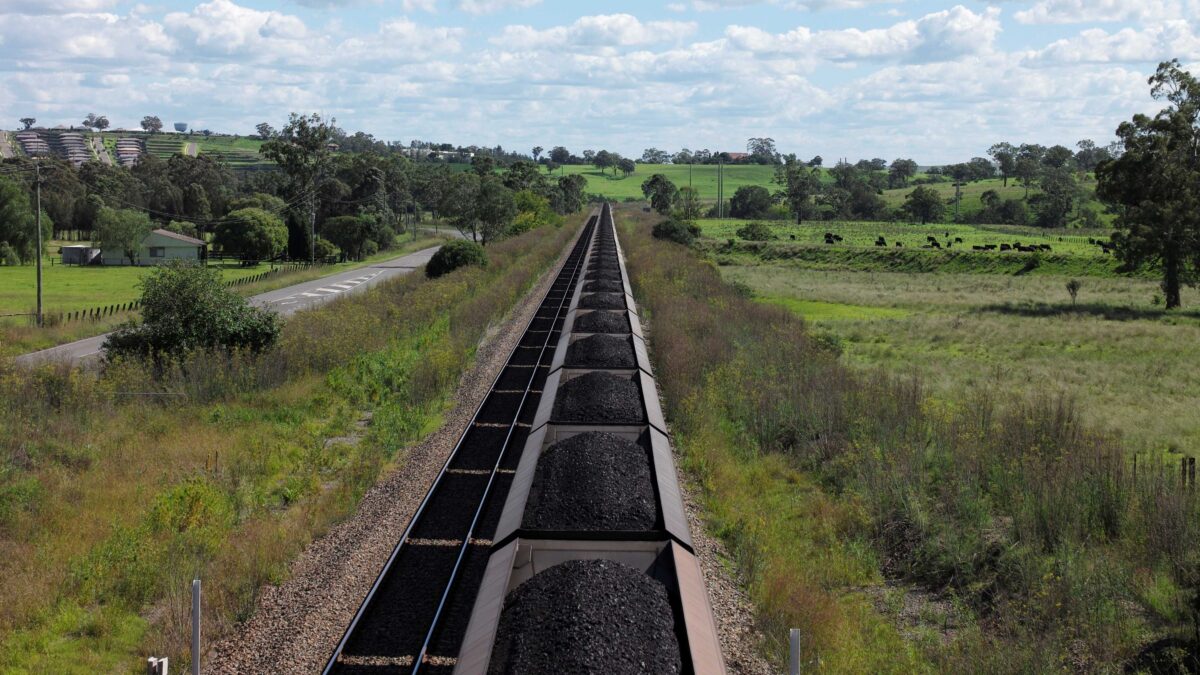 Indonesia has since become China's largest source of coal imports.
However, China turned to stranded Australian coal amid a power crunch nearly a year later. In October 2021, it released Australian coal from bonded storage despite a nearly year-long unofficial import ban on the fuel as it scrambles to ease a national power crunch stemming from a coal shortage, Reuters reported.
According to official customs data, China imported 8.5 million tons of coking coal in the first two months of this year, one-fifth of which came from the Australian coal previously stranded in Chinese ports. Among the 8.5 million coking coal imports, 26 percent came from the United States and 22 percent from Russia. Due to the pandemic, coking coal imports from Mongolia had decreased significantly, only accounting for about 13 percent.
Meanwhile, according to Sina News, Indonesia suspended its coal exports in January due to persistent rainfall, resulting in a 25 percent year-on-year reduction in China's thermal coal imports in the first two months of this year.
"The tariff cuts will make no difference to Indonesian coal imports, as the tariff rates have been at zero, and no impacts on Australian coal due to imports ban," a Beijing-based coal trader told Reuters in an April 28 report.
Analysts: Russia Is Likely the Main Beneficiary
The report suggested that Russia is likely the main beneficiary of the Chinese tariff cuts.
"I think this is a bold move, mainly to secure more coal from Russia, which is in decent discounts. But as far as prices are concerned, they will likely remain high given the volatility in the markets across the world," an India-based trader told S&P Global in an April 28 report.
Following Europe's announcement of a coal ban on Russia, Kremlin spokesperson Dmitry Peskov said on April 29 that coal was in high demand and that Russian coal earmarked for Europe would be redirected to other markets if the EU refused it, Reuters reported. But Peskov did not mention a specific country for export.
In 2021, Russia exported 262 million tons of coal, 90 percent of which is thermal coal, primarily used to generate power, according to the U.S. Energy Information Administration (EIA). Of the total coal exports, more than 30 percent went to Europe, and more than 50 percent went to the Asia-Pacific region.
China imported nearly 25 percent of Russia's total coal exports; Germany, the Netherlands, Turkey, and Poland accounted for 24 percent; South Korea, Japan, and Taiwan accounted for 22 percent, according to EIA data.
In early February, China and Russia signed a yearslong deal, a $20 billion contract for China to import 100 million tons of coal from Russia.
As Western nations condemn Russia's invasion of Ukraine, Beijing has refrained from directly criticizing Moscow and continued allowing Chinese firms to buy Russian oil and coal. Several Chinese firms used local currency to buy Russian coal in March, with the first cargoes arriving in April, according to a Bloomberg report citing Chinese consultancy Fenwei Energy Information Service Co.
The Chinese state-run Global Times touted a 28 percent year-on-year surge in China-Russia trade in the first quarter, reaching a trading volume of $38.2 billion.
Bai Ming, a deputy director at the Chinese Academy of International Trade and Economic Cooperation, told the Global Times on April 13 that the growth is in line with the recent trend of China importing more energy products from Russia to form multiple energy import channels.
"With energy pipelines being built between the two countries as well as geological convenience, it's a trend that China would buy more energy products from Russia," Bai said.
New China-Russia Railway to Be Open for Energy Trade
China had been importing Russian energy products from its eastern ports via the Sea of ​​Japan and the Korean Strait.
However, amid Western sanctions on Russia, international shipping companies have avoided shipping Russian energy products, resulting in Chinese coal importers struggling to find cargo ships willing to transport Russian coal. And only a small portion of Russian coal was transported via railway.
According to Chinese state-run media Global Times, Russia completed the construction of its section of the first China-Russia railway bridge on April 27 and is expected to open within a month.
The new 4.5 mile-long bridge is intended to expand the bilateral trade and economic cooperation between China and Russia "against a backdrop of growing global challenges," the report said, adding that Russia plans to utilize it for exporting iron ore, coal, minerals, fertilizer, and wood products to China.
Reuters contributed to this report.