China's health officials on Dec. 7 issued new national guidelines to ease strict COVID-19 measures, following protests that erupted across the country late last month. Residents welcomed the news as cities gradually return to normalcy.
The relaxation of COVID-19 measures—such as allowing infected people with mild or no symptoms to quarantine at home and dropping testing for those traveling within the country—marked the most significant changes since Beijing first implemented the draconian zero-COVID policy three years ago. The measures have inflicted pain on tens of millions of people, dragged down China's economy, and isolated the nation from the world.
The 10 new guidelines released by the National Health Commission (NHC) came after several Chinese cities and regions relaxed the restrictions at different levels following the boldest street protests the country has seen in decades.
The Dec. 7 announcement quickly soared to the top most viewed topic on Weibo, a Twitter-like social media platform, with residents cheering the prospect of returning to normality after sporadic lockdowns during the past three years upended daily life and brought hardship to many, including deprivation of access to health care and even death from harsh quarantine conditions.
"It finally comes. Life has been so hard in the last three years," a Weibo user wrote.
Foreign business communities also welcomed the move and expect Beijing to further reopen China's borders and drop travel restrictions.
Mi Feng, a spokesperson for the NHC, said at a press conference that any changes to measures regarding travel would be "gradual."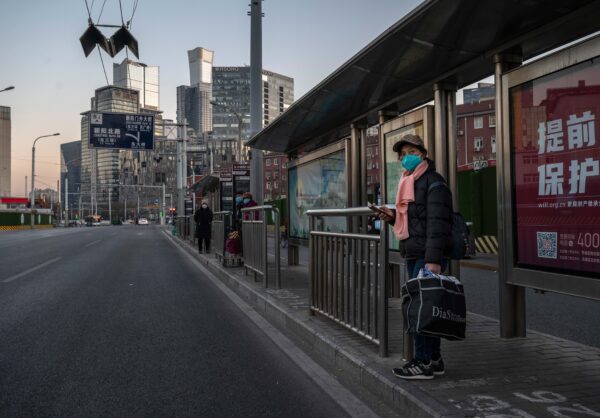 Details of the Changes
The NHC relaxed rules regarding quarantine, travel restrictions, lockdowns, and mandatory testing. The scale and frequency of mass testing are required to be scaled down. Authorities said administrative regions couldn't carry out mass COVID-19 testing.
Under the new guidelines, authorities no longer require people to present negative results or a green health code, except in places such as nursing and welfare homes, medical institutions, child care centers, and primary and middle schools.
The health code is a color-based QR code system for authorities to trace close contacts and control people's movements. Utilizing big data and mobile technology, the regime assigns citizens three codes on their mobile phones, including a health code, a vaccination code, and an itinerary code.
Previously, a green code was essential for tens of millions of people to take buses, enter workplaces and supermarkets, or even use public toilets. Losing a green code meant the carrier lost access to almost everywhere.
The NHC also banned local officials from designating large areas, such as entire residential compounds and communities, as high-risk.
Other measures include increasing the vaccination rate of the elderly, requiring universities without outbreaks to remain open, and demanding the timely release of residents in high-risk areas if there have been no new infections for five consecutive days.

Officials didn't link any of the changes to the recent nationwide protests.
At the end of last month, protests swept through the country. From Beijing to the remote county of Korla, demonstrators were seen chanting slogans while pushing back against the regime's stringent COVID-19 curbs and demanding freedom. In Shanghai, residents directed their anger toward the Chinese Communist Party (CCP) and its top leader, Xi Jinping, calling for them to step down.
Several demonstrators were reportedly detained after the protests. Leaked directives indicate that the regime initiated the highest level of censorship.
China's state media has remained silent on the unprecedented demonstrations.
The outpouring of anger was triggered by a deadly blaze on the eve of Nov. 24 in Urumqi, the capital city of Xinjiang province, where parts of the region have been under lockdown for more than three months. Online posts on the country's social media and Chinese residents blamed the strict COVID-19 curbs for at least 10 deaths, saying the restrictions hampered escape from the burning high-rise apartment and delayed rescue efforts, an accusation local officials denied.
The announcement thrilled many working and studying thousands of miles away from their hometowns. Among the top trending items on Weibo on Dec. 7 were residents asking if they could return home this Lunar New Year, which falls on Jan. 22, 2023.
Over the past three years, many Chinese cities urged their residents to stay put during the New Year holiday, citing concerns about possible COVID-19 outbreaks during the peak travel season. Residents had no choice but to cancel their plans to meet with their families.
Reuters contributed to this report.