News Analysis
President Joe Biden recently reached out to Chinese leader Xi Jinping, asking him to join with U.S. allies in releasing oil reserves, in order to fill a shortage, bring down prices, and challenge OPEC's influence on the global economy. So far, Xi has refused.
Oil demand slumped during the lockdowns of 2020, but has returned this year. OPEC (the Organization of the Petroleum Exporting Countries), however, is not producing enough oil, causing shortages and driving up prices. Crude oil prices are up by 50 percent compared to last year. At U.S. gas stations, prices are up 60 percent year-on-year, hitting a seven-year high. And inflation is trending steadily upwards, as the prices of nearly all products and services are dependent on the price of fuel. In China, fuel shortages are causing a decrease in manufacturing, dragging down GDP growth, and sparking fears about the coming winter.
The United States and China combined consume about one-third of the oil sold globally. China is the world's largest importer of oil, while the United States is number two. China obtains 58 percent of its oil from five countries: Saudi Arabia, Russia, Iraq, Angola, and Brazil. Most of the rest comes from nine Middle Eastern nations, including Saudi Arabia and Egypt. The United States is less dependent on OPEC than it was in previous decades, and imports about 19 percent of its oil, more than half of which comes from Canada.
OPEC members include Algeria, Angola, Equatorial Guinea, Gabon, Iran, Iraq, Kuwait, Libya, Nigeria, the Republic of the Congo, Saudi Arabia, the United Arab Emirates, and Venezuela. Some of the OPEC members are U.S. allies, such as Saudi Arabia, but others are not, including Russia and Venezuela. Those nations ignored U.S. demands that the supply of oil be significantly increased.
OPEC agreed to step up production, but oil-consuming nations have complained that the level will not be high enough to satisfy demand. Paris-based watchdog, the International Energy Agency (IEA), stated that some oil producers have been keeping the supply artificially tight. Fatih Birol, executive director of the IEA, remarked that he wished OPEC would address the "artificial supply gap" and bring down prices.
The United States, along with several allied nations such as India, Japan, Britain, and South Korea, have agreed to tap their own oil reserves in a bid to drive down the price. China has not committed to participate. Instead, the Chinese Communist Party (CCP) said that it would withdraw petrol according to domestic needs.
The coordinated release of oil reserves was meant to be a warning to OPEC members that they need to increase production and cut prices. In response, OPEC members said that they would make a decision at their Dec. 2 meeting.
The United States has agreed to free up 50 million barrels from its Strategic Petroleum Reserve (SPR) to fulfil pre-approved sales. The United States has also committed to extending loans to other consumer nations. Goldman Sachs has called the U.S. action "a drop in the ocean," as 50 million barrels is equal to about two and a half days of U.S. demand. After the U.S. announcement, oil prices remained high, at $80 per barrel.
The United States is actually capable of fulfilling its own oil needs without imports. In fact, the United States is not only the world's second largest importer, but also the world's largest exporter of oil. This is largely due to a spike in shale production and Trump-era policies pushing for oil independence. Unfortunately, the Biden administration may end the U.S. reign as the top oil exporter.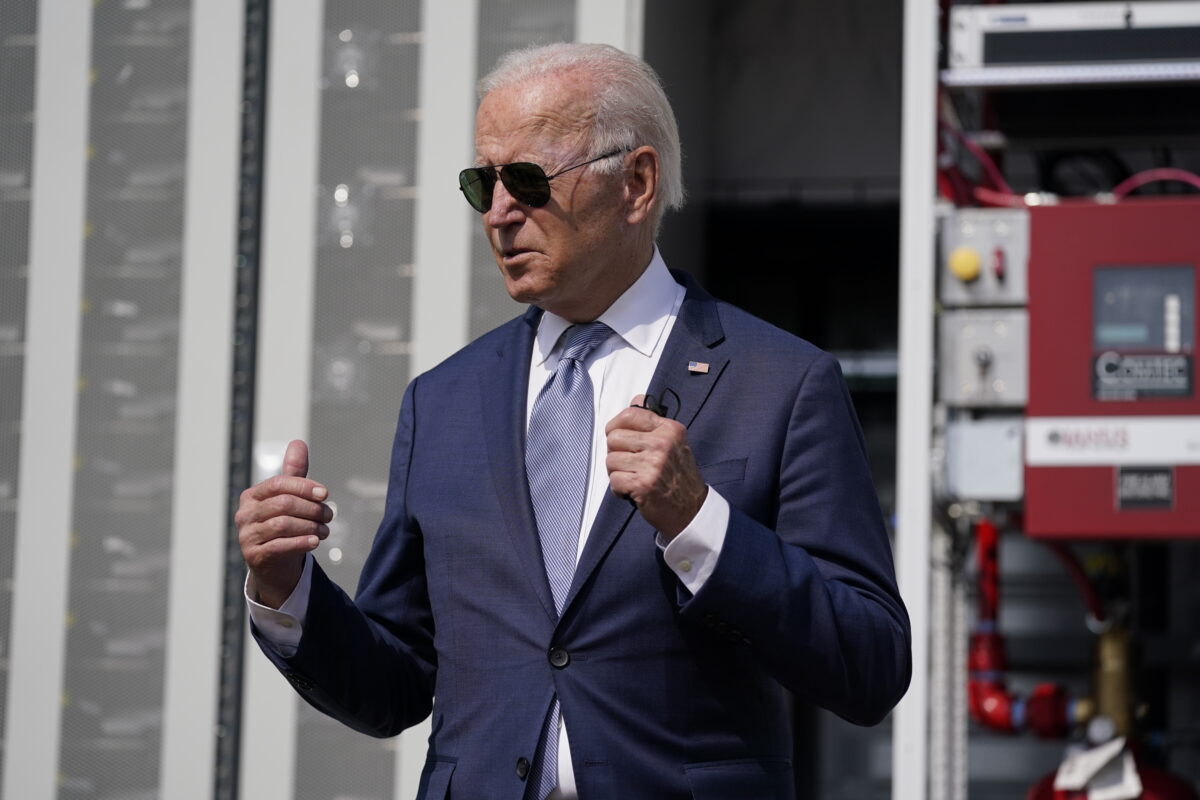 While OPEC is taking the blame for the increasing petrol prices in the United States, another significant cause for the high prices is decreased U.S. production. Almost immediately after taking office, Biden shut down the Keystone XL pipeline. Recently, he stated that he is considering killing another pipeline in Michigan.
Ironically, most of the oil taken from U.S. reserves will be exported, and the two biggest destinations will be India and China. This is because the oil the United States is releasing is sour crude, a type of oil that has a high sulfur content and is very expensive to process. U.S. refiners steer away from sour crude, but India and China are willing to use it. The two countries have been buying sour crude, from the U.S. SPR reserves for some time.
Beijing agreed to work with the Biden administration on climate issues, but it remains to be seen if the CCP will renege. Xi also agreed to meet the terms of the Trump administration's phase one trade deal, but then failed to comply with the agreements. Coordinating on the release of oil reserves, to counter OPEC, would have been one way for Beijing to work with Washington and reduce tension between both countries. Instead, Xi has decided not to join the world community on this one.
China is dependent on energy imports and has been importing increasing volumes of U.S. oil and liquid natural gas (LNG). One way to balance trade with America would be for China to buy a larger percentage of their energy from the United States. So far, the CCP does not seem amenable to doing this, which suggests that it would rather let Chinese citizens suffer under energy shortages and high prices, than make good on a promise to the United States.
In the end, OPEC responded to U.S. pressure. After the meeting on Dec. 2, it announced that its members and oil-producing allies will increase oil production by 400,0000 barrels per day in January. This incident makes several points clear. First, despite claims by the CCP that America is a failing power, U.S.-led global initiatives carry weight and they succeed. Second, the Chinese regime is not a reliable partner. Furthermore, for all of Xi's talk of "common prosperity" and international cooperation, Xi has demonstrated that he has no real interest in joining and helping the world community.
Views expressed in this article are the opinions of the author and do not necessarily reflect the views of The Epoch Times.