China Ranked As One of the Highest In Birth Defects
July 21, 2006 12:00 am Last Updated: July 21, 2006 12:00 am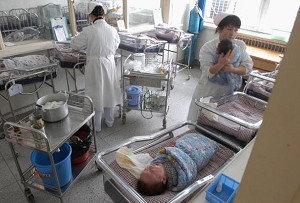 From the OSF Healthcare Website: "Neural tube defects (NTDs) are serious birth defects with symptoms that range from mild to severe impairment. They are caused by incomplete development of the brain, spinal cord and/or their protective coverings. This occurs when the fetus' spine fails to close properly during the early stages of pregnancy. The Spina Bifida Association of America (SBAA) says spina bifida is the most common NTD."
According to China's population and family planning science and technology meeting, the latest figures show that China has a high rate of birth defects. Out of 30 million births each year, between four and six percent of children are born with abnormalities. Neural tube defects rank the 3rd highest amongst all nations.
According to the Information Times, China has high birth defects. In China, there is one birth defect every 30 seconds, one out of every 1.2 million children are born with birth defects annually, and the number one abnormality is neural tube defects.
During a recent academic meeting regarding "folic acid and prevention of birth defects" in Guangzhou, experts proclaimed that women of childbearing age should have sufficient intake of folic acid before pregnancy to prevent neural tube defects.
Current Medical research has proven that insufficient folic acid can lead to neural tube defects. "However, taking folic acid supplements during pregnancy may be too late!"
The experts suggest the daily intake of folic acid for women of childbearing age should not be less than 400 micrograms, and pregnant and lactating women should take no less than 600 micrograms. Natural folic acid can be found in food items such as bread, noodles, rice and flour, cereal, cattle liver and orange juice.
Tests indicate that 50-90 percent of folic acid is lost during cooking. Therefore, experts recommend taking folic acid supplements and folic acid fortified formula before and during early pregnancy to maintain daily requirements.