Commentary
If there were ever any doubts about how China will comport itself as a superpower, there are fewer today than there were yesterday. This week, in a televised interview with an apparent spokesman for the Chinese regime, the world learned that Australia will be considered a valid target of nuclear weapons if it acquires nuclear-powered submarines.
The Aussies are not considering acquiring submarines that are nuclear armed, mind you, just nuclear powered. There's a big difference between the two, of course, but not as far as China is concerned.
A Naked Nuclear Threat
On Sept. 20, Beijing-based Victor Gao, vice president of the Center for China and Globalization, told an Australian interviewer that, " … if the Australian government wants to … go nuclear, with nuclear submarines, they will lose that privilege of not being targeted with nuclear warheads going forward. It's as simple as that … this is the most profound consequence."
Undoubtedly, Gao spoke with the approval of the Chinese Communist Party's (CCP) top leadership, making their point by way of posing the following question to the Australian government and people: "Do you really want to be a target in a possible nuclear war? Or do you want to be free from the 'nuclear menace' going forward?"
That's quite an ultimatum.
Why would Beijing convey such an unprecedented and naked threat of a potential nuclear attack against Australia, one of their key trading partners that poses no offensive military threat?
And why now?
Timing Is Everything
The timing isn't as poor as one might think.
Yes, in the economic sphere, trade is booming between the two nations. Even with Beijing's boycott of Aussie wine, and other goods, Australia exported more than $16 billion to China in July 2021, a new record.
But in August, the Australian Chamber of Commerce and Industry reported that Aussie exporters are seeking to pivot away from China because maintaining normal business operations with Asia's biggest economy is "impossible." Trade frictions have driven Australia to look for substitute markets in other parts of Asia, angering China, which relies heavily on Aussie iron ore imports.
Geopolitically, Beijing's strategy is intended to accomplish several objectives, and timing plays a significant role in this provocative new policy.
First and foremost, the CCP wants to minimize American power and influence in the region. That involves bullying Australia, and by extension New Zealand, in an attempt to isolate them from the U.S. and the UK alliance.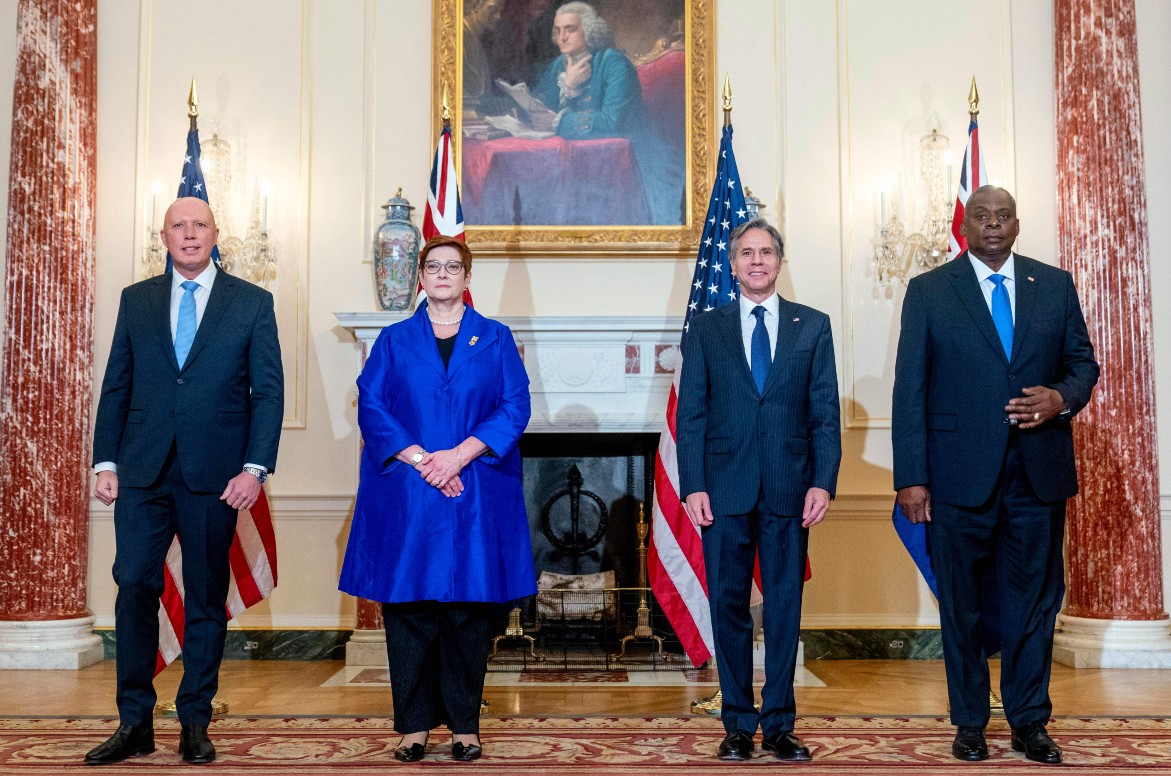 The thinking in Beijing is likely that American security guarantees are less certain today than they were in the past. The disastrous American withdrawal in Afghanistan and the defunding of Israel's critical anti-missile defense Iron Dome system this week make the United States appear weak and unreliable.
And of course, North Korea's resumption of nuclear weapons production without U.S. reaction is a stark change from the prior U.S. administration. Passivity in the face of aggression only reinforces the perception of weakness. In the minds of our South Korean and Japanese allies, they may be concluding that the United States has no plan or will to confront North Korea, which acts as China's belligerent surrogate.
Therefore, the CCP may have decided that now is the perfect time to exploit that weakness.
A Test of Wills
Furthermore, China nuclear policy/threat may be intended to test the Australian government's political will, and it's likely designed to stir up public opinion against the nuclearization of the region. But so far, Australia hasn't shown anything but resolve with regard to sticking with the AUKUS pact, and no anti-nuclear groundswell of public opinion has occurred … yet.
Regardless of any or all of these factors, Australia has a shared cultural and political heritage with the United States and the United Kingdom that is not likely to be breached. It is a founding member of the Commonwealth for over 70 years, an organization dedicated to democracy, human rights, and good governance. It has also been a part of "Five Eyes"—the intelligence-sharing relationship among the United States, the UK, Canada, Australia, and New Zealand—since 1956.
It's unrealistic for China to think it can convince Australia to spurn its history for the oppression that the CCP brings to the table.
A New Confrontational Era Has Begun
But what Beijing's ham-handed nuclear target pronouncement does do is send the entire regional security thinking and dialogue into a much riskier context. China is no longer behaving in a more or less patient manner, as it has done so in the past. There may be reasons for this such as a weak economy and the loss of soft power around the world. Whatever the cause, Beijing is acting in the way that nations do when they have aggression at the forefront of their policies and the military power to back it up.
What's more, the CCP is used to ruling by diktat and brute force, and its diplomacy reflects this. Thus, by openly putting nuclear attack threat into the diplomatic lexicon, Beijing has left much less room on the table for diplomatic nuance and compromise. In any case, diplomatic impatience is often a trait demonstrated by nations under one-man rule, whose power, by default, has a limited lifespan, making time of the essence.
The world just became a lot more dangerous.
Views expressed in this article are the opinions of the author and do not necessarily reflect the views of The Epoch Times.