China Plans to Extend Qinghai-Tibet Railway to South Asia
September 11, 2006 12:00 am Last Updated: September 11, 2006 12:00 am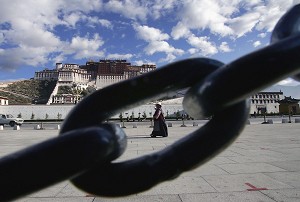 TAIPEI – When China completes its eleventh "Five Year Plan" in 2010, the Qinghai-Tibet Railway will be extended to south Asia, said Yang Haibin, the Vice Chairman of China's Tibet Autonomous Regional Government, on August 30 in Lhasa.
According to a report in Wen Wei Po, a Hong Kong newspaper, Yang made the comment when he met a delegation organized by the Better Hong Kong Foundation visiting the Qinghai-Tibet Railway. The delegation was headed by Roy Chung Chi Ping, Group Managing Director of Hong Kong-based Techtronic Industries Co. Ltd.
Yang said that after 2010, Tibet's traffic will be well developed, with airlines, highways and railways stretching in all directions. He particularly mentioned the railway construction plan in Tibet. According to Yang, China is planning to build three railroads in Tibet, including a route between Lhasa, and Zhangmu via Shigatse, a route between Shigatse and Yadong, and a route between Shigatse and Kashe, Xinjiang Province via Ali.
Once built, the first two routes will stretch from Lhasa to China's southern borders with Nepal and India, connecting China to South Asia. Upon completion of the railroad between Lhasa and Shigatse, two additional railways will be constructed between Lhasa and Nyingtri via Miling, and between Lhasa and Yunnan Province.
Yang also estimated that the total highway mileage in Tibet would reach 50,000 kilometers upon completion of the 11th Five Year Plan, twenty per cent of which would be asphalt highways. As for aviation, Yang said that the air route between Chengdu, Sichuan Province and Nyingtri recently passed the test flight and will be officially inaugurated soon. The Nyingtri airport is the third airport in Tibet, after Gongga Airport in Lhasa and Bamda Airport in Qamdo.
Yang also mentioned the derailment of a dining car on the Qinghai-Tibet Railway on August 29. He explained that the derailment was caused by a loosened bolt at a fork of the track [1].
Notes: 1. Xinhua News Agency, the Communist Party's official media, claimed earlier that the cause for the derailment was a signal failure.