China Officials Flout Orders, Keep Coal Mine Stakes
September 23, 2005 12:00 am Last Updated: September 23, 2005 12:00 am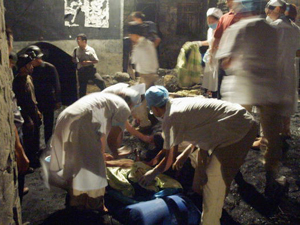 BEIJING – China has admitted that a drive to get officials to give up their illegal stakes in highly profitable but dangerous coal mines has hit a dead end, stymying the latest campaign to improve the world&#039s deadliest mining industry.
Many officials were keeping their shares, deliberately ignoring orders from Beijing issued last month to give them up by Thursday or face penalties that included dismissal, the state-run China Daily said.
"I prefer quitting my official position to withdrawing shares (in coal mines)," an unidentified official from the Inner Mongolia region, where no local authorities had admitted to having direct interests in mines, was quoted as saying. The Chinese public was outraged when the media revealed in May that a deputy director of work safety at a northeastern mine where a gas explosion killed 18 people in March was also the de facto owner.
More than 2,700 miners were killed in disasters in the first half of this year, after more than 6,000 died in 2004.
Around 30 officials from central Hunan province were exposed this week as being paid to shelter illegal local coal mines, but the cases are a drop in the bucket in a country with thousands of coal mines, many small and unregulated.
The government regularly announces crackdowns on unsafe mines, but the rules are given little teeth and have done little to keep mines from ignoring safety regulations as they rush to meet insatiable demand for coal, which the country relies on for 70 percent of its huge energy consumption.
"China has no shortage of safety and other regulations; the problem is the lack of enforcement," Zhu Deren, vice chairman of the China Association of Coal Industry, was quoted as saying.
A commentary in the China Daily said the government had to show results this time after making the push to get officials to withdraw from mines a high-profile campaign.
"Whether they keep their promise will have a great impact on public confidence in the government," the newspaper said.