China has come straight in at No. 2 in the arms producer charts, ahead of Russia, but trailing behind the United States at No. 1.
The report by a Swedish arms watchdog pulled together estimates of sales from China's arms industry–obscured by secrecy and data-massaging–and compared them with their international rankings.
Production of arms does not equate to military spending, since arms can be imported, and much of military spending goes to wages, maintenance, and logistics.
China in the past was a big importer of weapons from Russia and Ukraine, and it's still Russia's biggest customer.
The Stockholm International Peace Research Institute (SIPRI) says its report, published on Monday, is the most comprehensive picture of Chinese companies' weapons to date.
"In the past, a lack of transparency has meant that the value of Chinese companies' arms sales has been either unknown or difficult to reliably estimate," said SIPRI in a statement. "For this reason, the SIPRI Top 100—an annual ranking of the world's 100 largest arms-producing and military services companies—has so far not been able to include Chinese arms companies."
Using the increase of data on the value of arms sales by four major Chinese arms companies from 2015–2017, SIPRI produced an estimate of $54.1 billion. 
"The companies cover three sectors of conventional arms production: aerospace, electronics, and land systems ," said SIPRI. Adding hypothetical figures for the shipbuilding sector would bring the total to $70 billion–$80 billion, according to the report. 
"These new estimates are most likely still an underestimate," said SIPRI. 
Arms sales by U.S. companies in 2017 totaled $226.6 billion.
The main customer for Chinese arms sales is still the Chinese government. However, many analysts say that under military-civilian fusion, there isn't a meaningful distinction between the ruling regime and its industrial complex.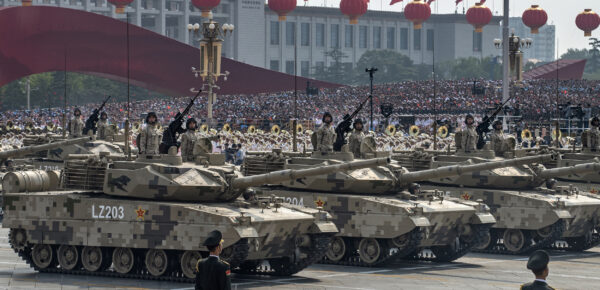 In the last two years, China has started to export drones to the Middle East. Some arms watchdogs have expressed concerns that Beijing has not signed up to arms control regulations such as the 2013 United Nations Arms Trade Treaty.
The largest of the Chinese companies is Aviation Industry Corporation of China (AVIC), which had arms sales totaling $20.1 billion and would rank sixth largest in the world, according to SIPRI.
Unlike most arms manufacturers, Chinese arms companies specialize primarily in one sector, said the report.
"China North Industries Group Corporation (NORINCO), which would place eighth in the Top 100 with sales of $17.2 billion, is, in fact, the world's largest producer of land systems," said SIPRI.
Producing accurate estimates of China's military spending is in general very difficult. Some analysts also suggest that Chinese officials themselves may not have a clear breakdown.
The most commonly used data suggests that China's military spending is around three times less than that of the United States, which spends more on defense than the next seven countries combined.
China's military spending in 2017 amounted to $228 billion, according to SIPRI estimates.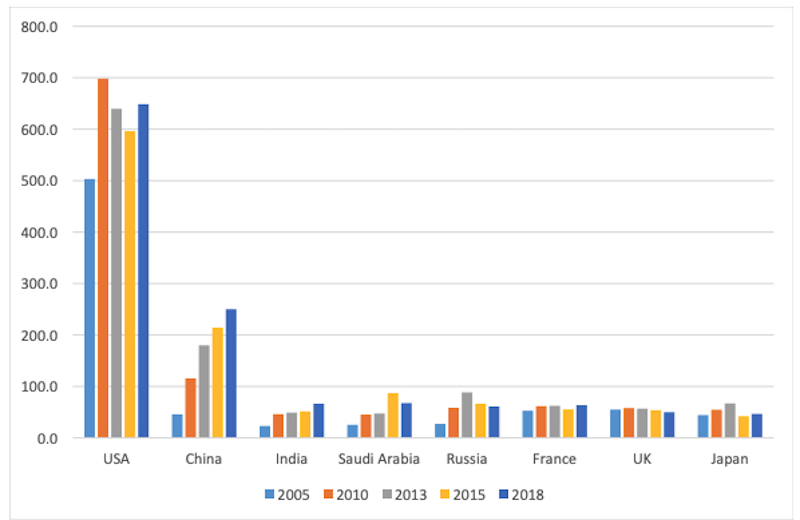 But that commonly used data is flawed, according to a handful of analysts and academics, who are trying to persuade think tanks to adopt a different set of numbers to rank military spending.
They say that because it uses market exchange rates, such data misses the distorting effect of lower wages in non-western countries such as Russia and China. Analysis using PPP (a measure of local spending power) produces better results, they argue, because it accounts for wages and fluctuations in currency markets.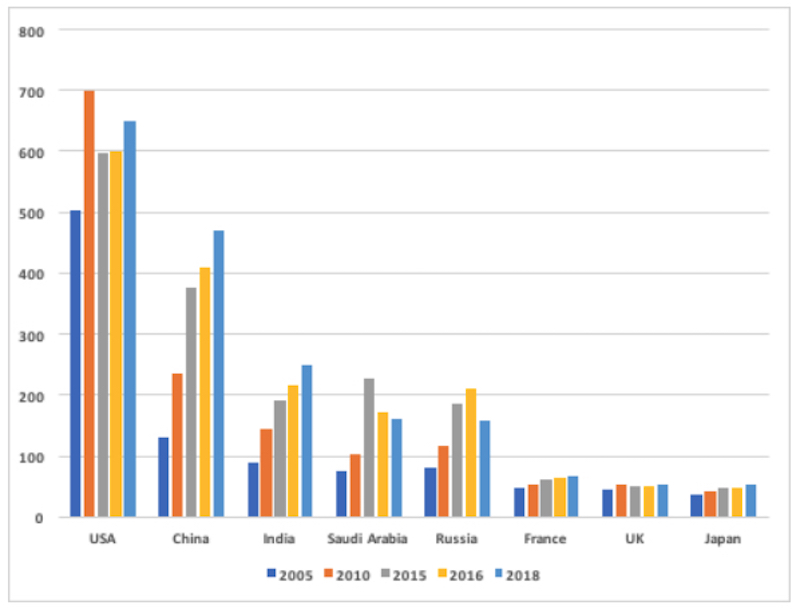 According to their analysis, Russia's defense spending in 2018 was not $61 billion, but $159 billion. And China's spending is almost double the latest $250 billion figure at around $450 billion, reaching 75 percent of U.S. military spending.
Most measures, however, suggest China's military spending has increased around tenfold in the last 20 years, while that of the U.S. military has remained comparatively flat.