China Briefs: Feb 10, 2009
February 11, 2009 9:01 am Last Updated: October 1, 2015 10:13 pm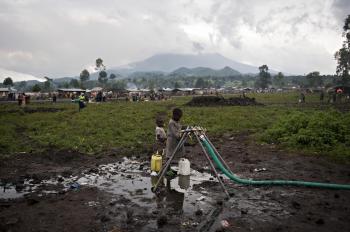 Feb 10 — China in the Congo
Financial Times – Chinese officials like to describe burgeoning relations between Beijing and Africa as "win-win". Africa wins from Chinese investment, infrastructure and loans. China wins by gaining access to African markets and resources to fuel domestic growth. The reality, however, is rarely so simple and in the Democratic Republic of Congo, where China pitched its most ambitious African deal in 2007, all sides, now risk emerging as losers.
For the Chinese it was a classic win-win scenario. Congo is struggling to emerge from a decade of conflict and three prior decades of dictatorship. Its infrastructure and institutions are not so much in ruins as non-existent. No other investor or foreign donor has come forward with as ambitious a development programme. Nor can any other African country match Congo's untapped reserves of base and precious metals…

Feb 10 — FACTSBOX-Growing China-Africa ties
BEIJING (Reuters) – Chinese President Hu Jintao leaves on Tuesday for an 8-day trip to Saudi Arabia and four African states — Mali, Senegal, Tanzania and Mauritius (see story [nPEK160408]). It will be Hu's first foreign tour for 2009.
Trade between China and Africa jumped in the past decade, driven by China's resource needs and growing African demand for cheap Chinese-made products. In 2008, total trade between the two sides was $106.8 billion, up 45.1 percent on 2007.
Hu has made consolidating ties with Africa a feature of his foreign policy. In 2006, Beijing hosted a summit with African leaders and announced promises to boost trade and aid. China has partially cancelled debts owed by the poorest African countries and also lifted tariffs on their goods.
Critics say China's aid to Africa is too closely tied to commercial goals, and that it does not demand sufficient accountability from governments accused of widespread corruption and human rights abuses.
(Sources: Reuters; China Monthly Exports and Imports; Chris Alden, Dan Large and Ricardo Soares de Oliveira, "China Returns to Africa")
Feb 10 — Argentina, China eye boost in trade, cooperation
BUENOS AIRES (AFP) – Argentina and China signed accords to boost cooperation in agriculture, mining and bilateral trade, officials said during Chinese Vice Premier Hui Liangyu's visit here.
Feb 10 — China seeks to bolster Saudi ties
BBC News (Shirong Chen) – Chinese President Hu Jintao has arrived in Saudi Arabia at the start of his overseas tour, with energy at the top of the agenda.
The oil-rich kingdom is China's largest energy supplier, supplying more than 36 million tonnes of oil last year.
Feb 10 — China wants bigger role in world economy
Financial Post (Duncan Mavin) – As China apparently shows signs of being the first major economy to make it through the other side of the global economic downturn, Beijing is preparing its demands for a bigger say on the way the world's economy is governed.
In a paper sent to Chinese diplomats, Beijing has set out its position on calls for more power for developing countries at the World Bank and International Monetary Fund, according to a report from Reuters.
The position paper, drafted in advance of a key meeting of the Group of 20 leading industrial nations that will take place on April 2 in London, includes a demand for reform of voting power in the IMF and World Bank to reflect the growing influence of developing economies, Reuters said.
In a barely veiled shot at the role of the U. S. banking system in causing the global crisis, the Chinese paper also calls for the IMF to "strengthen oversight over macroeconomic policies of all parties, particularly the major reserve currency economies, and provide oversight information and improvement recommendations to its members on a regular basis."
Feb 10 — Economics 'masking China rights record'
BEIJING (BBC News, Michael Bristow) – When Chinese Premier Wen Jiabo visited Europe recently, it was the global economic crisis that topped the agenda.
European leaders seemed keen to hear how the world's third-largest economy could help them recover from the economic slowdown. Once, China's human rights record might have been the main talking point, but that issue does not now seem as important. Some believe China's growing economic might has forced world leaders to soften their criticism on this issue.
China is particularly proud that it has improved its people's material lives since it began a series of economic reforms 30 years ago. It often argues that food, clothing and shelter are the most basic rights of all. And perhaps outside pressure has only a limited effect on China, whose officials constantly say the country will choose its own development path.
"Putting pressure on China is not a very effective," said Hong Kong commentator Frank Ching. "China is a big county and is not going to change just because others want it to."
Feb 10 — Sister freed from Chinese labour camp
This is Nottingham, UK (Charles Walker) – A woman has been released early from a Chinese labour camp after a campaign by her family in Nottingham.
Wenjian Liang, 41, was imprisoned for practising the Falun Gong religion, which has its roots in Buddhism and is banned by the Chinese government. However, Wenjian's sister, Jane Liang, of Tom Blower Close, Wollaton, has secured her release two months before the sentence was due to expire.
It is the second time in eight years Jane, 45, has helped free her sister and she thanked the people in Nottingham who have supported her.
Jane said she was relieved about her sister's release but she remains very concerned.
"I have not even asked what happened in the labour camp. It is likely her phone has been tapped. I just ring her to say hello and make sure she is there.
"With this regime in China, nothing is for sure. The regime is not concerned about human beings, only power and control."
Wenjian, an accountant, was first imprisoned without trial in 2000 in her home city of Guangzhou. A campaign was launched, which was highlighted in the Evening Post.
A year later the Chinese authorities released her, but in April 2007 she was arrested again with seven others, including her husband, after an alleged gathering of Falun Gong members.
Feb 10 — Pro-Tibetan group excluded from talks
SYDNEY (Reuters, Jonathan Pearlman) – Australia has criticised China over its refusal to allow a pro-Tibetan group to participate in the annual human rights dialogue this week in Canberra.
A spokesman for the Department of Foreign Affairs and Trade said the Government had "pushed very hard" for the Australian Tibet Council to attend a welcome reception with the Chinese delegation, but the Chinese Government had rejected the move.
The Rudd Government yesterday began its first Australia-China human rights dialogue, which features two days of talks on human rights issues at a government and non-government level.
The dialogues provide a rare opportunity to raise human rights at a senior level with the Chinese Government, though they have also been criticised for their secrecy and for allowing China to avoid talks at a multilateral level.
A spokesman for the Australian Tibet Council, Simon Bradshaw, said the Chinese decision was a "step back" and demonstrated a failure by the Chinese Government to seek meaningful dialogue with the Tibetans. "Sadly this mirrors the approach they have taken with the Dalai Lama's representatives," he said.
Feb 10 — China angry at Italian award for Dalai Lama
BEIJING (Reuters) – China on Tuesday expressed its anger at an Italian award for exiled Tibetan spiritual leader the Dalai Lama and warned of unspecified consequences in relations.
"This seriously hurts the feelings of the Chinese people," Chinese Foreign Ministry spokeswoman Jiang Yu told a regular news briefing. "We express our strong dissatisfaction and opposition.
Feb 10 — Italy reaffirms it 'strongly supports' China
AFP – Italy on Tuesday reaffirmed its "strong support" for China after the city of Rome made exiled Tibetan spiritual leader the Dalai Lama an honourary citizen, drawing a rebuke from Beijing.
Feb 10 — China's richest village laughs off financial crisis
HUAXI, China (Telegraph.co.uk, Malcolm Moore) – "Ah, the financial crisis. I saw it on the television, but what do I know about it? My pension has just gone up by 20pc," said 60-year-old Ge Xiufan, standing outside her enormous villa.
On the second day of our Yangtze River Delta roadtrip we visited Mrs Ge in Huaxi, which claims to be the richest village in China and a triumph of collectivist communism. Under the guidance of "Old Wu", the village's octagenarian Party Secretary, the 30,000 people who live in Huaxi enjoy an astounding quality of life, including being given a free villa and a free car.
The secret of Huaxi is impossible to divine. I heard that one journalist was recently arrested for asking too many questions. The inhabitants were keen to stress that collectivism and hard work were the keys, but then couldn't explain why such suburban bliss was unavailable elsewhere in China. Is Old Wu really a visionary, or does he have good guanxi (connections)? Or is the whole shiny place funded by the local government as proof of the success of communism?
Feb 10 — China Health Ministry 'puzzled' by bird flu cases
BEIJING (Reuters, Lucy Hornby) – China's Health Ministry is puzzled by eight human cases of bird flu in January which appeared independent of any known case in birds, a spokesman said on Tuesday.
Five Chinese died from H5N1 in January in far-flung regions without any reported presence of the virus in birds on the mainland. Dead birds that washed up in Hong Kong tested positive for the H5N1 strain this month, leading experts to question whether bird flu is widely present but undetected in China.
"We see the result, but not the cause. We don't know where it has come from, but people have been infected. When people are infected, in theory it should be present in birds," spokesman Mao Qunan told reporters.
Later on Tuesday, the Ministry of Agriculture said there had been an H5N1 outbreak among poultry in Hotan, in the far western region of Xinjiang, which had killed 519 birds. Authorites have culled another 13,218 birds and the outbreak is under control, the official Xinhua news agency said.
Feb 10 — Retailers 'In a Panic' Over Recent Consumer-Safety Ruling
Wall Street Journal (Ashby Jones) – Tests on Silly Fish Squirters made by Toysmith in China show the toys contain high levels of phthalates.
A ruling made in New York federal court last Thursday has set the nation's largest retailers scrambling — scrambling both within their own stores and scrambling down to Capitol Hill.
Judge Paul Gardephe on Thursday ruled that a consumer-safety law set to go into effect today applies to retailers' current inventories, not just new merchandise. The law, passed last year, sets a new limit for plastic-softening chemicals, called phthalates, in children's products, and toughens standards for lead content.
Feb 10 — China TV Network Apologizes for Fire
BEIJING (NY Times, Andrew Jacobs) – China's national television network on Tuesday blamed an illegal fireworks display by its employees for igniting a blaze that destroyed a futuristic luxury hotel and theater here.
Beijing residents who wanted to see the smoking shell of the hotel had a harder time on Tuesday finding images of the fire on the Internet, on television or in the city's newspapers.
There were no pictures on the front page of The Beijing News. On Tuesday morning, the home page of Xinhua featured a photo from another event: a stampede in South Korea that left four people dead. Throughout the day, CCTV's brief bulletins about the blaze omitted images of the burning tower. By evening, the newscast skipped the story entirely.
The government could not entirely shut down coverage. In fact, many bloggers boasted that it was citizens, armed with cellphone cameras and camcorders, who provided the first images and accounts shortly after the fire began.
Wang Xiaofeng, a popular blogger, could not help noting that CCTV employees had accidentally created one of the biggest stories of the year and then failed to cover it. "They didn't feel the urgency to report the news, even though the fire was up to their eyebrows," he wrote. "In this case of breaking news, the official media has been defeated by the citizen media."
With tongue-in-cheek humor, another writer, Chaindrive, tried to find a silver lining in the fire. The rebuilding effort, he said, would mean more jobs for unemployed migrants, more money spent on construction materials and a lift for the economy.
"Businesses will have new customers and our government officials will have new opportunities to take bribes," he wrote. "To make up the loss, we taxpayers will pay more, but our G.D.P. will go up and society will move forward in harmony."
Feb 10 — Beijing Hotel Tower Is Destroyed by Fire
BEIJING (WSJ, Fei Fong and Jason Dean) – The city government blamed fireworks from Monday night's Lunar New Year celebrations for a massive fire that engulfed a 44-story tower in the brand-new complex that also houses the iconic headquarters of China Central Television.
Flames and occasional explosions leapt high into the sky as black smoke poured from the 520-foot tower, which sits roughly 100 yards from the CCTV building designed by Dutch architect Rem Koolhaas…
The official Xinhua news agency said early Tuesday that one firefighter had died after inhaling toxic gas while fighting the blaze. Five other firefighters and a CCTV worker were also injured.
Xinhua quoted a Beijing government spokesman as saying an initial investigation showed the fire was caused by "illegal launches of firecrackers." It was unclear how that was known, nor did the report explain what was illegal.
Feb 10 — China state broadcaster apologizes for hotel fire
BEIJING (AP) – The pyrotechnics that set fire to a new luxury hotel, gutting the structure and killing a firefighter, were so powerful that a special permit was needed — but it was never obtained, China's state broadcaster said Tuesday.
China Central Television, which organized the Lunar New Year fireworks at its striking new complex, apologized for a celebration that went horribly wrong.
The unfinished, 520-foot (159-meter) Mandarin Oriental hotel, its charred metal skin now twisted and peeled, stands in a complex housing the network's Z-shaped headquarters — a project that helped transform the capital's skyline for the Olympics.
Feb 10 — Things Lost In the Beijing Fire
The Wall Street Journal – The deadly fire that broke out in Beijing's business district has apparently left the landmark $800 million square China Central Television Tower without serious damage. But the iconic structure and its fans have suffered a loss nevertheless.
The inferno — which CCTV has admitted was caused by a fireworks display arranged by one its own employees — turned the 44-story Television Cultural Center into blackened hulk. The boot-shaped building was an integral part of well-known Dutch architect Rem Koolhaas's award-winning vision for the CCTV complex in the heart of Beijing?s Central Business District.
Critics of the overall CCTV compound design say the project's gargantuan size, the TVCC building's boot shape and cantilevered overhang of the main building are designed to inspire fear and symbolize state power and media control.
As if to reinforce this, Internet users complained that last night's inferno was played down by Chinese media. Media site Danwei noted "this morning, Xinhua's own website featured a fire smack in the middle of the homepage, but it wasn't from Beijing. A scheduled blaze during a Lantern Festival celebration in Korea ended up causing a stampede that led to the deaths of at least four crowd members."
Will the Beijing blaze come back to haunt European architects?
The Guardian, UK (Steve Rose) – Rem Koolhaas's reputation was to be cemented with the CCTV/TVCC buildings, but the recent fire is bound to raise questions about the work of foreign architects in Beijing.

There's never an auspicious time for a building to burn down, but the spectacular fire at the TVCC building in Beijing will be taken as a particularly bad omen, coming as it does at the end of the Chinese new year holiday. It has not been a particularly great time for China's international reputation recently. Since the high of the Beijing Olympics, they've had rumours of lax construction standards following the Sichuan earthquake, a damaging scandal over contaminated baby milk, and the global downturn has hit the nation's runaway economy. New Year is traditionally a time when the slate is wiped clean, a fresh start. So how to respond when the Year of the Ox begins with the destruction of what was set to be the architectural event of the year — if not the century so far? For extra irony, if the rumours are true, firecrackers set off by illegal new year's revellers were the cause of the blaze.