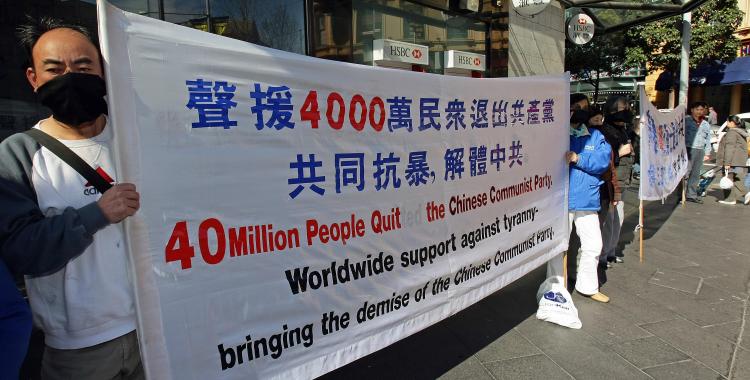 Jan 14 — European Parliament Rallies Behind NTDTV to resume China broadcast via Eutelsat
NEW YORK (NTDTV) – More than half of the members of the EU parliament have signed a declaration supporting the restoration of NTD's broadcast, via satellite, into mainland China.
At the parliamentary meeting in Strasbourg, France 441 members of the European Parliament signed a declaration on January 14 supporting the restoration of [New York based] NTD's broadcast, via satellite, into mainland China.
This is the first time a declaration has been passed regarding a Chinese issue.
In July of last year, NTD's broadcast into China was cut off by French satellite provider Eutelsat after repeated pressure from Beijing.
Charles Tannock, UK Conservative Foreign Affairs Spokesman said, "It is totally unacceptable in my view that the People's Republic of China uses its huge commercial muscle to threaten to withdraw other contracts to put pressure on western satellite providers, telling them to take NTD television channel off air."
The declaration will be announced as a resolution on the 15th of January.
Jan 14 — China chemical plant project moved after protests
SHANGHAI (Associated Press, Elaine Kurtenbach) – A chemical plant that provoked vehement protests from Xiamen residents worried over potential health hazards will now be built in a less populated area, China's Environment Ministry said.
Jan 14 — Rabies 'explodes' in China
McClatchy Newspapers (Tim Johnson) – Beware travelers: There's an "explosion" of rabies in China.
Rabies, a viral infection of the nervous system transmitted by animal bites, has a nearly 100 percent death rate.
Jan 14 — China warns of more health scares amid slowdown
BEIJING (Reuters) – Chinese food and drug makers struggling in a declining economy could be tempted to cut corners and ignore quality standards, a senior Chinese official warned as the country awaits court verdicts in a tainted milk scandal.
Shao Mingli, a senior official from China's food and drug safety watchdog, said that the country was on "high alert" as the impact of the financial crisis began to hit home, Xinhua news agency quoted him as saying late on Tuesday.
The watchdog had dealt with 297,500 cases of "illegal drugs and medical equipment" with a value of about 600 million yuan ($88 million) last year, Xinhua said, in an indication of the seriousness of the problem
Jan 14 — Miller: China's trade damages
The Washington Times (Henry Miller) – Lethal tampering with food or drug ingredients (to say nothing of lead paint in toys and poisonous toothpaste) from China seems to be business as usual.
Jan 14 — China cracks down on counterfeit currency
SHANGHAI, China (AP) – A Shanghai court has sentenced a man to 10 months in prison, reports said Wednesday, as the government cracks down on a flood of fake Chinese currency good enough to trick some anti-counterfeiting machines.
Jan 14 — British bank RBS says has sold Bank of China stake
LONDON (AFP) – Britain's Royal Bank of Scotland, which is majority owned by the state, said Wednesday that it has sold its stake in Bank of China for 1.6 billion pounds (1.77 billion euros, 2.43 billion dollars).
Jan 14 — KBC delays China bank expansion in financial crisis
SHANGHAI (Reuters) – Belgian financial group KBC said on Thursday that its banking arm has shelved an expansion plan in China that included setting up a locally incorporated bank, due to the global financial crisis and economic uncertainty.
Jan 14 — China slump harbinger of further global fallout
The Age (Edmund Conway, Daily Telegraph) – A SLUMP in China's economy is now one of the biggest risks facing the world this year, according to the World Economic Forum.
Among the most pressing risks highlighted by the forum's Global Risks assessment is the increasing likelihood that China will suffer a hard landing this year.
Jan 14 — China looks to improve its image abroad
SHANGHAI (International Herald Tribune, David Barboza) – A group of the biggest state-controlled media organizations in China is planning to spend billions of dollars to expand overseas.
The country's increasingly wealthy media giants, all of which operate under government censorship rules and propaganda motives, are looking to acquire international media assets, to open more news bureaus outside the country and to publish and broadcast more broadly in English and other languages. Many of them have already announced plans to hire English-speaking Chinese and also foreign-media specialists.
The plan was first reported in The South China Morning Post on Monday.

Jan 14 — China Wants UN Role in Somalia as Ethiopian Troops Withdraw
Bloomberg (James Peng) – China called for the United Nations to take a peacekeeping role in Somalia as Ethiopian forces withdraw from the Horn of Africa nation, which is facing a humanitarian crisis.
Jan 14 — Bush official urges China to lift nuclear secrecy
WASHINGTON (AP, Robert Burns) – China's unyielding secrecy about its nuclear arms strategies leaves open the worrying prospect of a costly U.S. misstep during a crisis, President George W. Bush's top Asia adviser said Wednesday.
"By being mysterious they give themselves a degree of edge," Dennis Wilder, the senior director for East Asian affairs on the National Security Council, told a gathering of Asia specialists and reporters.
Washington and Beijing began a discussion last year about each side's nuclear strategies and systems, but Wilder said the need to prompt greater Chinese openness grows more important as they develop mobile land-based nuclear missiles and move closer to fielding sea-based nuclear ballistic missile forces.
Jan 14 — Report: Iran signs oil deal with China
TEHRAN, Iran (AP) – Iran's official news agency says the country has signed a $1.76 billion deal with China to develop the North Azadegan oil field in southwestern Iran near the Iraq border.
The deals illustrate China's strong business ties with Iran despite U.S. pressure over the Iranian nuclear program.
Jan 14 — U.S. Arms Sales to Taiwan May Slow 'New Era' of Ties With China
Bloomberg (Dune Lawrence) – U.S. arms sales to Taiwan may strain ties with China even as the two countries cooperate more closely, current and former Chinese officials told their American counterparts in Beijing at a conference that ended yesterday.
"Recently, some hard-won advances have been made in cross-strait relations," said Li Zhaoxing, who was China's foreign minister from 2003 to 2007. "We certainly don't want something like arms sales to disrupt" the progress.
Jan 14 — Taiwan govt official, MP's aide arrested for spying for China
TAIPEI (AFP) – A Taiwanese government official and a legislator's aide were arrested Thursday for allegedly leaking state secrets to China, officials and reports said.
Jan 14 — China's FM visits Malawi after Taiwan snub
BLANTYRE (AFP) – China's Foreign Minister Yang Jiechi was to visit Malawi on Thursday, the first trip by a high-ranking Chinese official since the African nation switched its ties from Taipei to Beijing last year.
Malawi had been Taiwan's ally for 42 years.
The Malawi visit is part of Yang's African tour, also taking him to Uganda, Rwanda and South Africa.
Tibetans' Plea for Freedom
ALLANHABAD, India (NTDTV) – Tibetans living in exile in India are taking dire measures to attract attention to the human rights situation in Tibet. Tibetans appealed to the Indian Prime Minister with a letter written in human blood.
Jan 14 — China gears up for New Year with travel warnings
BEIJING (AP) – China's President Hu Jintao has warned of potential travel problems during the Lunar New Year holiday due to a short supply of train tickets, a report on a government Web site said Thursday.
The Chinese New Year is the country's most important holiday and triggers one of the world's biggest annual migrations of people. The weeklong holiday begins Jan. 26 this year, but many people started traveling last week.
Government officials are especially concerned this year due to the growing unrest of millions of laid off migrant workers who will not have jobs to return to after the holidays.
Jan 14 — China's next export: Starbucks coffee
BEIJING (Associated Press, Henry Sanderson) – Starbucks Corp. launched a new brand of coffee grown by farmers in China and said it hopes to bring the blend to stores all over the world.
The Seattle-based company, which has been closing stores in the U.S. to cut costs, said its new blend is made in China's southwestern province of Yunnan, bordering Vietnam, Laos and Myanmar.