China Briefs: Feb 6, 2009
February 7, 2009 5:06 pm Last Updated: October 1, 2015 10:14 pm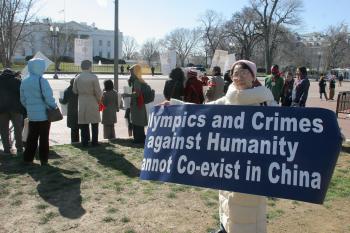 Feb 6 — China hammers dissent despite looming UN review
BEIJING (AP) – Days before China's human rights record comes under scrutiny before a key U.N. panel, the government's grip on dissent seems as firm as ever.
Government critics have been rounded up and some imprisoned on vaguely defined state security charges. Corruption whistle blowers have been bundled away, while discussion of sensitive political and social topics on the Internet remains tightly policed.
The review by the U.N. Human Rights Council begins Monday…
The stakes are high for China, one of five permanent members of the U.N. Security Council, which wants to be seen as a responsible player in the international community. At the same time, the Communist leadership is worried about its grip on power slipping as the economic downturn and rising unemployment threaten to aggravate social unrest.
Feb 6 — UN Review Must Address China's Largest Population of Prisoners of Conscience
NEW YORK (Falun Dafa Information Center) – Member states of the United Nations Human Rights Council must question the PRC over the ongoing–and recently escalated–persecution of Falun Gong adherents in China at Monday's Universal Periodic Review session, the Falun Dafa Information Center said Friday.
"As the Council members prepare to review China's rights record, hundreds of thousands of ordinary Chinese are languishing in prisons, detention centers, and torture chambers simply because of their identity as Falun Gong practitioners," says Falun Dafa Information Center spokesman Erping Zhang. "It is imperative that the international community give these people a voice, all the more so as labor camp and prison sentences are on the rise in the aftermath of a nationwide pre-Olympic crackdown."
According to the 2007 U.S. State Department's human rights report, "Some foreign observers estimated that Falun Gong adherents constituted at least half of the … officially recorded inmates in reeducation-through-labor camps." Similarly, in a report on his 2005 mission to China, the U.N. Special Rapporteur on Torture stated that 66 percent of the reports of torture that his office received had Falun Gong practitioners as victims.
"The Chinese representatives may try to sidestep or deflect criticism of the systemic abuses against those who practice Falun Gong," says Zhang. "The UNHRC members, and particularly those coordinating the discussion, must raise pointed and substantive questions regarding the persecution of Falun Gong adherents who remain the country's largest population of prisoners of conscience."
Feb 6 — China police take away citizens airing grievances
BEIJING (AP, Audra Ang) – Police in China's capital took away at least eight people trying to air grievances in front a government building Friday, days ahead of a key review of the country's human rights record by the United Nations.
The incident, while not unusual, underscores the country's tight grip over social order as the U.N. Human Rights Council was to begin reviewing China on Monday as part of a new process that evaluates the practices of member countries.
The resulting report will be closely watched because China, a permanent member of the U.N. Security Council, is often criticized for its human rights record.
Feb 6 — New China rules on HK journalists slammed as step backward
HONG KONG (Reuters, James Pomfret) – China on Friday announced new rules for Hong Kong and Macau journalists that were criticised as a rolling back of media freedoms in a year laden with sensitive anniversaries for Beijing's Communist leadership.
In new regulations issued by Beijing, reporters from Hong Kong and Macau can travel to China for interviews only with prior consent, and would have to inform authorities before each trip.
Tam Chi-keung, Chairperson of the Hong Kong Journalists Association (HKJA) said, "This is returning to the old ways … this can't fulfill the actual needs of Hong Kong and Macau journalists," said Tam. "Nor can it fulfill the actual needs of Hong Kong and Macau people's right to know about the news in China."
China's state agency Xinhua cast the rules in a positive light, saying Beijing was "extending temporary regulations for the 2008 Olympics that had allowed greater freedom for journalists from outside the mainland."
Feb 6 — Imprisoned in China for Receiving NTDTV's Broadcasts
NTDTV – Chinese authorities have imprisoned two men in connection with installing satellite dishes that enable people in China receive NTDTV broadcasts.
Mr. Qi Junyun from Guangxi Province, was arrested for helping people install these kinds of satellite dishes. He has been sentenced to three years in prison for, "using a banned religion to disrupt the law." No further explanation was given.
New York based NTDTV is the only Chinese language television station that dares to report on Falun Gong and China's human rights abuses—and for that reason, the regime has tried to shut down NTDTV's broadcasts on many occasions.
Now it seems that Mr. Qi—who is not known to practice Falun Gong himself—has been sentenced to prison for helping other people have access to freedom of information.
Jan 5 — Clampdown continues in Tibet, China and Australia to meet for Human Rights Dialogue
DHARAMSALA, India (Phayul) – Australian and Chinese officials will meet on Monday for the Twelfth Australia-China Human Rights Dialogue, originally scheduled for late last year. Meanwhile authorities in Lhasa have arrested dozens of Tibetans as part of a renewed military crackdown ahead of the 50th Anniversary of the 1959 Tibetan Uprising on 10 March. Also on Monday China will come under examination at the UN in Geneva. The Chinese Government has been accused of subverting the UN Human Rights Council's Universal Periodic Review process.
A report released by the Australia Tibet Council (ATC), containing recommendations for issues the Australian Government should raise during next week's dialogue, paints a grim picture of intensifying and systematic human rights violations in Tibet. The report summarises the numerous accounts of arbitrary arrests, fatalities and incidents of torture following peaceful demonstrations in 2008 and outlines ever more oppressive measures to quell dissent ahead of the politically sensitive 50th anniversary of the 1959 Tibetan Uprising.
The report also slams Australia's bilateral dialogue for its lack of transparency and failure to deliver concrete outcomes.
Feb 6 — Dalai Lama Visits Italy, Germany as UN Reviews Rights in China
Bloomberg – The Dalai Lama, Tibet's Buddhist spiritual leader, will visit Italy and France next week to receive awards, at the same time as the United Nations reviews human rights in China.
Jan 6 — Sarkozy right to meet the Dalai Lama, says French PM
PARIS (Phayul, Tenam) – French Prime Minister François Fillon today reiterated that Nicholas Sarkozy did the right thing in meeting the exile Tibetan leader, His Holiness the Dalai Lama. Fillon said Sarkozy has "the right to talk" with the Dalai Lama. French President Sarkozy's meeting with the Dalai Lama in Poland on December 6 caused strong opposition from China which cancelled a planned China-EU summit in Lyon, France.
Feb 6 — Munich Willing to Accept Guantanamo Uighurs
MUNICH, Germany (Deutsche Welle) – Munich's municipal council is backing a motion submitted by the Green party to host 17 members of the Chinese minority held at Guantanamo Bay. The controversial offer still has to be approved by the Chancellor.
The Bavarian city has the largest population of ethnic Uighurs outside of China and the motion now must gain approval from German Chancellor Angela Merkel's cross-party government before it can accept the inmates.
Feb 6 — China defends bird flu vaccination plan despite deaths
BEIJING (Reuters, Lucy Hornby) – China's Ministry of Agriculture on Friday defended its bird flu vaccination program, stating there had been no outbreaks since last June despite a number of human cases, some fatal, this year.
Feb 6 — China says no avian H5N1 outbreaks detected
Center for Infectious Disease Research & Policy (Lisa Schnirring) – China's agriculture ministry said yesterday that it hasn't detected any poultry outbreaks in the provinces where recent human cases were reported, an apparent response to speculation that the country isn't reporting outbreaks and to suspicion about possible gaps in the surveillance system.
In a statement to China Daily, a newspaper based in Beijing, the ministry said its assessment of the outbreak status of seven provinces linked to human cases was based on an assessment of the overall epidemiologic situation and investigations it conducted in January.
China has reported seven human cases this year, four of them fatal. The cases hail from a range of locations across China, including two from Hunan province; one each from Shangdong, Shanxi, Guizhou, and Guangxi provinces; and one from Xinjiang Autonomous Region.
Investigations into the sources of these infections found that nearly all may have been exposed to sick or dead birds, such as at live bird markets, according to previous statements from the World Health Organization (WHO).
Feb 6 — China suffering worst drought in 50 years
BEIJING (CNN, Jaime Florcruz) – China is suffering another natural disaster — this time, the worst drought in half a century. The land is parched and the irrigation dams have dried up. Crops and livestock are dying.
Feb 6 — China warns of wheat disease epidemic, control efforts urgent
People's Daily – The Ministry of Agriculture (MOA) warned Friday of the wide spread of the fungus Puccinia striiformis, also known as stripe rust, a wheat disease that could cause huge losses. It is bad news for China's summer harvest as the nation continues its war against rare drought conditions. The fungus, one of the most dangerous wheat diseases, was likely to prevail across the nation due to the abnormal …

Feb 6 — China's official data mask severity of slump
BEIJING (AP) – It is China's disconcerting secret: Its economic slump is much deeper than official data show.
The government says the economy grew by 6.8 percent in the final quarter of 2008, but that is based on an outdated system that measures growth against the same period a year earlier.
Compared to the previous quarter, the method used by most major economies, growth was about 1 percent at an annual pace and possibly zero, economists say.
Feb 6 — Head of China Export Credit Insurance Ousted Over Bribe Charges
Bloomberg – The head of China Export & Credit Insurance Corp., the nation's only state-run export credit insurer, was stripped of posts and Communist Party membership for allegedly taking bribes, the industry regulator said.
Feb 6 — Appliance rebate program targets rural China
USA Today – China's rebate policy, called "home appliances go to the countryside," debuted nationwide this week to encourage sales within China to offset the country's plummeting exports because of the global financial crisis.
Feb 6 — Karamay oilfield targets 16 mln tons crude oil in 2015
China Knowledge – The Karamay oilfield in Xinjiang Uyghur Autonomous Region expects to yield more than 16 million tons of crude oil and 10 billion cubic meters of natural gas in 2015, sources reported.
Feb 6 — China's President Hu to Seek Energy Cooperation on Saudi Visit
Bloomberg – Chinese President Hu Jintao will seek to promote energy cooperation during his trip to Saudi Arabia next week, China's Assistant Foreign Minister Zhai Jun said today.
Feb 6 — Climate issues emerging as new focus for U.S. and China
Environmental News Network – When Chinese officials and the administration of President Barack Obama begin discussions in earnest over issues at the heart of relations between the United States and China, the usual suspects will no doubt emerge: trade, human rights, Taiwan.
But increasingly, officials and scholars from both countries say, the global problem of climate change could become another focal point in the dialogue.