Beijing and Moscow are "more determined" to boost bilateral ties and expand cooperation, said China's foreign minister Wang Yi following a meeting with his Russian counterpart Sergei Lavrov held in eastern China.
In what marked their first in-person meeting since Russia invaded Ukraine, Wang told Lavrov that the Moscow–Beijing relationship has "withstood new trials of international turbulence" and kept on the right direction.
"China is willing to work with Russia to push the China-Russia relationship to higher levels in a new area under the guidance of the key consensus reached by the two countries' head of state," Wang told Lavrov, according to a readout from the Chinese foreign ministry.
Russia launched the attack on Ukraine a little over a month ago and has been looking to China for support as the move draws escalating economic sanctions from the West.
Ahead of the meeting, Russia's foreign ministry released a video in which Lavrov appeared to suggest a vision for building a new world order together with China. "We, together with you, and with our sympathizers will move towards a multipolar, just, democratic world order," he said.
Chinese state media footage showed the two officials bumping elbows in front of their national flags at the meeting in Huangshan city.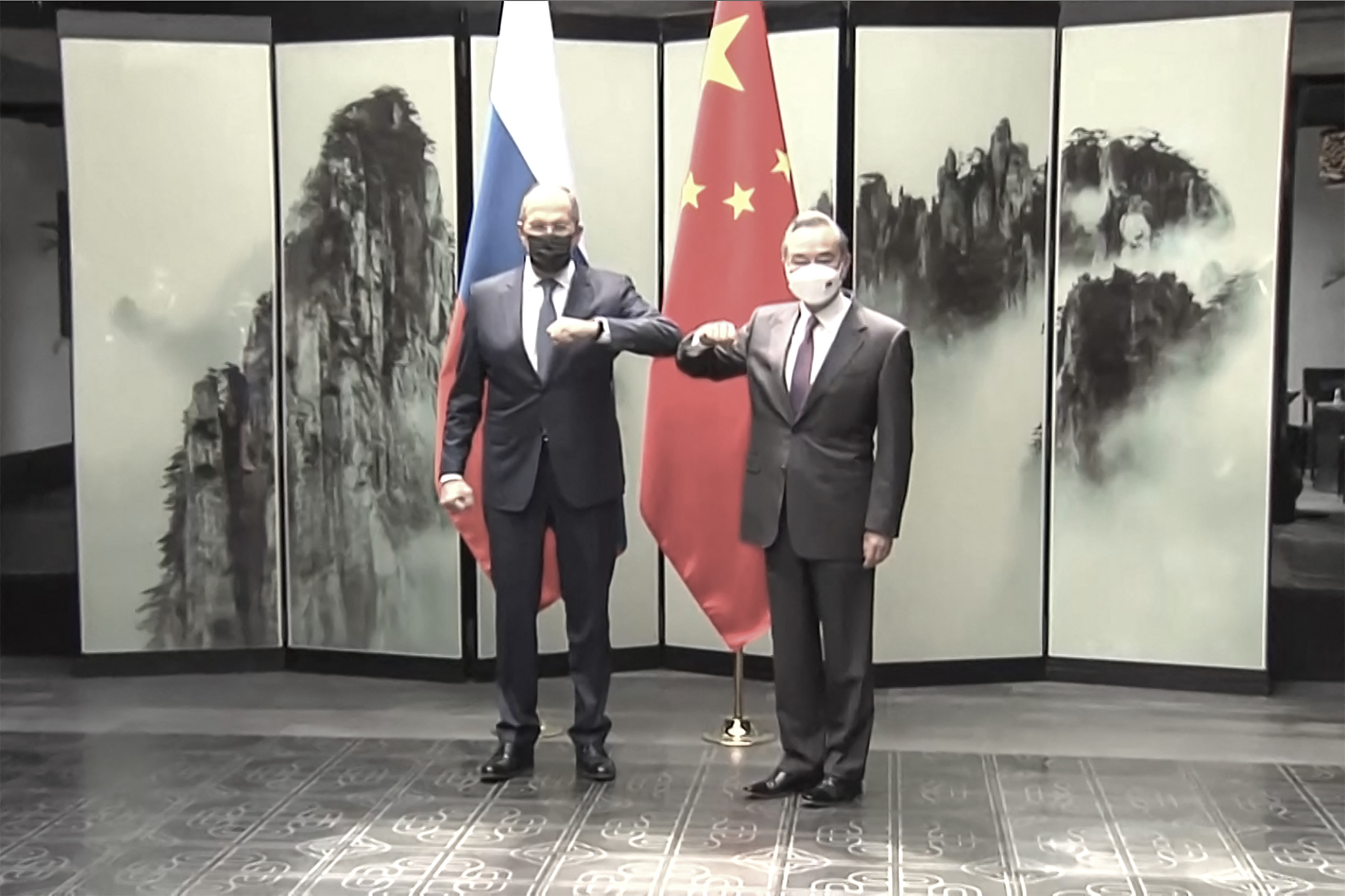 The two sides agreed to strengthen their strategic partnership and to speak on global affairs "with a united voice," according to a statement from Russia's foreign ministry.
"This is what happens when you repeatedly show weakness on the world stage," Rep. Elise Stefanik (R-N.Y.) told The Epoch Times. "Our adversaries become emboldened."
"These reports that China and Russia are determined to expand cooperation while Vladimir Putin continues his genocide in Ukraine are deeply troubling."
Chinese leader Xi Jinping and Russian President Vladimir Putin declared a "no limits" partnership weeks ahead of Moscow's invasion. Since the war, Beijing has declined to condemn the invasion and reaffirmed its "rock solid" ties with Russia, in a stance widely viewed as being tacitly in support of Moscow.
While also refusing to join Western sanctions on the Kremlin, the regime has vowed to continue normal trade relations with the country as sanctions and voluntary boycotts from the West threaten to throw Russia into a deep recession.
Following U.S. intelligence that Beijing had signaled a willingness to provide military and economic support to Russia's war effort, President Joe Biden warned Xi during a recent virtual meeting of unspecified "consequences" if Beijing were to follow through with it. Although he later emphasized that he "made no threats."

The Chinese officials have refused to directly confirm or deny allegations that Beijing might aid Russia.
"What unites China and Russia is a reciprocal need for natural resources—and a common grievance with the United States," Rep. Russ Fulcher (R-Idaho) told The Epoch Times.
But he believes the two countries' partnership is not as firm as what may be portrayed.
"Russia and China still have significant border disputes, and it would be surprising to see China discourage trade with the United States' $21 trillion economy for Russia's $1.5 trillion alternative," he said.
U.S. officials have noted that China appears to be complying with Western sanctions, and have warned Chinese firms of heavy repercussions if they were to help Russia skirt sanctions. At least two China-backed banks have halted lending to Russia and Belarus over the Ukraine war.
Some analysts suggest that Beijing will use the opportunity presented by Moscow's isolation to deepen its economic links with the pariah state. A recent speech from a Chinese ambassador also indicates that Beijing may see this crisis as an opportunity.
Zhang Hanhui, China's ambassador to Russia, has called on Chinese business people in the country to "waste no time" adjusting their operations and "fill the void" in the Russian market.
Without mentioning sanctions on Moscow, Zhang said "big enterprises are facing great challenges or even disruptions in payment and supply chains," an apparent reference to the exodus of Western firms from Russia.
"This is just the time for our private, medium, and small businesses to play a role," he was quoted as saying by a pro-Beijing association in Moscow.
Meanwhile, a top executive for China's state-owned energy company Sinopec on Monday said it would keep buying crude oil and gas from Russia.
"I assume China will play its hand to reap any benefit it can out of this situation, but will continue its tepid position of not condoning the situation but also not outwardly supporting it," said Fulcher.