A Chinese national has pleaded guilty to being part of a fraud scheme to sell dietary supplements made with China-produced synthetic stimulants known as DMAA, an illegal substance.
DMAA has been banned by the Food and Drug Administration (FDA) but is often touted as a "natural" stimulant in dietary supplements. Ingesting the substance increases blood pressure and can lead to cardiovascular problems, including heart attacks, according to the FDA.
The U.S. Justice Department announced that Zhang Xiaodong from Shanghai, China, pleaded guilty in a Dallas federal court on April 12.
He was a sales manager for Genabolix USA Inc. and Shanghai Yongyi Biotechnology Co., two Chinese firms that sell raw ingredients for use in dietary supplements. Zhang and two co-conspirators agreed to sell DMAA to a U.S. dietary supplement manufacturer while mislabeling the substance and hiding the true nature of the supplements from retailers, according to the Justice Department. Zhang admitted that he knew major supplement retailers would refuse to carry products made with DMAA.
"When unscrupulous producers add undeclared or misidentified ingredients to dietary supplements, there is no assurance that the product is safe for consumption," said Catherine A. Hermsen, acting director of the FDA's Office of Criminal Investigations, in a press release.
Zhang faces a statutory maximum of 20 years imprisonment.
Background
This latest case demonstrates the dangers of illegal drug ingredients from China entering the U.S. market. In November 2015, the Justice Department filed criminal charges against USPlabs, a Dallas-based dietary supplement manufacturer that marketed supplements as containing natural plant extracts when it had in fact used synthetic DMAA made by Chinese chemical suppliers, according to a report by Dallas Morning News.
The USPlabs supplements containing DMAA were marketed as boosting energy. But professional athletes who took the supplements failed doping tests. Some who took the supplements said they needed liver transplants to survive, according to indictments cited by Dallas Morning News.
According to a newly published book, "China Rx: Exposing the Risks of America's Dependence on China for Medicine," by Rosemary Gibson and Janardan Prasad Singh, drug companies in America are increasingly turning to China to supply active drug ingredients or to manufacture drugs, due to cheaper costs. However, many of those drugs are unregulated; the FDA is not given a sufficient budget to inspect all Chinese plants that manufacture for the U.S.—and is also not required to do so, according to the book.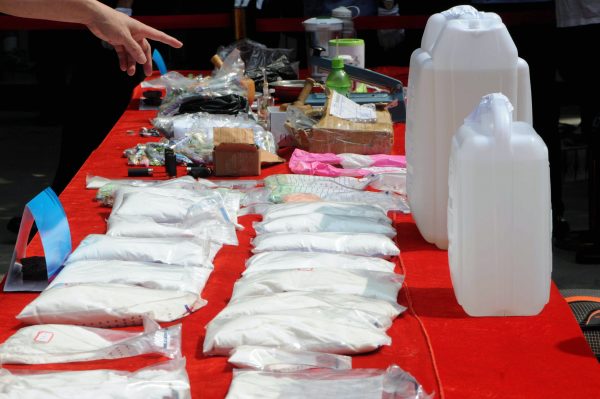 In instances where the FDA did inspect Chinese manufacturing facilities, Chinese staff often blocked the FDA from inspecting, or engaged in other deceptive tactics such as hiding unknown substances and continuing to use a supplier that was previously banned by the FDA, through an alias.
In past years, Chinese-made products that turned out to be hazardous have found their way into the country. In 2007, brands of China-made tainted pet food caused illnesses in thousands of pets. Again in May 2014, Chinese-made pet treats were taken off the shelves of major pet food chains—over concerns of contamination. Over 1,000 dog deaths had been linked to the Chinese-made jerky treats, according to a Time magazine report.
And back in 2008, when a contaminated baby formula scandal ripped through China, some Chinese formula brands and other Chinese food products made with milk imported into the United States were found to contain melamine, a chemical used in manufacturing plastics. The contaminated formula in China caused illnesses in more than 300,000 infants.
Recommended Video:
How Doctors in China Turn into Murderers