DEERPARK, N.Y.—Grace Woodard, a resident of Mount Hope, New York, is using her unregistered environmental group—which receives funding from a group headed by an individual with deep ties to China—to target the development of a local performing arts school founded by Chinese dissidents who fled religious persecution in China.
Woodard's group, Deerpark Rural Alliance, isn't registered with the New York Attorney General's Charities Bureau nor with the federal registry for 501c tax-exempt organizations. As such, it hasn't released the funding disclosures that registered nonprofit groups are legally required to, leaving the public in the dark on its sources of funding.
The group, however, has been "fiscally sponsored" by New Paltz-based environmental nonprofit NYEnvironcom, headed by Alex Scilla, an individual with close ties to China.
Scilla's and Woodard's groups have been almost exclusively dedicated to opposing the development of the school at a site called Dragon Springs.
The two groups are now operating tightly together. Woodard has joined a lawsuit launched by the nonprofit, and she's also been soliciting donations that on paper go to Scilla's organization.
While Woodard has publicly described her group as having a broad focus on environmental and development issues in Deerpark, in personal conversations, she has said that the initiative has been set up specifically to oppose Dragon Springs, one local who recently spoke with The Epoch Times said.
Dragon Springs is home to two schools, Fei Tian Academy of the Arts and Fei Tian College, which specialize in teaching classical Chinese dance and music.
It's also home to the campus of Shen Yun Performing Arts, a highly acclaimed classical Chinese performing arts company.
Dragon Springs was started in the year 2000 by practitioners of the spiritual discipline Falun Gong who had fled brutal persecution at the hands of the Chinese Communist Party (CCP). The site has served as a sanctuary for those who've experienced persecution, as well as later efforts to preserve and promote traditional Chinese culture, Dragon Springs representatives previously told The Epoch Times.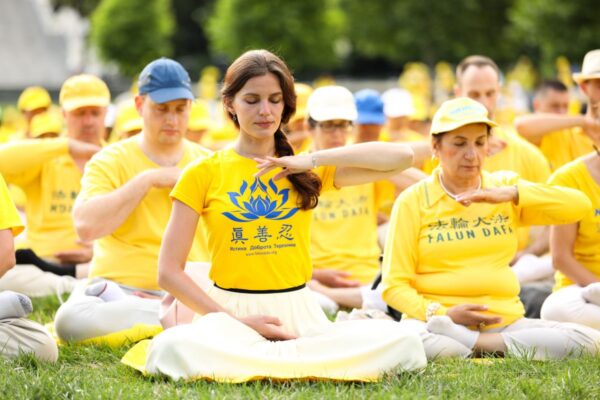 According to insider information, the CCP portrays the site as being a "headquarters" for the efforts of Falun Gong followers to counter the persecution in China.
"Attack the overseas Falun Gong headquarters and bases systematically and strategically," reads one CCP directive document dated 2017, obtained by The Epoch Times.
The CCP specifically lays out a strategy of using American citizens and nongovernmental groups to target Falun Gong. "Cultivate non-governmental forces to fight … 'Falun Gong,'" the document reads. It then says to "mobilize patriotic and friendly people … who have greater influence in the U.S."
George Xu, vice president of Dragon Springs, told The Epoch Times: "Many of us here at Dragon Springs suffered terrible persecution under the CCP in China.
"We also know how determined the regime is to silence and marginalize us outside China, so the fact that there are individuals or groups with links to China right here in our backyard targeting us is very disconcerting. Even here in the United States, it seems the long arm of Beijing has reached us."
Claims Dismissed in Court
For years, Woodard has tried to block developments on the Dragon Springs property on environmental grounds, culminating in a lawsuit that tried to force the town to revoke an already approved permit for improvements to one of the entrances to the property.
The case was dismissed in 2019 by an Orange County Supreme Court judge, who ruled that Woodard and her co-plaintiffs had "made no showing of any harm whatsoever."
The court stated that Woodard "failed, in all respects" to provide evidence to back her claim that an additional environmental permit should be required.
The court also ruled that Woodard had no standing in the matter, and that her property adjacent to Dragon Springs that she claimed would be negatively affected was in fact "vacant and undeveloped."
Close Ties to China-Linked Individual
Following her failed 2019 lawsuit, Woodard joined as a plaintiff and filed another lawsuit earlier this year alongside NYEnvironcom.
In recent weeks, Woodard has told some neighbors that she and Scilla have set up an "office" at a small home she owns close to the Dragon Springs property. Recently, an NYEnvironcom sticker was placed on this home's mailbox. Last year, Scilla listed the same address as his residence when signing up to speak at a local public hearing despite his actual residence being in New Paltz, 40 miles away.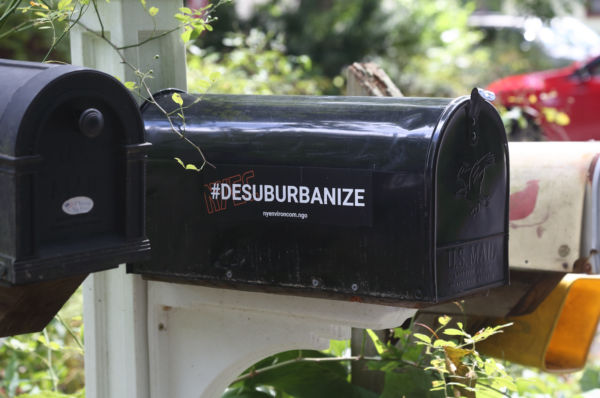 The Facebook page for Deerpark Rural Alliance now lists the website for Scilla's organization as its web address. Woodard has also been distributing NYEnvironcom pamphlets that include information about her group.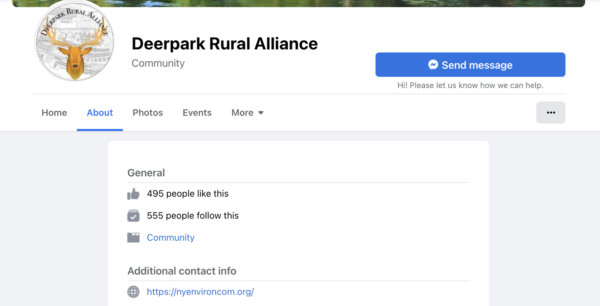 NYEnvironcom's website reveals that it has "fiscally sponsored" Woodard's group. Scilla's organization also sells merchandise in Woodard's group's name. One donor who gave $500 to NYEnvironcom wrote on its donation page: "This is for Deerpark Rural Alliance, please. If this is not the way to do it please let me know." It is unclear how much money these efforts have raised, nor how they are accounted for, since Deerpark Rural Alliance isn't officially registered.
Woodard didn't respond to questions from The Epoch Times about her group's registration, how long her group has been receiving money from NYEnvironcom, how much money her group has received, how the money has been used, and how donations made to NYEnvironcom intended for Deerpark Rural Alliance and profits from merchandise are being accounted for.
An investigative report published by The Epoch Times previously revealed Scilla's close ties to China and the fact that virtually all of his group's efforts, just like Woodard's, are focused on Dragon Springs.
Scilla made his first appearance in Deerpark at a public hearing in November 2018, when he, despite having no personal connection to the town or direct area, opposed a small driveway improvement at Dragon Springs. Scilla had previously lived in Tianjin, China, for 15 years.
To date, it remains unclear what prompted Scilla to suddenly take the hour-long drive from his home—a small condo in New Paltz, New York—to utter one sentence in opposition to a driveway. The Epoch Times has reached out to Scilla multiple times with questions regarding his activities. He hasn't responded to any of the requests; instead, his lawyer sent a threatening email.
To this day, Scilla maintains ties to China, including to a company in Tianjin.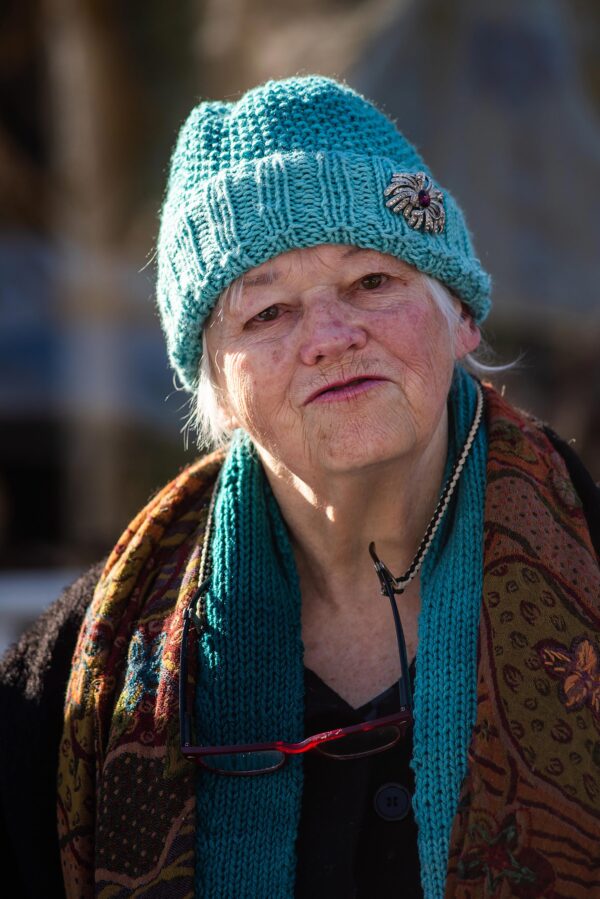 Tianjin has a special significance for the CCP's propaganda machinery. Several Party insiders previously told The Epoch Times that the city hosts the base of the regime's internet censorship apparatus. It's also home to the Tianjin Political and Legal Affairs Commission (PLAC), which insiders previously told The Epoch Times is connected to the staging of pro-CCP and anti-Falun Gong protests in New York.
Woodard and Scilla also were seen in recent years at another property adjacent to Dragon Springs from which Scilla operated a drone with a camera to fly over the Dragon Springs property, several people living in the area previously told The Epoch Times. The property belongs to another plaintiff who joined the lawsuit filed earlier this year.
Scilla has used a lineup of lawyers and environmental consultants-for-hire to scrutinize plans for future development at Dragon Springs. It's not clear how the whole enterprise is funded. The nonprofit only pulled in about $10,000 in 2020, according to its latest government filings. Based on self-reported unofficial figures on its GuideStar profile, it finished last year with net assets of $904.
Spreading Misinformation
Woodard regularly posts anti-Dragon Springs content on her social media accounts. In one Facebook post, her group claimed the owner of a property adjacent to Dragon Springs, which Woodard incorrectly says is connected to Dragon Springs, had secretly built a driveway without a permit. In fact, the driveway led to a private residence and had nothing to do with Dragon Springs, the owner of the residence confirmed to The Epoch Times.
A key piece of misinformation directed at Dragon Springs has been that the buildings on the site, including the schools and a Buddhist temple, were built without permits. However, all the main buildings and structures at Dragon Springs have had valid building permits and inspections.
This was acknowledged by town officials in a 2014 court case settlement. "There are no buildings, structures or uses thereon which do not comply with the Zoning Code, or prior approvals," the officials wrote at the time.
"As these false narratives are spread around our town, it has an adverse impact on everyone," Xu said. "We find ourselves having to defend ourselves for something we didn't do, and our neighbors find themselves upset over stories that are not true.
"This kind of misinformation divides the community and makes everyone's lives worse."