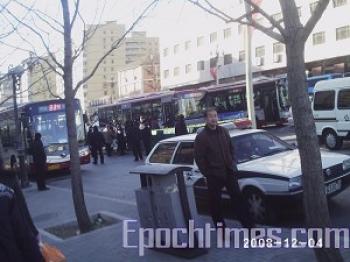 December 4 has been named the "Legal Day" by the Chinese communist regime, but over one thousand appellants who had gathered by the Chinese Central TV (CCTV) station to take part in the station's legal consultation program were detained by the regime authorities.
The appealants, some of whom had come from far away, were looking forward to being interviewed by CCTV reporters so they could share their grievances.
According to an appellant on site, about 50 to 60 police vehicles and a large number of uniformed and plain-clothed police officers surrounded the CCTV building and detained the appellants and sent them to the Majialuo Appellant Escort Center in the remote suburbs of Beijing.

Beijing Appellant Ms. Wu Tianli told The Epoch Times, "Many appellants came, but they were immediately detained when they arrived. Many of the police officers were tape recording the event, and about 300 appellants who saw the situation stayed away."
Beijing Resident Mr. Li said that besides the Beijing police, there are many thugs from outside Beijing. They were paid by local authorities to kidnap appellants from there, he said. Ms Li Shufen, an appellant from northeast China, was beaten severely and kidnapped by a large group of people who arrived at the scene with a vehicle from Liaoning province, judging by the licence plate.
Shanghai appellant Zhang Yuezheng accepted a phone interview when she was detained in the escort center in Majialuo. She said, "There are many people here now. Just counting the people from Shanghai, there are at least 100 of them."
Ms. Ning, an appellant from Beijing's neighbouring Tianjin city, told The Epoch Times, "police grabbed me when I was walking on the road, and forcefully put me into a bus with over one hundred other detainees. Currently, we are all standing in the chilly wind and waiting for the registration process, because the room is not big enough to fit all of us. There are at least several thousand people here."
Read the original article in Chinese