China's Leadership Change: The Ongoing Discussion
November 8, 2012 11:39 am Last Updated: October 1, 2015 11:55 am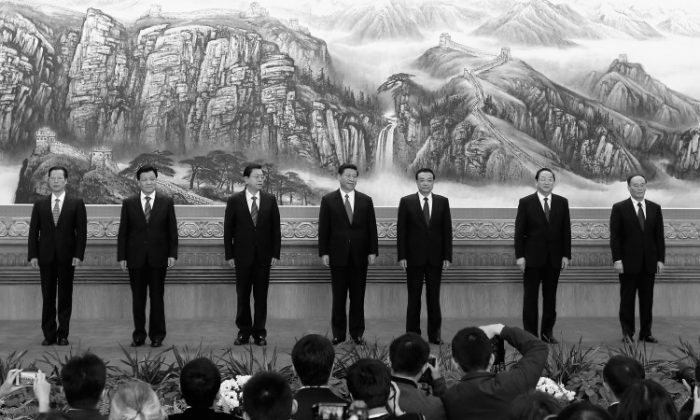 At the 18th Party Congress, the Chinese regime convenes for its first leadership change in 10 years, in the largest assembly of what is perhaps the largest secret society on the planet. Tune in here to read The Epoch Times' live updates, delivering the real behind-the-scenes story via our expert analysts and well-placed sources.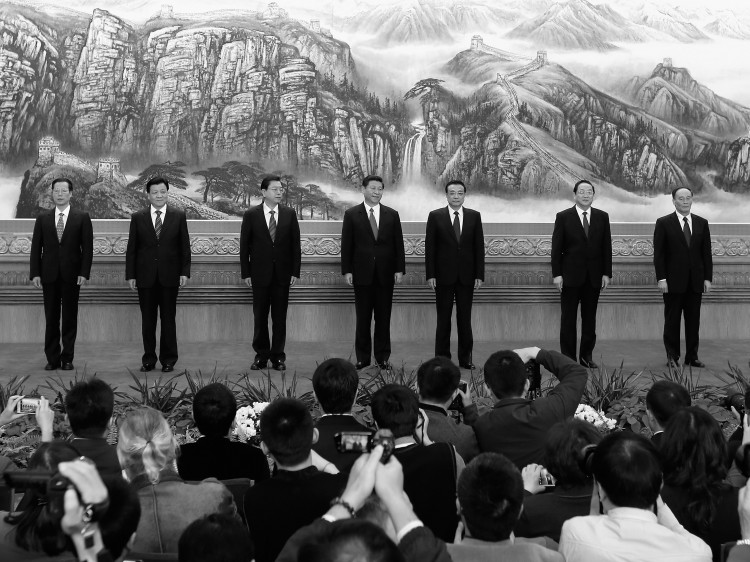 A Look at the New Party Leaders:  Xi Jinping * Li Keqiang * Zhang Dejiang * Yu Zhengsheng * Liu Yunshan * Wang Qishan * Zhang Gaoli
Articles: First Steps of Chinese Leader Not Hopeful For Reform   *   Chinese Communist Party Congress Produces Futile Deal  *  Chinese Communist Congress Also Has Its Losers  *   New Chinese Party Leadership Makes Reform Hopes Bleak  *  Chinese Want Democratic Reform First, Official Poll Shows  *  Why the Chinese Communist Party Defies Democracy  *  New Leadership in Beijing Spells End of Reform  *  New Rulers of Chinese Communist Party Announced  *  Closing Ceremony of Chinese Communist Party Congress Closed  *  Mother Jailed to Ensure 'Stable' Transition in China  *  Petitioners Detained During Party Congress  *  Open Alliance of Power and Money Meets in Beijing  *  Hu Jintao's Development Objectives Questioned  *  Gordon Chang Predicts Chinese Communist Party's Collapse  *  Chinese Human Rights Defender Cao Shunli Arrested  *  Google Search Unblocked Again in China, Less Than 24 Hours Later   *  Google Search Blocked in China; Likely Over Party Congress  *  What Chinese Communist Democracy Really Looks Like  *  Chinese Netizens Mock Communist Party Report  *  Party Congress Opens in Beijing, Business Already Done  * Before Party Congress, Crackdown on Falun Gong in Full Force  *  'Profound Lesson' Ahead of Chinese Leadership Change  *  Ahead of Party Congress, Five Self-Immolations in Tibet  *  Chinese Tear Mao's Image to Support Arrested Youth  *  Willingly or Not, New York Times Used in Beijing  *
Please visit our Chinese Regime in Crisis special topic for more articles.
……………………………………………………………………………………………………………………….
Nov. 22 — First Steps of Chinese Leader Not Hopeful For Reform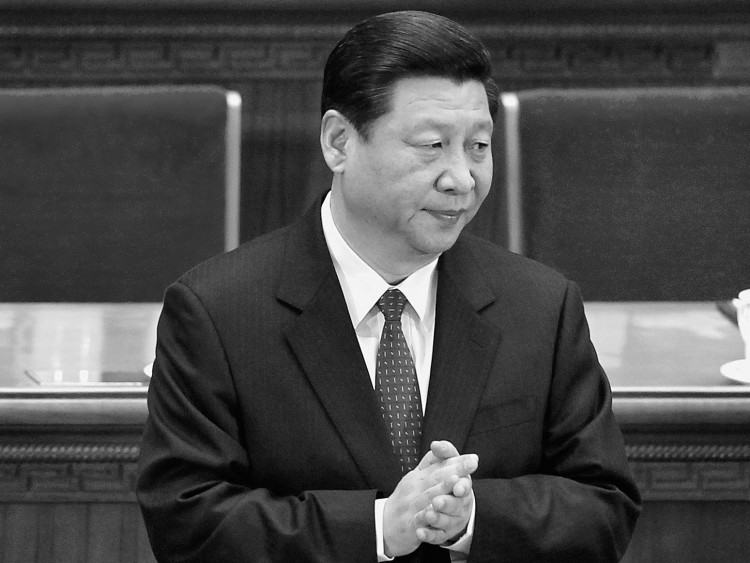 In the weeks leading up to the 18th Party Congress, Xi Jinping, China's new Communist Party leader, said that political reform should move forward at a faster pace. 
Now that Xi has secured the position as China's new leader, some are of the opinion that he is not as forward thinking as expected. 
He Qinglian, a prominent Chinese author and economist, wrote on her blog about Xi's silence on the issue of political reform as soon as he became the new leader.
"Based on various sources of public information, I believe the greatest difference between Xi Jinping and Hu Jintao lies in their style, and not their direction," He Qinglian wrote.
……………………………………………………………………………………………………………………….
Nov. 22 — Chinese Communist Congress Also Has Its Losers
Behind every somber character that made it onto the Politburo Standing Committee in the Chinese Communist Party's recent leadership shakeup, there lies a story of intrigue and horse-trading. The Party's political warfare also creates its share of losers, of course, and each failure too has a telling story behind it. Political compromise between competing factions crushed, or in some cases merely crippled, the ambitions of a number of up-and-coming communist officials.
Casualties were recorded on all sides: The faction associated with former regime leader Jiang Zemin found one of its trusted foot soldiers miss out on a key promotion; the faction associated with the princelings, or sons of revolutionary leaders, failed to attain two powerful military posts; and two of the more reform-oriented officials, associated with the camp of Hu Jintao, the outgoing Party leader, were excluded from the Standing Committee in favor of Jiang's men.
………………………………………………………………………………………………………………………..
Nov. 21 — New Chinese Party Leadership Makes Reform Hopes Bleak
NEWS ANALYSIS
The swearing in of the Chinese Communist Party's new leadership, including the appointment of five new personnel to the Politburo Standing Committee—several of whom are loyalists to a former hard-line Party leader—has shattered hope for reform in the country, according to many analysts of China's political system.
Analysts note that a number of reform-minded Party cadres were shut out, while conservatives were ushered in, and they thus worry that new Party leader Xi Jinping and his Premier Li Keqiang won't be able to call the shots as decisively as needed to push through reforms. These observers fear that any attempts at reform, should they exist, will likely be hampered by the need to defer to these other Politburo Standing Committee members and the vested interests they represent.
Xi's predecessor, Hu Jintao, was also made to show deference to Jiang Zemin, the former regime leader, and head of a powerful faction. Jiang was able to play a strong role in the personnel arrangements for the Standing Committee at the recently concluded congress.
……………………………………………………………………………………………………………………….
Nov. 21 — Through Retirement Hu Jintao Seeks Victory
With a daring move outgoing head of the Chinese Communist Party (CCP) Hu Jintao has sought to succeed in what had eluded him for 10 years: freezing former Party head Jiang Zemin out of power. Analysts say Hu's move won't make reform more likely or save the Party from failing.
According to regime mouthpiece Xinhua News Agency, on Nov. 16 during an extended meeting of the Central Military Commission (CMC) Hu Jintao officially handed over to new Party head Xi Jinping the chairmanship of the CMC—the command of the People's Republic of China's armed forces.
If Hu Jintao had followed the precedent set by Jiang Zemin, Hu would have held onto the chairmanship for two more years, ensuring his personal power inside the Chinese regime.
………………………………………………………………………………………………………………………
Nov. 20 — Chinese Want Democratic Reform First, Official Poll Shows
By Tang Ming/Epoch Times Staff
While the Chinese Communist Party focuses it future on economic reform, what the people really yearn for is political reform and greater freedoms, an online poll shows.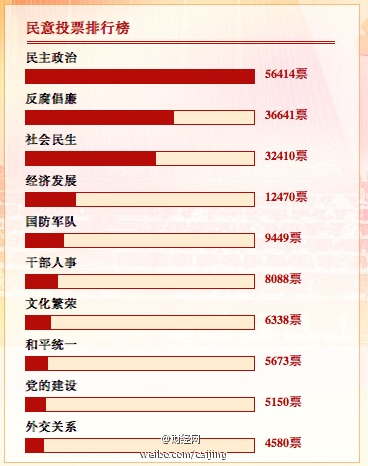 Just before the Communist Party's 18th National Congress, a public opinion survey titled "Online Survey Focusing on 18th Congress," conducted by state-run People's Daily, questioned the priorities of its readers. The respondents' top priority was a democratic political system (56,414 votes); eliminating corruption was second place (36,641 votes), improving livelihoods was third (32,410 votes), and economic development was fourth (12,470 votes).
Xi Jinping, the new General Secretary of the CCP, and other top leaders have said that they will concentrate on improving the nation's economic condition. They mentioned little of substance about prospects for genuine democratic political reform.
Among the poll's most frequent comments left by netizens were matters of livelihood: making a basic living and getting by. They were concerned about increasing their salaries and pensions, getting the household registration system canceled, and seeing greater government investment in primary education.
Read original Chinese article.
……………………………………………………………………………………………………………………….
Nov. 19 — Chinese Communist Party Congress Produces Futile Deal
The factions that dominate the Chinese Communist Party (CCP) continue to hold one another in a death grip, and a wary balance of power has taken shape behind the high red walls of the Party leadership compound, Zhongnanhai.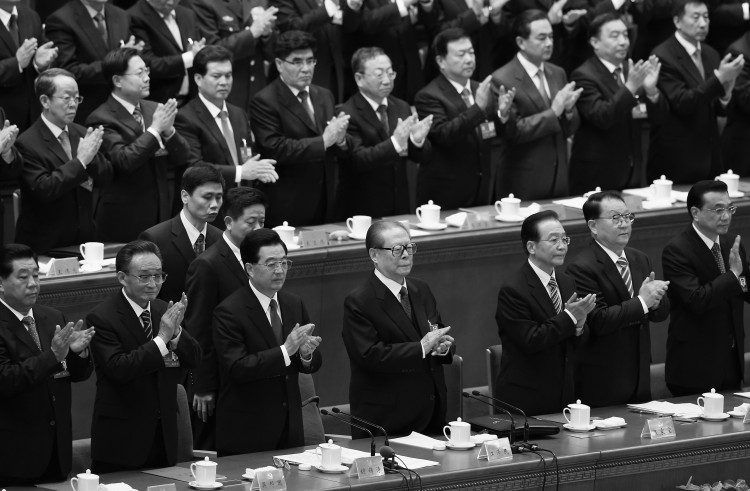 On Nov. 15, the first plenum of the CCP's 18th Party Congress released the names of the new Politburo Standing Committee. 
Xi Jinping, as expected, became the next Communist Party general secretary and, to the surprise of some, chairman of the Central Military Commission—the head of China's armed forces, succeeding Hu Jintao in both posts. Li Keqiang became premier, succeeding Wen Jiabao.
The seven Standing Committee members are Xi Jinping, Li Keqiang, Zhang Dejiang, Yu Zhengsheng, Liu Yunshan, Wang Qishan, and Zhang Gaoli. 
The new membership of the Standing Committee is far from the wishes of the public, but the wishes of the public were not a consideration. As the result of this high-stakes game, military power rests in the hands of close subordinates of Hu Jintao and Xi Jinping, while the power of the Party and the government has taken on a distinct Jiang-faction coloration. The purported reformist forces have shrunk.
……………………………………………………………………………………………………………………….
16:20 p.m. EST Thursday — New Leadership in Beijing Spells End of Reform
The new lineup of the Chinese Communist Party's Politburo Standing Committee signals an end to the hope of saving the Party through reform. It also puts outgoing Party leader Hu Jintao and outgoing Premier Wen Jiabao in the crosshairs for a possibly resurgent Jiang Zemin faction seeking scapegoats for the accumulating problems facing the Party.
Hu Jintao's influence will be weaker than that of Jiang Zemin, who retired 10 years ago.
The dreams of those who harbored some hope for the CCP are now completely dispelled.