Chinese health officials were drawing up plans to combat the CCP virus, which they knew to be infectious, days before they informed the public about its potential to spread, according to internal government documents obtained by The Epoch Times.
The CCP (Chinese Communist Party) virus, commonly known as the novel coronavirus, originated in the central Chinese city of Wuhan in late 2019. The virus has since spread to more than 200 countries and territories, causing more than 61,000 deaths in the United States alone.
China officially confirmed that the virus could be transmitted between humans on Jan. 20, when top respiratory expert Zhong Nanshan made the announcement.
Now, internal documents provided to The Epoch Times show that Beijing covered up what it knew, as central authorities were secretly providing directives to regional governments on how to cope with the outbreak.
On Jan. 15, the regional health commission in northern China's Inner Mongolia issued a "super urgent" emergency notice to its municipal counterparts, explaining how medical facilities should respond to a new form of pneumonia. The notice said that China's National Health Commission had implemented treatment and prevention measures for local health agencies to deal with the new disease (now known as COVID-19).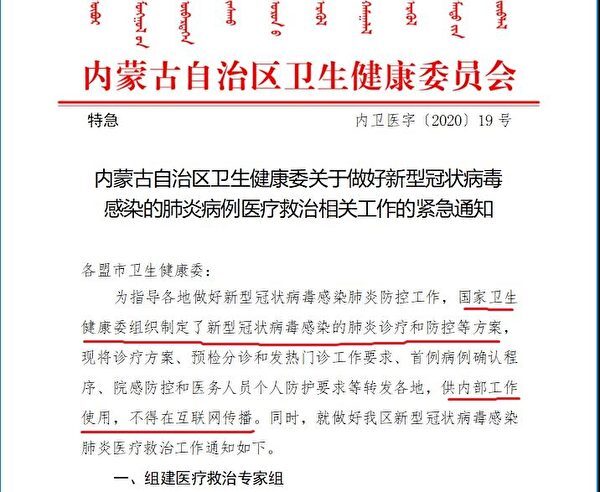 Three measures stated in the notice clearly indicated that Chinese officials knew the disease was infectious.
First, it asked hospitals to take measures to prevent the disease from spreading inside their facilities and train staff on such actions. Second, it asked hospitals to set up fever clinics and to "pre-screen and triage" anyone experiencing a fever, to determine levels of urgency for treating patients.
Hospitals also were directed to ask those patients if they had been to markets in Wuhan in the previous two weeks. While Wuhan authorities initially claimed that the virus likely originated from a local fresh food market, studies have since shown that some of Wuhan's first patients had no link to that market.
Finally, hospitals were instructed to set up special treatment teams that included infectious disease experts, the notice stated.
The Inner Mongolian health commission had no intention of informing the public about these plans, stating that the notice was "for internal use only, and cannot be distributed on the internet."
In another internal document, issued Jan. 15 by the local health commission in Xilingol League—one of 12 administrative divisions within Inner Mongolia—authorities also emphasized fever as a key symptom.
The league's health commission stated that local health agencies must "strengthen their management of screening and triage patients with fever," adding that it called for such management based on teleconferences held by officials in Central and Inner Mongolia about the virus.
On Jan. 19, a top Wuhan health official took questions from reporters, saying that he couldn't "rule out" human-to-human transmission, "but its risk was rather low."
On Jan. 23, three days after Zhong's public statement, China's National Health Commission publicly released the third edition of a document, titled "Diagnosis and Treatment Plan for the New Coronavirus."
The document stated that cases reported in Wuhan hospitals beginning in December 2019 were confirmed to be caused by "an acute respiratory infectious disease caused by a new coronavirus."  That statement was also included in the second edition of the document, issued on Jan. 18—two days before Zhong's announcement.
The second edition, which was leaked to The Epoch Times, was previously kept secret. The notice is marked with the words: "not to be disclosed."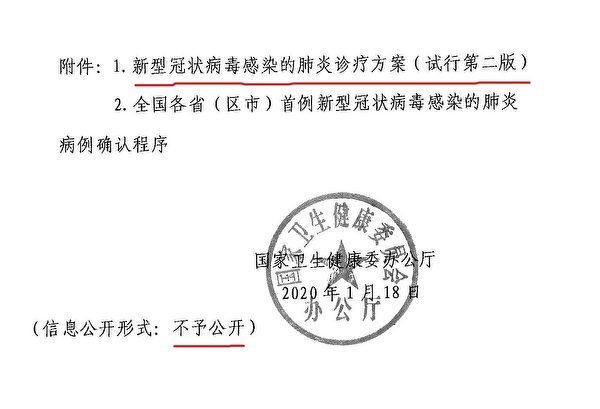 The second edition contains a section explaining that medical personnel in hospital departments that treat patients with fever, respiratory problems, and infectious diseases should wear a surgical mask, goggles, and one-time-use protective clothing.
Despite instructions that showing central authorities knew the virus could be spread among medical staff, they kept silent until Jan. 20.
The Inner Mongolian documents showed that local health commissions were already warned about virus prevention measures by Jan. 15. But that day, the Wuhan Health Commission wrote on its website that the "risk of human-to-human infection is low."
The World Health Organization (WHO) also initially repeated China's claims that the virus wasn't contagious.
"Preliminary investigations conducted by the Chinese authorities have found no clear evidence of human-to-human transmission of the novel #coronavirus (2019-nCoV) identified in #Wuhan," the WHO tweeted on Jan. 14.
A recent report by The Associated Press, also citing a series of internal memos, similarly found that Beijing knew of the virus's transmissibility for six days before publicly conceding that on Jan. 20.
It took another two days before the WHO's mission to China issued a statement confirming that "human-to-human transmission is taking place in Wuhan."