10,000 Jiangsu Residents Rally Against Police Violence
October 28, 2008 6:17 pm Last Updated: October 28, 2008 6:18 pm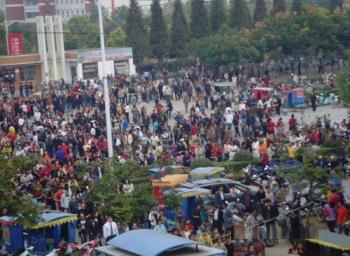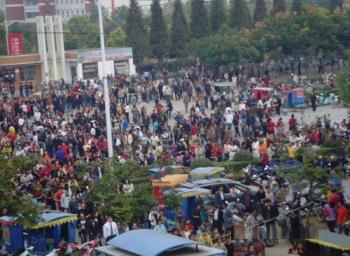 On October 20, nearly ten thousand residents of Jiangsu Province gathered at Suyu Middle School in Suqian City, Jiangsu Province to protest against police treatment of the parents of a teenager who committed suicide. It was reported that the 13-year-old student committed suicide because of his teacher's constant violent harassment.
When the student's parents went to the school looking for answers, the school staff refused to meet with them. The school staff called the police, who then attacked the parents. This incident of police violence enraged the surrounding Jiangsu residents. Thousands of residents later encircled and assaulted nearly a hundred officers. At least one police vehicle was destroyed in the riot.
According to New Tang Dynasty Television (NTDTV), the student wrote a will before hanging himself. The will asked his parents to bring to justice the teacher who had supposedly been continually beating him.
Eye-witnesses stated that the police attempted to take the boy's body for cremation. When the parents refused to give permission, the police attacked them.

A student named Zhu said, "The school was sealed up and no media was allowed. That's why there was no news coverage about this. Our teacher also warned us not to tell anyone about this, because if the school's reputation is ruined, the school will have difficulties in recruiting new students."
A local college student remarked that he feels the education system in China uses a student's academic record as the sole standard for judgment. This puts the students under great pressure. The same student also said that there had been previous occasions where students had committed suicide by jumping off buildings, but the authorities have been trying to cover them up.