China Jails NYT Researcher for 3 Years for Fraud
August 25, 2006 12:00 am Last Updated: August 25, 2006 12:00 am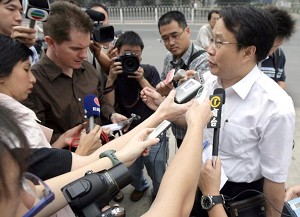 BEIJING—A Chinese man who worked as a researcher for the New York Times was handed a three-year prison sentence for fraud on Friday, but the Beijing court dismissed a charge of leaking state secrets, his lawyers said.
The verdict against Zhao Yan, a Beijing-based civil rights campaigner-turned-journalist, came a day after a court in eastern China jailed a blind human rights campaigner for four years.
China appears to have launched a crackdown on "rights defenders"—a growing network of lawyers, academics and dissidents seeking to expand freedoms through litigation and Internet-driven campaigns for legal reform.
Blind civil rights activist Chen Guangcheng was jailed on Thursday and human rights lawyer Gao Zhisheng was taken into police custody earlier this month.
The Beijing No. 2 Intermediate People's Court announced its verdict on Zhao almost two years after he was taken into detention. It followed a start-stop process of charges being laid, then dropped and revived again, highlighting the vagaries of China's justice system.
Taking his detention into account, Zhao is due for release in September 2007.
According to the verdict, there was "insufficient evidence" to convict Zhao of providing state secrets to the New York Times. The newspaper correctly reported in 2004 that former Chinese President Jiang Zemin would give up his sole remaining leadership post as military chief.
"I had a feeling thinking about it yesterday that he wouldn't be sentenced on that charge," the defendant's sister, Zhao Kun, told Reuters, referring to the state secrets accusation.
Bill Keller, the U.S. newspaper's executive editor, said in a statement: "If the verdict is what it appears to be, we consider it a vindication. We have always said that to the best of our knowledge, the only thing that Zhao Yan committed is journalism."
Likely to Appeal
Zhao's lawyer, Guan Anping, said: "We maintain that Zhao Yan is innocent but I was surprised. He seemed surprised as well."
But the court ordered Zhao to pay a 2,000 yuan ($250) fine and to return 20,000 yuan he "gained through fraudulent means", the official Xinhua news agency said without elaborating.
Zhao was accused of taking money from a villager in northeast China in 2001 with a promise of helping him to avoid labour through re-education. His sister was convinced he was innocent.
"He's been the most willing to speak up for ordinary people. How could he possibly take their money?" the sister said.
Zhao is likely to appeal against the fraud conviction, his lawyer Mo Shaoping said.
Chen, the blind activst, was sentenced to four years and three months in prison on Thursday for damaging property and disrupting traffic during a protest in February in his home village, Dongshigu in the eastern coastal province of Shandong.
Chen drew international attention last year by accusing officials in Shandong of enforcing late-term abortions in a population control drive.
Gao, a lawyer who had defended adherents of the banned Falun Gong spiritual group, was taken into custody after months of surveillance.
In Washington, State Department spokesman Gonzalo Gallegos condemned Chen's jailing on "questionable charges" and Gao's detention, saying it appeared to be part of a larger pattern of official harassment of individuals working to advocate the legal rights of their fellow citizens.
*****
Five Facts on Media Controls in China
With at least 32 behind bars, China was the world's leading jailer of journalists in 2005, but administrative mechanisms rather than imprisonment are the state's main method of controlling the press, according to the U.S.-based Committee to Protect Journalists (CPJ).
Here is an overview of media controls in China:
* News censorship in China does not involve pre-publication monitoring, and most journalists never hear directly from the Central Propaganda Department, the CPJ says.
The system relies on the heads of news outlets interpreting instructions and comments from propaganda authorities. They then spike controversial news, or file it as an internal report, to be read only by high-level officials.
* Editors and journalists are more likely to be fired or demoted than prosecuted, the CPJ says.
The official People's Daily said in February 2005 that censorship agencies permanently shut 338 publications in 2004 for printing "internal" information, closed 202 branch offices of newspapers, and punished 73 organisations for illegally "engaging in news activities".
* Foreign Internet companies have been repeatedly criticised by human rights groups for their role in helping construct and police China's "great firewall", that blocks Web sites carrying information deemed subversive.
The CPJ says over half of the 32 journalists jailed in China in 2006 were Internet-based, and at least two were arrested with the cooperation of U.S. Internet companies. An estimated 30,000 local Internet censors also patrol China's cyberspace, removing controversial information.
* Espionage charges, as faced by Straits' Times journalist Ching Cheong, are uncommon. But Chinese journalists are often imprisoned on national-security related charges of "inciting subversion" and "divulging state secrets".
* Land use, labour protests, unemployment, public health issues, environmental pollution, war casualties, and investigating Communist Party leaders are cited as examples of state secrets by the CPJ.
The classification's vagueness and changing definition is seen by critics as a practical measure that allows authorities to police a variety of issues as they arise.