Corn, one of the main grains in mainland China, is currently entering the harvest season. But due to the impact of natural disasters, government estimates are predicting a significant reduction in corn production and quality this harvest.
China has already been dealing with a corn shortage this year, according to reports from various sources, partially due to policy in recent years that saw corn reserves depleted by excessive industrial use of corn for biofuel. Chinese media Caixin recently reported that since April this year, the price of corn in mainland China has soared to the highest in four years, leading the price on the grains' market.
In September, supply concerns pushed Chinese corn futures to a record high.
According to the market price of livestock products and feed in the first week of October, released by the Ministry of Agriculture and Rural Affairs, China's national average price for corn was 2.46 yuan/kg (37 cents/kg)—a year-on-year increase of 16 percent. Official data also revealed that average spot price for corn in October had risen by more than 1,000 yuan/ton—an increase of more than 60 percent since the end of 2017, local media reported.
Northeast China is an important grain producing area and one of the world's three "golden corn belts." Caixin reported that from the end of August to the beginning of September this year, three typhoons swept across the corn-growing region in succession, leveling crops just as they entered the crop filling period. This not only reduced crop yields, but also caused problems for crop quality, increasing the risk of mildew. The flattened crops also required more manpower and resources to harvest, and as a result, the autumn harvest has fallen behind what was expected.
Agricultural analyst Ma Wenfeng at China's leading agriculture and food business consulting company CnAgri.com believes that the recovery of pig farming from African swine flu, natural disasters, and other factors have jointly pushed up the price of corn, according to an online report. He added that new year grain production has not been seen on the market in large quantities and circulation remains tight, which all has made corn a "hot commodity."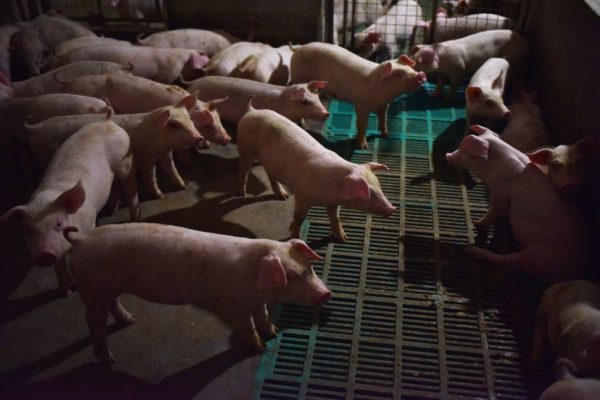 Grain dealers, feed companies, and food processing companies are also all scrambling to stock up corn, Ma said. Some have even raised funds from various sources to hoard corn for sale, further pushing up market prices.
Ma warned, "The price of corn is in a period of skyrocketing, and everyone must pay attention to market outlook risks."
Losses For Downstream Industries
Aquaculture and pork industries are expected to suffer losses with soaring grain prices.
Corn accounts for more than 60 percent of aquaculture feed, and since October, the price of pig feed has increased by 100 yuan per ton.
However, since mid-to-late September, the price of pork has shown a continuous decline due to oversupply as the sector recovers from swine flu. In the second week of October, the average price of live pigs in mainland China was 32.8 yuan per kilo. In early September, analyst Zhang Minggui, who is also the new president of New Hope, China's major pig farming company, told Chinese media that once the price of pork drops below 40 yuan per kilo, or even slightly lower, it will fall below most of the pig farming companies' cost line.
Feng Lichen, chief analyst of Chinese agriculture consultancy yumi.com.cn, said that besides pig farming, the rise of corn price this year has caused other downstream industry sectors to suffer a phased loss.
Food security has been a concern for China this year as grain production has encountered disasters after disaster. In addition to the typhoon affecting the northeast's autumn harvest, rice production in the south has been hampered by record-breaking floods. Pests such as locusts and fall armyworms have also invaded crops.