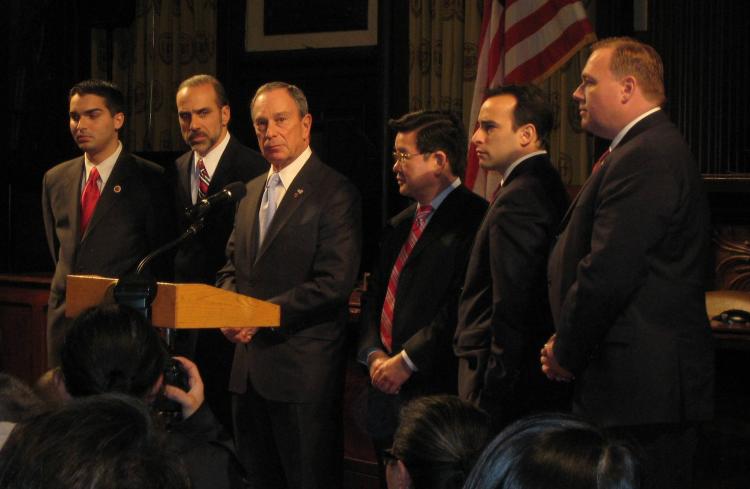 Zhong Yafang, a patient with thyroid disease, was treated at the First Affiliated Hospital of Zhejiang University Medical School. The hospital injected radioactive nuclear material meant for cancer patients into Zhong Yafang's body.
Since then, Zhong has been extremely ill. Meanwhile, her daughter has also been diagnosed with a disease associated with irradiation poisoning. It is believed that she contracted the poisoning from her mother. The local police have refused to take Zhong's case.
Zhong is now seeking help in Beijing. She said, "We have suffered so much from the injury. The pain is far beyond what anyone could imagine. I have attempted to commit suicide. …. Each time, I gave up [the attempt] because of my daughter.
"Even my daughter has begged me many times, 'Mom, please let me die.' I can't put the pain into words anymore. Now all my bones are aching, our chromosomes are abnormal, and we both are dying."
Patient injected With Radioactive Material
Ms. Zhong, a nurse at Tonglu County Chinese Medicine Hospital in Zhejiang Province, went for a radioactive isotope scan for her thyroid illness at the Nuclear Medicine of Zhejiang University Medical School on Dec. 21, 2006.
The next day, Zhong began to feel pain and weakness in her limbs and bones. Later, her condition worsened with severe symptoms of degenerated muscles, hair loss, and stiffness in both legs. She sought medical help, but nothing worked.
The Second Affiliated Hospital of Suzhou University Medical Emergency Center for Irradiation Injury confirmed detection of radioactive strontium 89 (89Sr) in Zhong's body on June 8, 2007.
The Huaxia Evidence Identification Center in Beijing issued a judicial authentication on May 7, 2008: "The Nuclear Medicine of the First Affiliated Hospital of Zhejiang University Medical School … should not be ruled out to have mistakenly injected the 89Sr into Zhong's body when conducting medication to perform an isotope scan. If all other means of contacting 89Sr are ruled out, the hospital medication process is consequential to Zhong's injury."
Zhong Yafang visited the hospital several times to remedy the medical error. However, the hospital ignored her request and took a tough stance.
According to Zhong, the Nuclear Medicine director Lee Linfa threatened her and said, "The wife of the Hospital's president is the director of the Provincial Health Department. You will not win this case. I will fight you to the end. But watch out, I'll make sure that you pay for it."
Zhong hired a lawyer to sue the hospital. On May 15, 2008, the courts examined and confirmed that on Dec. 20 and 21 the hospital purchased four tubes of 89Sr. Three of them were used on cancer patients. The fourth tube remained missing on the hospital's record.
Ten-Year-Old Poisoned
When Zhong was suffering from the irradiation injury in October 2007, her then 8-year-old daughter, Zhong Zhehan, suddenly became ill with the same symptoms. She experienced massive hair loss, and the cause was unknown.
In December 2007, the Second Affiliated Hospital of Suzhou University Medical Center also detected radioactive nuclear materials in her body. Her chromosomes had aberrations and breaks.
Huaxia Evidence Identification Center in Beijing issued a judicial authentication on Oct. 13, 2008: "Zhong Zhehan's body has been affected by radioactive material. She was contaminated by irradiation during the time when her symptoms developed."
Zhong Zhehan had never left Tonglu County before the symptoms developed. She did not have a chance to come into contact with any nuclear material. The medical examination denied that the contamination was from her mother because her body contained radioactive material at a concentration several times higher than that of her mother.
Ms. Zhong had already reported her daughter's poisoning to the Zhejiang Public Security Bureau on Dec. 13, 2007. She told the police that Lee Linfa might have committed the crime and requested that the police take measures to retain evidence. However, the police ignored her.
Zhong cried, "My daughter can no longer go to school because of the this illness. She is at home suffering from pain, dizziness, and headaches. She is very weak and is dying. In order to come here to seek justice, I could not even keep her company."
'We Are Dying'
Zhong filed a lawsuit against the hospital. The case is currently at the stage of exchanging evidence and cross-examinations.
Zhong said, "The authorities are protecting one another. The Public Security will not investigate my case, and the court will not accept the case either. I am here in Beijing for the sixth time.
"The local officials warned me that if I petition one more time, they will send me to a labor camp. But we need medication to sustain our lives. We need everyone's help and support. We are dying. Please help us!"
Zhong and her daughter are both severely tormented by the illness. Facing death, after two years of petitioning, Zhong is left with an unresolved crime.
As a single mother, Zhong feels helpless. She hopes the local officials will investigate the case according to the law, identify the source of her daughter's irradiation injury, punish the criminals, and provide justice.