China's Human Rights Lawyers Face Major Obstacles
July 15, 2009 10:15 am Last Updated: July 15, 2009 8:47 pm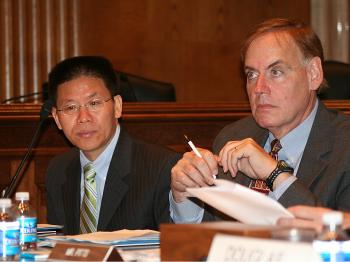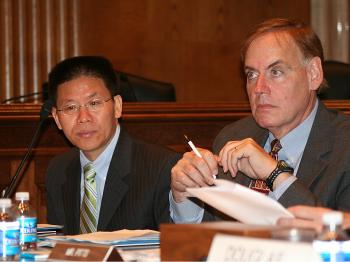 Since the early 1990s, a small band of human rights lawyers in China has been growing. They represent a tiny fraction of China's estimated 140,000 lawyers—a small percentage of the 1.3 billion Chinese population compared to Western countries. But activists lawyers, called weiquan in Chinese, have had a few successes within China's justice system, giving a measure of hope to China's most vulnerable.
But their limited success has brought about retaliation. Some rights lawyers have been arrested, beaten, and tortured for practicing normal legal defense work. The most recent method of intimidation is the denial of a license to practice.
"Just these past few months, the Chinese government has been forcing human rights law firms to shut down," said Professor James V. Feinerman, Georgetown University Law Center. Feinerman was speaking July 10 at the Congressional-Executive Commission on China (CECC) on Capitol Hill. At the CECC roundtable, a panel of experts on China's legal system discussed China's human rights lawyers and their role in advancing the rule of law in China.
"This has not involved a formal crackdown," said Mr. Feinerman. "Authorities have not seized files or sent attorneys to labor camps. Instead, the justice authorities are simply using administrative procedures for licensing lawyers and law firms, declining to renew the annual registrations, which expired May 31, of those it deems troublemakers."
What in the past was a perfunctory matter has become an instrument to pressure lawyers, law firms, and the profession in general.
"As far as we can confirm, 19 attorneys at this time are unable to practice law," said Xiqiu "Bob" Fu, founder and president of China Aid, a Christian organization in the United States that focuses on religious freedom in China. However, these attorneys are just a handful, according to Professor Feinerman, whose information was that "dozens of China's best defense attorneys have effectively been disbarred under political pressure."
The CECC is composed of members from both the House and the Senate, with Senator Byron Dorgan (D-N.D.) and Representative Sander Levin (D-Mich.) Co-Chairmen. Congressman Joseph Pitts (R-Pa.), a legislature commissioner of CECC, attended the briefing.
China's Lawyers Told What Cases They Can Represent
China's Ministry of Justice and local lawyer associations are known for interfering in "sensitive" cases.
"Such cases include not only criminal prosecutions of alleged Tibetan or Uyghur 'separatists,' democracy organizers, and Falun Gong or 'house church' worshippers, but also claims against the government for many kinds of misconduct and corruption, birth control, and forced eviction and relocation," said Jerome A. Cohen, a professor at New York University School of Law.

An Open Letter to the Ministry of Justice, dated July 2, signed by 31 Chinese intellectuals, concluded that the revoking of the licenses occurred where the lawyers had taken cases in following categories. They include Sanlu poisonous milk powder incident, abnormal deaths while the victim was in custody, representing house churches, re-education through labor (RTL) cases, rights of migrant workers and ethnic minorities, cases of Falun Gong practitioners, and rights of HIV patients.
"Even civil cases involving land transactions, environmental controversies, collective labor disputes and compensation for tainted milk and earthquake victims are off limits or controlled," said Professor Cohen, who has authored several books and articles on Chinese law.
A statement by attorney Li Fangping also mentioned the work "rights defense" attorneys have been doing for victims of violent family planning policies. Chen Guangcheng, 38, was sentenced to four years in prison in 2006 for coming to the defense of rural peasants in Linyi City, Shandong Province, who were forcibly sterilized by orders of party bosses despite the fact that forced sterilization and abortions are now outlawed, according to Philip Pan's award winning book, Out of Mao's Shadow (2008).
While the government has shifted to more voluntary methods, communist leader Hu Jintao has still not abandoned the one-child policy. Local Party bosses will even force abortions at nine months of pregnancy to keep the birth rates low in their areas and boost their careers. Time reported that Chen assisted at least two women who had been forced to abort their babies just days before their due dates (April 30, 2006).
Chen, who is blind, is not a formally trained lawyer but audited law classes because the blind were not allowed to become lawyers. He has suffered many kinds of abuse at the hands of the police, including house arrest and beatings, and is reportedly in poor health in prison now for attempting to file a class-action lawsuit.
Harassment and Physical Violence Against China's Rights Lawyers
Feinerman explained that the typical means to persuade lawyers from participating in a politically sensitive case is to charge them, or threaten to charge them, with various crimes. If that doesn't work, authorities resort to more direct methods.
"Detention, house arrest and even imprisonment on manifestly false charges are commonly employed," said Feinerman. "Unfrocked Beijing lawyer Gao Zhisheng was convicted of 'inciting subversion.' Former Shanghai lawyer Zheng Enchong served three years for 'selling abroad state secrets,'" said Cohen. These kinds of vague charges, of course, are used to put annoying lawyers out of commission.
In addition to disbarment and the loss of livelihood, and the threat of being charged with a serious crime, is the frequent physical intimidation of "rights" lawyers. Both Cohen and Fu noted that the day of this hearing marked the 156th day of Gao Zhisheng's "disappearance." His previous torture makes many people fear that he is now dead, said Cohen.
Gao represented Falun Gong and other controversial clients, challenged Party rule, condemned torture of Falun Gong adherents and called for democracy. As a result, Gao lost his license to practice law, was tortured, convicted of a crime, and most recently has "disappeared" for 156 days, noted Cohen.
Two Beijing lawyers, Zhang Kai and Li Chunfu, went to Chongqing in January 2009, and met with the relatives of Jing Xiqing. Jing was a Falun Gong practitioner who had died mysteriously under police custody. The body had been cremated without the consent of the family. The attorneys agreed to represent the family, who suspected unnatural causes in Jing's death. The police came during their discussion, physically manhandled them, handcuffed them, and took them back to the police station where Zhang Kai was hung up with handcuffs in an iron cage and Li Chunfu was slapped in the face. When the police told them to stop defending Falun Gong cases, they explained that everyone has a right to legal counsel. The police said, "You absolutely cannot defend Falun Gong; this is the situation in China," according to Feinerman.
Communist Control vs. Rule of Law
This month marks the 30th anniversary of the communist regime's break from its Maoist past, when the regime embarked on "a new role for law in China's governance," said Feinerman. A new direction began then toward China's acceptance of laws to run the country and of the necessity for laws and regulations in its international treaties and trade.
"Nevertheless, the Communist Party remains in ultimate control. More significantly, the Party and its leadership remain outside the reach of the law. … The government bureaucracy—including the courts and other legal institutions—are dominated by the Communist Party appointees at every level, despite some autonomy for independent actors to develop the rule of law," testified Feinerman.
Feinerman likes to point out that judicial independence is nonexistent in China. Final authority to interpret national law rests with the Standing Committee of the National People's Congress. "Communist Party adjudication committees inside the courts oversee the work of the judges, particularly in politically sensitive or important cases."
The future for China's courts is not bright. "The replacement of the former President of the Supreme People's Court, Xiao Yang, by a man who not only lacks legal training but has long been a Communist Party hack has set back efforts to improve the quality of judges and reform the judiciary," said Feinerman.