China Hospital in Experimental Drug Trials on AIDS Patients
May 1, 2008 12:00 am Last Updated: May 1, 2008 12:00 am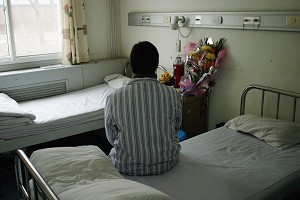 A Taiwanese citizen has expressed his concern over the ethics of clinical trials on China's rural AIDS carriers, and has called for an investigation of the legality of such drug trials.
According to sources, since 2004, this Taiwanese citizen has financially supported many children who live under the shadow of AIDS in the area of Kaifeng and Shangqiu cities in Henan Province, and has paid them regular visits at their homes.
During one such visit in mid-April, AIDS infectious people in Weishi County informed him of the drug trial—the Beijing You'an Hospital was recruiting local AIDS patients into an experimental drug trial as guinea pigs, and had been provided with accommodation and free medical treatment. Some of the AIDS patients said that they had given no written consent for such a drug trial, and are concerned about a violation of ethical principles and an infringement upon AIDS patients' legal rights.
A volunteer confirmed that the Beijing You'an Hospital was conducting a drug trial on AIDS carriers, and said that about 30 participants who had acquired AIDS through blood transfusions were taking part in a drug trial of Sifuvirtide.
The participants were divided into two groups; one group was injected with Sifuvirtide (in their arms or stomach after breakfast each day), while the other group received no injection. Meanwhile, the two groups were required to take such drugs as Didanosine, Lamivudine and Kaletra, two hours both prior to and after their breakfast and dinner each day.
According to the participants, they were not informed of the purpose of their arrival in Beijing, but were offered free board and lodging, plus monthly salary ranging from 500 to 1500 yuan (US$71.55 to $214.65).
The participants had not signed any informed consent forms that they understood that by using an experimental medicine, they were taking risks with their safety, health and legal rights. Further, there was no written document to indicate who should be responsible for the consequence of the drug trial conducted on those patients—for compensation and emergency medical treatment in case of failure of the trial, or for further treatment after the end of the trial.
AIDS activists of the 64 Tianwang Website, stated, "Before the drug trial at Beijing You'an Hospital, the Beijing Ditan Hospital had conducted AIDS clinic trials, and later in 2005, were criticized over a scandal involving illegal medical practices. We hope to establish an ethics committee in China to regulate drug trials on AIDS patients and to further protect their legal rights."