BEIJING—China said on May 13 it will adjust tariffs on a revised target list of $60 billion worth of U.S. imports, with additional rates of 20 to 25 percent in retaliation for a U.S. tariff hike on $200 billion worth of Chinese goods.
A total of 5,140 U.S. products will be subject to various tariff rates starting June 1, the finance ministry said in a statement.
An additional tariff of 25 percent will be levied against 2,493 goods including liquefied natural gas, the ministry said, and an additional tariff of 20 percent will be imposed on 1,078 products.
Beijing previously set additional rates of 5 percent and 10 percent on 5,207 U.S. products worth $60 billion in September, and warned at the time that it would counter any higher tariffs imposed by Washington on Chinese products.
"China's adjustment on additional tariffs is a response to U.S. unilateralism and protectionism," the ministry said.
The announcement came less than two hours after President Donald Trump warned Beijing not to retaliate after China said it "will never surrender to external pressure."
Trump warned China not to intensify the trade dispute and urged its leaders, including Chinese leader Xi Jinping, to continue to work to reach a deal. "China should not retaliate-will only get worse," he said on Twitter.
"I say openly to President Xi & all of my many friends in China that China will be hurt very badly if you don't make a deal because companies will be forced to leave China for other countries," Trump wrote.
The United States on Friday activated a new 25 percent duty on more than 5,700 categories of products from China, even as top Chinese and U.S. negotiators resumed trade talks in Washington.
Trump had ordered the new tariffs, saying China "broke the deal" by reneging on earlier commitments made during months of negotiations.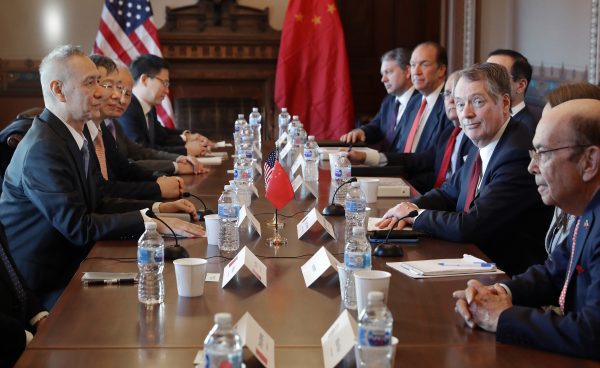 Trump last week also ordered U.S. Trade Representative Robert Lighthizer to begin imposing tariffs on all remaining imports from China, a move that would affect an additional $300 billion worth of goods.
Chinese state media kept up a steady drum beat of strongly worded commentary on Monday, reiterating that China's door to talks was always open, but vowing to defend the country's interests and dignity. It ramped up its propaganda efforts to portray the United States as an adversary, blaming it for the lack of progress in negotiations, while also warning citizens to brace for hard times ahead.
Before high-level talks last week in Washington, China tried to delete commitments from a draft agreement that Chinese laws would be changed to enact new policies on issues from intellectual property protection to forced technology transfers. That dealt a major setback to negotiations.
Trump has since defended the U.S. tariff hike and said he was in "absolutely no rush" to finalize a deal.
Top White House economic adviser Larry Kudlow said on Sunday there was a "strong possibility" Trump will meet China's Xi at a G20 summit in Japan in late June.
By Ben Blanchard & Lee Chyen Yee. The Epoch Times contributed to this report.