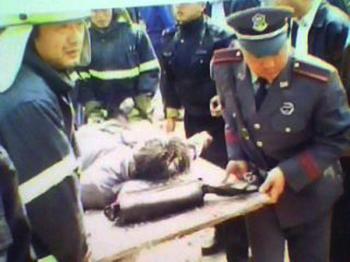 Nanjing police beat to death Wu Zhonghua's 78-year-old mother while trying to evict him and his family. The local authorities in turn charged Wu's brothers with murder of their mother and arson. The convicted brothers have now spent over a year in prison on these charges.
Wu Zhonghua, a resident of Nanjing's Xuanwu district, explained to The Epoch Times that city planners had decided to include their inherited property in a new public park and ordered them to relocate. According to Wu, they are just one of the many cases of forced relocations occurring in Nanjing.
In 2007, the local real estate prices ranged from $65-$82 per square foot. Wu's family asked for $49 per square foot for compensation, but the local authorities were only willing to pay $34 per square foot. After a one time meeting between the authorities and Wu's family, no agreement for the sale of their property was negotiated.
On the morning of April 27, 2007, the deputy director of the Nanjing Public Security Bureau, Huang Xinguo, led hundreds of police, special force police and law enforcement officers to break into the Wu residence. The authorities claimed to be firefighting, and then pried open the building door, smashed the windows and set fire to the house.
When Wu's brothers and mother rushed outside to escape the fire, six policemen attacked them, according to Wu. His mother was beaten to death on the spot. The police also kicked Wu repeatedly in the groin till he lost consciousness. Wu's 60-year-old brother, 56-year-old sister and 50-year-old brother were all seriously wounded and required urgent care
Wu was sent to the local police station and then held in secret detention at a local hospital. He was later detained at a local detention center for over a year.



To date, the Wu family still has not received any compensation from the Xuanwu district. After filing many written requests to the local authorities to prosecute their mother's murderer, the family was only told, "There is no crime evidence. The case can not be established."
The local authorities first reported that Wu's mother had died of a heart attack. According to the local state-controlled media's report, Wu's brothers were not happy about the offered relocation compensation, and they committed arson, which caused their mother's death.
According to Wu, the court had access to his mother's autopsy report and photos, but just ignored them. He also believed that the prosecutor fabricated the evidence. "The local prosecutor used edited video clips to arrest my brothers. The court also sentenced them for arson without any conclusive evidence," said Wu.
"We have no other choice but to risk our lives in our efforts to reveal to the public the truth of these brutal forced relocations sanctioned by the authorities," explained Wu.