China is considering buying energy, assets, and stakes in Russia's bulk commodities companies.
Albert Song, a current affairs commentator familiar with the Chinese financial system, told The Epoch Times that during the Russia-Ukraine war, the Chinese Communist Party (CCP) has a huge appetite for commodities as part of its goals to expand its aggressive powers to "race against the U.S. and obtain a certain voice on the global stage."
Potential targets include Russian companies like PJSC Gazprom, the world's largest natural gas company; and RUSAL, the world's second-largest aluminum company. Potential Chinese buyers are heavyweight state-owned enterprises: China National Petroleum Corp., Sinopec Group, Aluminium Corporation of China Ltd., and China Minmetals, people familiar with the matter said, according to Bloomberg on March 8.
Additionally, the CCP might look to acquire Russia's gold reserves through a secret trading channel, which may be settled with foreign exchange secretly because all of Russia's gold is stored in central bank vaults and cannot be sold on the global market. "It's troublesome for Russia," Song said.
U.S. senators on March 8 introduced a bill to close a loophole in the West's sanctions, proposing secondary sanctions for those trading with Russia using its $132 billion in gold reserves, Axios reported.
Since Russia invaded Ukraine, the United States and other Western countries have imposed a series of sanctions on Russia, including freezing its foreign exchange reserves. This has made Russia's gold reserves a key funding resource for Moscow in shoring up its war.
According to Song, the CCP's quiet support of Russia is similar to its past responses to the United States sanctioning other countries. For example, when the United States sanctioned Iran and banned its crude oil exports, the CCP provided Iran with cash and other materials to help it smuggle crude oil—ships without transponders delivered Iranian crude oil reported as Malaysian or Omani exports into Chinese ports, Song said.
Russia and China Enhance Bilateral Trade
Song has maintained that the CCP might now consider it the right time to incorporate Russian energy out of concern for easing its pressures from soaring energy and food prices worldwide.
Petrol and gas costs soared after Russia's invasion of Ukraine. On March 6, crude oil prices in the global market hit a record high not seen since the global financial crisis of 2008, which resulted in a surge in costs of downstream products.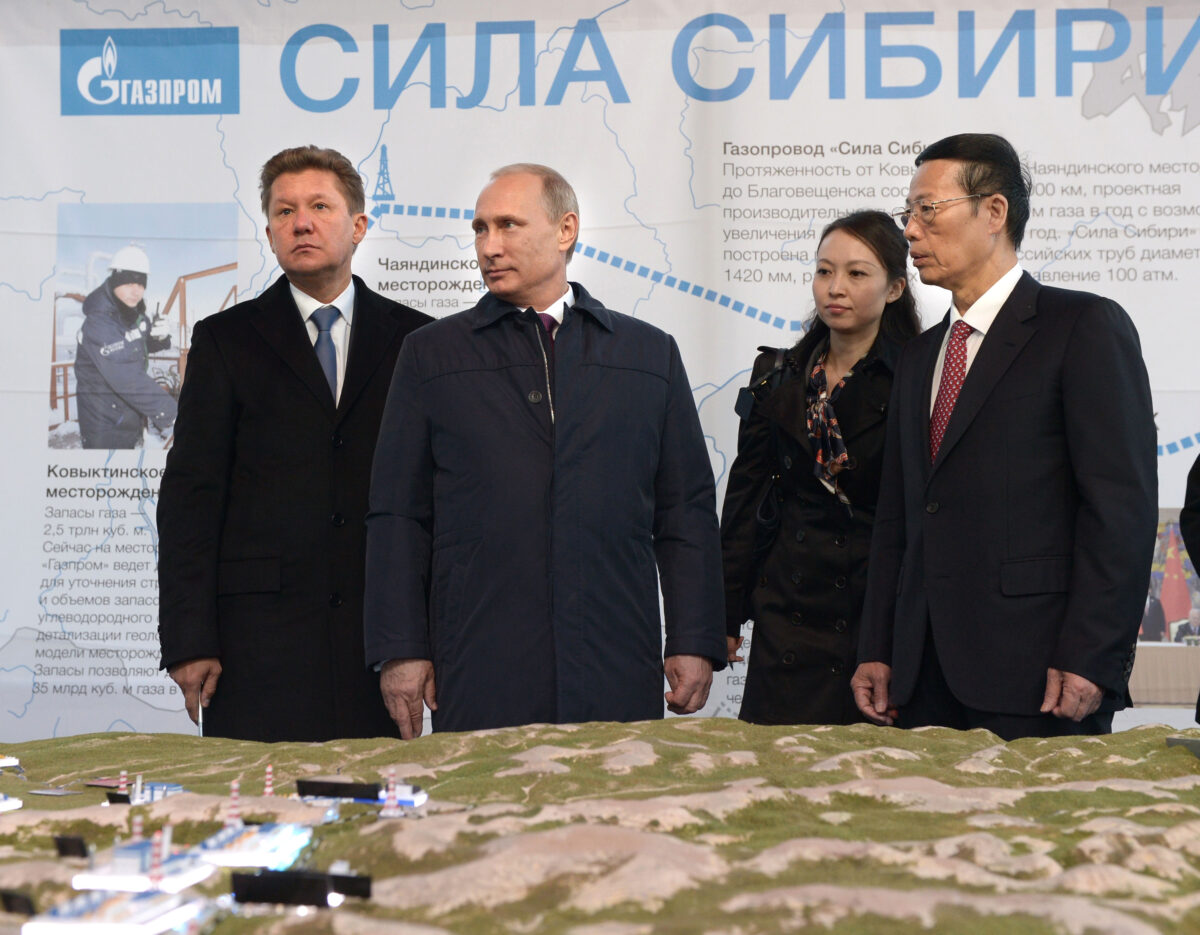 China deems Russian energy as the "ballast" for its bilateral trade cooperation with Russia. Russia is China's largest source for energy imports, second-largest source for crude oil imports, and largest source for importing electricity.
In 2021, China imported energy products from Russia worth 334.29 billion yuan ($53.49 billion), standing for 65.3 percent of total goods imported from Russia, according to data from China's Ministry of Commerce.
Andrey Denisov, Russian Ambassador to China, said in a Jan. 25 press conference that Russia and China are forming an energy alliance in the area of developing new energy sources, renewable energy sources, and the processing of raw materials for use in the energy sector.
Notably, however, Song says that Putin seems to dislike the RMB (Chinese Yuan), citing that "in February, when Putin visited China, Russian and Chinese authorities and enterprises signed 15 cooperation documents, and trade settlement was made in foreign currency, not RMB."
Trade cooperation between China and Russia has showed signs of significant growth in the past year before Russia launched its war on Ukraine on Feb. 24.
According to data from China's Ministry of Commerce on Feb. 9, China exported home appliances, automobiles, and construction machinery to Russia, and e-commerce trade between the two countries increased 187 percent from January to November last year.
China's General Administration of Customs reported on March 7 that the first two months of 2022 saw Russian-Chinese trade increase by 38.5 percent year-on-year, exceeding the 35.9 percent growth rate the whole year prior. In 2021, Russian-Chinese trade totaled $146.87 billion.
In the face of western sanctions, Russia is further leaning toward the CCP. "It is a state of mutual support between two powers," Song said.
CCP Interests in Europe
In Europe, the CCP has dropped one of its major strategic deployments, according to Song.
Ukraine is a critical transit point for the Belt and Road Initiative, the CCP's global infrastructure project, which has been in operation for decades.
Like Russia, Ukraine was selling energy and minerals to China, and would have been a vital transit for the planned China-Europe railway—all of which has disappear due to the war. "Therefore, the war between Ukraine and Russia is for real a dilemma for the CCP," Song said.
Using Chinese puns, the CCP's mouthpiece Xinhua claimed on Feb. 28 that Europe now faces its doomsday, saying that the energy crisis could bring Europe to a standstill because natural gas reserves in Europe are currently at their lowest-ever level in 10 years due to the Russia-Ukraine war. The Chinese saying, "cut off its gas (Duanqi)" can be understood as "cut off its breath."
Although the CCP is trying to uncover new opportunities to reinforce its power and reap interests during the Russia-Ukraine war, Song believes that the CCP will end up being the loser in the war, no matter who it supports.
Views expressed in this article are the opinions of the author and do not necessarily reflect the views of The Epoch Times.