The Chinese communist regime is again intensifying its persecution of Falun Gong practitioners as the Beijing Winter Olympic Games looms. Harassment and arbitrary detentions have increased in the name of the ruling communist party maintaining "stability."
Four weeks ahead of the Games, the Chinese Communist Party (CCP) is increasingly targeting Falun Gong believers, especially in Beijing and the surrounding Hebei Province, as the Chinese capital prepares to host the international event from Feb. 4 to Feb. 20.
Falun Gong, also known as Falun Dafa, is an ancient Chinese spiritual practice that features three core tenets of truthfulness, compassion, and tolerance, along with five slow-moving meditative exercises. After it was made public in 1992, its following in China grew to an estimated 70 million to 100 million people by 1999. Then, the Chinese regime, deeming the practice's popularity a threat, launched a nationwide persecution campaign to eradicate it.
Surveillance Stepped up as Games Come Closer
International student Jack Liu at Carleton University in Canada told The Epoch Times on Dec. 29 that his mother Cao Wen, a Falun Gong adherent, remains under close police surveillance after her release on Dec. 27 from a 5-day detention for distributing Falun Gong materials via bluetooth while traveling the Beijing subway lines. Falun Gong believers inside China often spread materials to strangers, detailing the extent of the Chinese regime's persecution against the spiritual practice.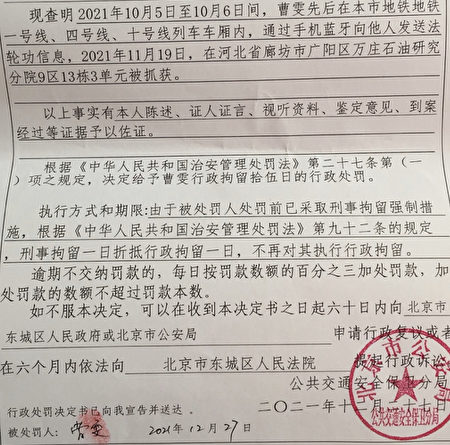 His father Liu Zhoubo, also a Falun Gong practitioner, remains incarcerated in Beijing's Third Detention Center, according to Liu.
Police searched their home, seized their cellphones, Falun Gong books, and other materials in November.
"The CCP wishes to take the winter Olympic Games as a stage to enhance China's image as a rising power," said Liu. "However, they provide no fundamental freedom of speech and religious belief." CCP authorities are absolutely committing human rights violations, said the international student.
Other similar cases have been reported on Minghui.org, a U.S.-based website that documents the CCP's persecution of Falun Gong.
On Dec. 24, 2021, two police officers from Kangzhuang Town, Yanqing District, Beijing, visited Falun Gong practitioner Hao Xiufeng's home.
On Dec. 21, two security agents surnamed Guo and E, in the company of several others, attempted to enter Falun Gong practitioner Qin Wei's home but were stopped by his family. The officials said their trip was for the security of the approaching Beijing Winter Olympic Games.
At 11:00 p.m. on Dec. 15, 2021, officers from the Dayushu Town Police Station, Yanqing District, Beijing, arrested Falun Gong practitioners Yu Hongbing and his wife and sent them to the Beijing Xicheng District Police Station for detention.
Around Dec. 10, police took Falun Gong practitioner Zhou Guihong into custody in Wei County, Hebei Province. Though not a Falun Gong practitioner, her husband Niu Jiancheng was arrested, too, for transporting print material in connection with Falun Gong.
Additionally, Falun Gong was one of five targeted groups under the operational fees of specialized domestic security, according to a document published on the website of the public security department of Zhangjiakou City, Hebei Province.
The document also shows that there was an increase in the local security budget increase of 5.1 percent in 2020 over the previous year's figure, with the total reaching 481 million yuan ($72.3 million) to secure the Winter Olympic Games in 2022.
The funding plan included 18 million yuan ($2.74 million) to build a video image platform with 3,680 new points of surveillance cameras; and 16 million yuan ($2.47 million) for building big data center projects.
Spiritual Vs. Atheist
The ruling CCP is most afraid of Falun Gong due to both its popularity in Chinese society and its followers' self-discipline as well as mobilization capacity, Canadian human rights lawyer David Matas told The Epoch Times on Dec. 30, 2021.
The CCP persecutes Falun Gong because it needed to create "some sort of external enemy to justify its own hold on power," he said.
"Falun Gong is spiritual," the lawyer spoke of the fundamental difference between the CCP and the practice. "Communism is atheist."
In an early December 2021 article published through the Macdonald-Laurier Institute, he and coauthor Caylan Ford, a Canadian documentary filmmaker, wrote: "Religious faith is a threat to totalitarians everywhere, because they cannot countenance the idea that any authority—especially a divine authority—stands above their own."
"There can be no loyalty except loyalty to the party, no meaning except that which is prescribed by the party, no truth that cannot be altered by fiat or force," the authors wrote. "This fact explains not only why the Communist Party sought to destroy Falun Gong, but also why it suppresses Tibetan Buddhists, Uyghur Muslims, faithful Catholics, and members of underground Protestant churches."
Pre-2008 Olympic Persecution
The 2021 article recounted how the 2008 Beijing Summer Olympics took place against a backdrop of human rights abuses.
"Human rights monitors cited reports from practitioners and families that in the run-up to the 2008 Beijing games," Ford and Matas wrote, "over 8,000 Falun Gong adherents were detained in a pre-Olympic crackdown, and at least 100 reportedly died as a result of ill-treatment in custody."
The authors noted persecution occurred sometimes "within walking distance of Olympic venues and major landmarks." They made a particular mention of 42-year-old Yu Zhou, a popular folk musician who died in custody 11 days after he was arrested for possessing Falun Gong materials.
Incidentally, Yu's widow, Xu Na, an artist and a fellow Falun Gong follower, was arrested on July 19, 2020. When her case was tried in a district court on Oct. 15, 2021, judges prevented her from stating why she practiced Falun Gong. They also blocked her family from attending the trial over alleged COVID-19 concerns.
In court, the CCP's judges repeatedly interrupted the defense lawyers, including Liang Xiaojun, from defending their client without obstruction.
Two months later, on Dec. 16, 2021, authorities revoked Liang's license to practice law for allegedly delivering remarks that endanger state security.