China Executes Official For Spying For Taiwan
August 7, 2006 12:00 am Last Updated: August 7, 2006 12:00 am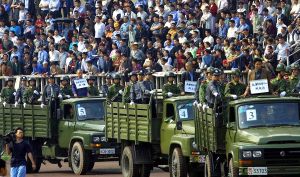 BEIJING — A Chinese government official has been executed for spying for Taiwan, and thousands of civil servants have been shown an "educational" video of the case as a warning, two government sources said on Monday.
China and Taiwan have been spying on each other since their split at the end of the Chinese civil war in 1949 but trade and tourism have blossomed since the late 1980s.
Tong Daning, who was in his mid 50s and held a rank equivalent to a notch below assistant minister in the National Development and Reform Commission, was executed in April, said the sources, who requested anonymity.
"He was one of the most senior government officials to be executed in recent years," one source told Reuters.
Tong sold classified documents in exchange for about $250,000 over 15 years, the source added. The commission for which he worked is responsible for economic planning and reform and does not deal directly with Taiwan issues.
Thousands of civil servants were required to watch a half-hour video entitled "The espionage case of Tong Daning stealing secrets" which showed the defendant standing trial, the sources said.
The video showed Tong getting into a police car and on his way to the execution ground, but it did not show the execution.
China's policy-making Taiwan Affairs Office and Taiwan's Mainland Affairs Council had no immediate comment.
China claims Taiwan as its own and has vowed to attack the self-ruled democratic island if it formally declares statehood.
Several official Web sites – such as the Henan Daily, the Hunan weather bureau, Guangxi University and the state-owned China Nuclear Engineering and Construction Corp. – said civil servants had watched the educational video. But they did not give details of Tong's case or the video's content.
China is obsessed with secrecy and rarely publicises espionage scandals.
Tong was not an isolated case.
"There have been several cases of leaking state secrets in the past year," a second source said.
The number of espionage scandals has risen in recent years as economic reforms have spawned greed and corruption.
In 1999, a Chinese major-general and a senior colonel were executed for selling state secrets to Taiwan for $1.6 million in the biggest espionage scandal of the Communist era.
Last year, Major General Liu Guangzhi, who was targeted by Taiwan for recruitment as a spy, was jailed for 13 years for accepting bribes from subordinates seeking promotions or transfers.
Liu was sacked as commandant of the Air Force Command Academy and expelled from parliament.
This year, Chen Hui, who had access to state secrets when he was with a top-level government think-tank, was jailed for 13 years for selling state secrets to Japan, sources have said.