Chinese 'Double Nine' Festival
October 16, 2010 3:21 am Last Updated: October 1, 2015 6:46 pm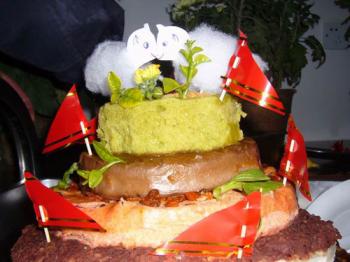 Many festivals from China's past have been well documented and are still enjoyed today. They are steeped in the sciences of the ancient world–astrology, numerology and the belief in the supernatural. They are also very colorful, and there's always a tasty treat.
The Double Nine festival, also called Double Yang festival, which falls on Oct. 16 this year, is one of the many holidays from ancient times; some of its traditions can be traced back to the Eastern Han Dynasty (25 to 220 CE).
The Book of Changes, or I-Ching, an ancient text on divination or fortune telling, defines the number six as Yin, and nine as Yang. These two concepts, Yin and Yang, are considered the two complementary and opposing energies in the universe. Yin represents the earth, Yang the heavens.
Climbing High Mountains
Sept. 9 in the Chinese lunar calendar is called Double Yang because of the double nine. The most important tradition on this day is to climb a high mountain or tall pagoda–maybe to be closer to heaven. This was already a custom during the Eastern Han Dynasty.
Many poems were written about these climbing activities during the Tang Dynasty (618-907 CE). One is the famous poem "An Ascent" by Du Fu who expressed his loneliness while wandering far from home.
Chrysanthemum Wine
No festival would be complete without a special treat. On Double Nine Festival you must try Double Yang cake and Chrysanthemum wine.
The great poet Tao Yuanming of Jin Dynasty (265-420) was well known for his lofty poetry and his love for Chrysanthemums and liquor. Later generations venerated him so much that they started the custom of going on outings to look at Chrysanthemums on Double Yang Festival. This tradition reached its height in Northern Song Dynasty (960-1127) when there was a large variety of cultivated Chrysanthemums. People also named September Chrysanthemum month.
Both Chrysanthemum and an herb called Zhuyu (Cornus officinalis) were used to purge evil spirits. In ancient times Chinese believed that wearing Zhuyu on Double Yang Festival would keep away disasters and tribulations. They wore Zhuyu on the arm, or in an herb bag. Women would wear Chrysanthemums in their hair. These customs were widespread in the Tang Dynasty.
During the Song Dynasty (960-1279), some people cut colored silk into Zhuyu or Chrysanthemum patterns and gave them as gifts to friends. And during the Qing Dynasty (1644-1912) people in Beijing pasted the leaves on door and windows of their homes.
Double Yang Cake
A Double Yang cake–also called flower cake, Chrysanthemum cake, or Five Color cake–is generally a nine-layer cake, built like a pagoda, with two small lambs on top. The Chinese word for lamb is pronounced like "Yang." So, the two lambs are a play on words for Double Yang.
Parents or grandparents often put the small pastry slice on children's foreheads while chanting blessings, hoping it will bring the children "good fortune" in everything.