China Democracy Activist Serving Eight Year Jail Term
October 19, 2011 10:29 am Last Updated: October 1, 2015 3:20 pm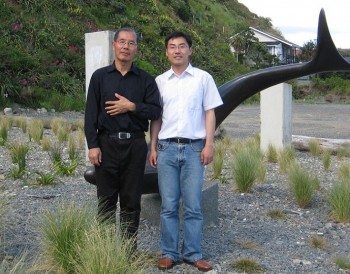 Jia Jia, a prominent democracy activist in China, is serving a jail term in Jinzhong prison in northwest China's Shanxi Province for his pro-democracy activities.
Jia Jia was the General Secretary of the Shanxi Provincial Association of Scientists and Technology Experts. He fled to Taiwan with a tour group on Oct. 22, 2006. He went to Hong Kong, Malaysia, and Indonesia before getting to New Zealand, where he was granted permanent resident status. On Jan. 1, 2008, Jia Jia was elected to be the first Vice President of China Interim Government.
Three years later, Jia Jia went back to China and was arrested at the airport in Beijing. Jia Jia's family members did not hear anything about him until this May when Jia Kuo, his son, learned that his father was sentenced to eight years in prison on charge of "inciting subversion of the state."
Jia Kuo, who lives in New Zealand, told The Epoch Times that his great uncle (Jia Jia's elder brother) was granted a visitation on Oct. 28. The energetic younger brother he used to know looked frail and his hair was completely white. As soon as Jia Jia picked up the phone and called out "Brother!" they both burst into tears.
Jia Jia also asked his brother to tell Jia Kuo to study diligently and work hard, so that he will be able to contribute to China's democratic future. He asked his family to take care of themselves and maintain good health in order to wait for his return.
Jia Kuo said that his father is being politically persecuted by the Chinese regime and his basic rights have been violated. The Chinese regime illegally detained his father and illegally sentenced him, he added.
"My father has told the truth and did the righteous thing. His words and actions reflect Chinese people's will. Just because of this, he was given an eight year sentence. Such severe political persecution shows that the Chinese Communist Party is unreasonable and unlawful."
Jia Kuo believes that all his father wanted was for Chinese people to discard their fears of the regime. "My father is not afraid of being in jail. He wants to tell the Chinese people that we must do our best to resist the despotic regime."
Jia Kuo told The Epoch Times that the first thing his father did after fleeing to Taiwan in Oct. 2006 was to publicize the movement of Chinese people withdrawing from the Chinese Communist Party (CCP).
During the interview, he made the following remarks:
"My father represented over 700 members of the Shanxi Provincial Association of Scientists and Technology Experts to quit the CCP. He wanted to contribute to the democratic movement of China. Back then, there were 14 million people who had withdrawn from the CCP, and now there are over 100 million. This is a great historic movement.
"Nowadays in China, many people have not realized that the source of most hardships and disasters in China is the CCP. My father used his action to tell the Chinese people what to do. He calls on the Chinese people to quit the CCP and welcome the new China without the CCP.
"My father is 60 years old this year. He will be 66 years old when he is released. I believe he still has the opportunity to continue his endeavor of bringing democracy to China. Before my father left for China, he said he was ready to sacrifice his life for democracy. As his son, I understand him and respect his choice.
"Of course, as a human being with emotions, I am very sad to hear about his condition in prison. I am worried. But I know my father has done something meaningful. He is suffering for the democracy of China. He is suffering for the Chinese people. Therefore I am very proud to have a father like him."
Read the original Chinese article.