TAIPEI, Taiwan—While countries around the world are focusing on containing the spread of the COVID-19 pandemic, China has pushed ahead with its geopolitical objectives in a series of recent military operations.
Beijing is using military maneuvers to put pressure on Taiwan because the island's current government, led by Tsai Ing-wen, has received international accolades for being able to contain the spread of the CCP (Chinese Communist Party) virus, commonly known as novel coronavirus, even with the island's proximity to the mainland.
"China has set a political objective to attack the Tsai administration under the theme of accusing her government of banking on the outbreak to seek the island's independence," said Kuo Yu-jen, professor at the Institute of China and Asia-Pacific Studies of Taiwan's National Sun Yat-sen University, in an interview. He is also executive director of the Taipei-based Institute for National Policy Research (INPR), a privately funded think tank.
The United States subsequently stepped in to show military support for Taiwan.
Against Taiwan
Relations between China and Taiwan are fraught, as the Chinese regime considers Taiwan a renegade province, even as the island is a de facto independent country with its own elected officials, military, and constitution.
Tsai, in an interview with the British Broadcasting Corp. in mid-January, made forthright comments about Taiwan's sovereignty, saying there's no need to declare Taiwan an independent state, since "we are an independent country already, and we call ourselves the Republic of China."
Beijing's agenda in Taiwan includes persuading Taiwanese citizens to accept unification with the mainland. Kuo said that strong public support among Taiwanese for the Tsai administration's response to the pandemic has driven Beijing to show its muscle.
Since February, there have been at least four instances of Chinese military jets flying close to Taiwan's airspace.
On Feb. 9, several Chinese military aircraft, including J-11 fighter jets, flew from Bashi Strait in southern Taiwan, passed through the Western Pacific, and then made their way to the Miyako Strait in northern Taiwan.
The next day, a group of Chinese jets escorting an H-6 Chinese bomber briefly crossed the median line of the Taiwan Strait, before returning to China's side, according to Taiwan's Ministry of National Defense. Another H-6 bomber flew through Taiwan's southwestern waters on Feb. 28.
On March 16, Chinese planes that included J-11 jets and KJ-500 early warning aircraft flew over waters southwest of Taiwan and approached the island's air defense identification zone, an area where aircraft must provide identification prior to entry or exit. The aircraft left after being driven off by Taiwanese jets.
Tsai condemned Beijing's moves in a tweet on March 24.
"As the world grapples with the severity of the #COVID19 pandemic, China's military maneuvers around #Taiwan have continued unabated."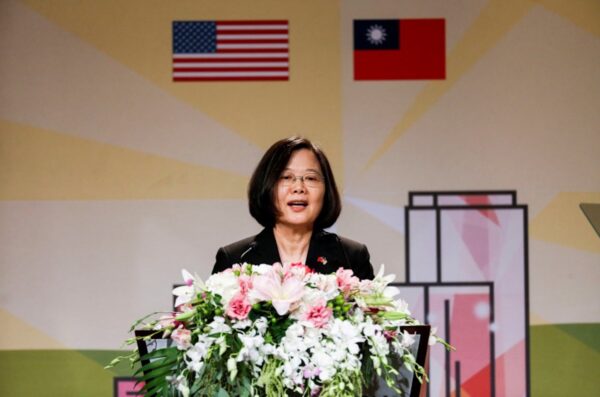 She added: "Whether it's national defense or preventing the spread of disease, our armed forces remain as vigilant as ever."
Kuo said China's military moves have coincided with a barrage of rhetoric by Chinese state media and pro-Beijing local media against the Taiwan government, "in an attempt to put political pressure."
On Feb. 7, China's hawkish newspaper Global Times ran an opinion article citing the Taiwan Affairs Office, saying "the DPP [Democratic Progressive Party] authority that is exploiting the epidemic to seek Taiwan independence is doomed to fail."
Tsai is a DPP member. The island's unicameral legislature is also majority DPP.
A week later, China's state-run Xinhua accused the DPP of "banking on the novel coronavirus to seek independence." It also quoted an official at the Taiwan Affairs Office, who said that the party is "doomed to face a shameful defeat."
Political Implications
Holding military exercises also serves an important political purpose for Chinese leader Xi Jinping, Kuo said: testing the loyalty of China's military forces amid mounting criticism of Beijing's mishandling of the outbreak.
"Military exercises are about implementing orders given by China's Central Military Commission," Kuo said. The commission, which is headed by Xi, is the Party's top agency for handling military affairs.
In other words, Xi was holding military exercises to assert his authority and prevent a political coup, Kuo said.
The recent disappearance of Chinese real estate tycoon and princeling Ren Zhiqiang after he publicly criticized Xi for mishandling the crisis has analysts speculating that factional infighting within the CCP is intensifying. Ren, the son of former senior CCP official Ren Quansheng, a deputy minister of commerce before he retired in 1983, is considered a Party princeling.
Chinese netizens also expressed anger over Beijing's initial coverup of the virus. Many called for freedom of speech after ophthalmologist Li Wenliang—one of eight medical staffers who first posted on social media about an "unknown pneumonia" in late December—died after contracting the virus from a patient. Because of his online post, Li was reprimanded by local police for "rumor-mongering."
Among China's five military theater commands, Kuo said Xi would want to test the loyalty of the Eastern and Southern Theater commands, since they are tasked mostly with confronting the United States and Taiwan's military forces.
US Response
The U.S. military has responded in the face of China's military threat against Taiwan, Kuo said, with American ships and jets being active near Taiwan since February.
On Feb. 15, the U.S. 7th Fleet announced on Facebook that its guided-missile cruiser USS Chancellorsville (CG-62) had transited to the South China Sea from the East China Sea. While the U.S. military didn't specify which route the warship took, Taiwan's Ministry of National Defense later confirmed it had passed through the Taiwan Strait.
On March 25, Taiwan's government-run Central News Agency (CNA) reported that a U.S. Navy EP-3E reconnaissance aircraft flew over waters near Taiwan's southwest coast.
The next day, the U.S. Pacific Fleet wrote on Twitter that guided-missile destroyer USS McCampbell transited through the Taiwan Strait the day prior.
On March 31, U.S. Navy P-3C aircraft flew over southern Taiwan's waters. According to CNA, it was the fourth time in March that a U.S. military plane had flown near Taiwan.
"The United States is making a statement, saying that China could not unilaterally change the current cross-strait status," Kuo said, adding that the Taiwan Allies International Protection and Enhancement Initiative (TAIPEI) Act also serves the same purpose.
Our sincere thanks to @POTUS for signing #TAIPEIAct into law. The bill reflects the strength of #Taiwan–#US ties. It also paves the way for expanded bilateral exchanges while preserving the country's international space in the face of authoritarian #China's campaign of coercion. pic.twitter.com/0ncwcV6sNf

— 外交部 Ministry of Foreign Affairs, ROC (Taiwan) 🇹🇼 (@MOFA_Taiwan) March 27, 2020
U.S. President Donald Trump signed the TAIPEI Act into law on March 27, a bill that mandates increased American support for Taiwan internationally.
Taiwan's Early Warning
To isolate Taiwan, China has blocked Taiwan from joining international organizations such as the World Health Organization (WHO), and engaged in "dollar diplomacy" to entice Taiwan's allies to switch diplomatic recognition to Beijing.
From 2009 to 2016, Taiwan's health ministers took part in the World Health Assembly (WHA), the decision-making body of the WHO, as observers. But since 2017, Taiwan has been barred by China from taking part in the assembly or any WHO meetings.
Taiwan Vice President Chen Chien-jen said the island warned the WHO about the risk of human-to-human transmission of a pneumonia-like disease in China on Dec. 31 last year.
In January, Taiwan's Centers for Disease Control also sent two health experts to the Chinese city to investigate. At a press conference in Taiwan held after their four-day trip, the experts said they couldn't rule out the possibility that the virus could be passed between people.
Beijing didn't openly acknowledge person-to-person transmission until Jan. 20.
As the WHO failed to heed Taiwan's early warning, the U.N. agency should reform and welcome Taiwan into the organization so that countries can learn key public health lessons from Taiwan, Kuo said.
"Taiwan has become a model in this outbreak. I hope countries around the world can come to realize Taiwan's unique [geographical] position [close to China]," Kuo said.
He also urged the international community to understand that "this regime in China is inclined to cover up large-scale epidemics," making Taiwan a critical source of information during an epidemic.
U.S. Secretary of State Mike Pompeo and Sen. Cory Gardner (R-Colo.) have expressed support for Taiwan to participate in the WHO.