A missing employee of the British consulate in Hong Kong is confirmed to have been detained while on a work trip to Shenzhen City, the mainland Chinese city bordering Hong Kong.
On the evening of Aug. 21, roughly 50 Hongkongers gathered outside the British consulate to voice support for Simon Cheng, a Hong Kong citizen and employee of the Scottish Development International department of the British consulate, who had gone missing since early August.
According to Hong Kong public broadcaster RTHK, Tamsin Heath, the British deputy consul general, met with organizers of the rally, and was quoted as saying that the British government is currently in contact with Cheng's family.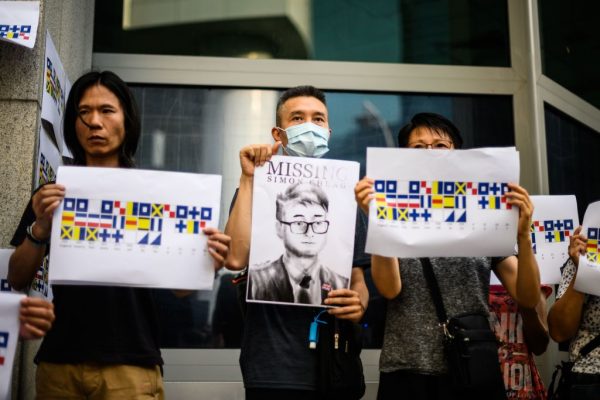 Missing 
Cheng's disappearance was first reported by Hong Kong media HK01 on Aug. 20 based on a recounting by Cheng's girlfriend, a Taiwanese woman identified only as Lee.
According to Lee, Cheng left his home in Jordan, an area in the Yau Tsim Mong district of Hong Kong, on Aug. 8 morning to attend a business event in the neighboring Chinese city of Shenzhen. At around noon, he entered the city via its Luohu Port.
At around 10 p.m., Lee said that she got a text message from Cheng, saying that he was still traveling on the Express Rail Link, a high-speed rail connecting Hong Kong to mainland China. After that, all contact with Cheng was lost, according to Lee.
Cheng did not report to work the following day. The consulate reached out to his family, according to Lee. HK01 reported that its staff journalist accompanied Lee and an unidentified member of Cheng's family to meet with Nicola Barrett, a consul at the British consulate.
The family subsequently released a statement on Aug. 21, explaining that after Hong Kong's Immigration Department contacted the Hong Kong Economic and Trade Office in Guangdong Province—the province where Shenzhen is located—the former informed Cheng's family verbally that Cheng had been "administratively detained," but did not provide information on why, where, or for how long he had been detained.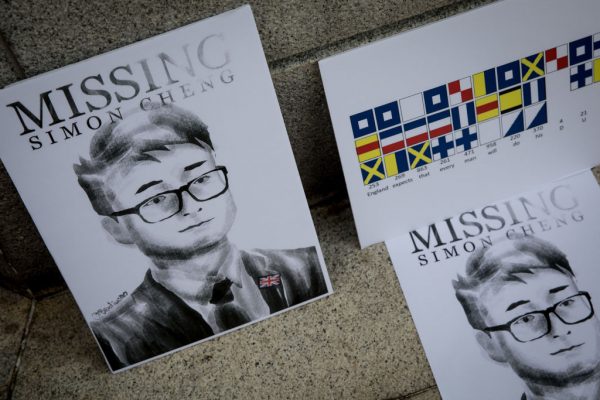 "Till now, we have not received any Notice of Administrative Detention, supposed to be sent out within 24 hours of a person's detention. We simply have never received any documentation confirming that Simon has been formally detained by the authorities," the statement read.
The family added that it had obtained confirmation from its lawyer that Cheng's case was being handled by the Shenzhen Municipal Public Security Bureau. However, the lawyer could not verify where he was being held, after reaching out to three detention centers in the Shenzhen area, police stations in Shenzhen and Guangzhou (another city close to Hong Kong), and the Guangzhou Railway Public Security Bureau.
"We feel very helpless, and are worried sick about Simon. We hope that Simon can return to Hong Kong as soon as possible," the family stated.
China
Hours later, at a daily press conference on Aug. 21, Chinese Foreign Ministry spokesman Geng Shuang confirmed that Cheng was being held under 15-day administrative detention in Shenzhen on suspicion of violating China's Public Security Administration Punishment Law, which renders punishment for those who "disturb public order" or "endanger public safety."
In China, individuals can be held in administrative attention for up to 15 days, without trial or criminal charges filed.
Geng added that Cheng is a Hong Kong citizen and not a British citizen; thus, his case was an "internal affair."
Geng did not provide any other details and suggested that people take their questions to "related" Chinese authorities.
The Epoch Times' calls to the provincial public security department in Guangdong were unanswered by press time.
On Aug. 20, a spokesperson for the British Foreign and Commonwealth Office said that it was "extremely concerned" by the media reports of Cheng's disappearance.
British NGO Hong Kong Watch, also in a statement on Aug. 20, urged China to "immediately and unconditionally release Simon Cheng and ensure his access to legal counsel, diplomatic representation, and family during his detention."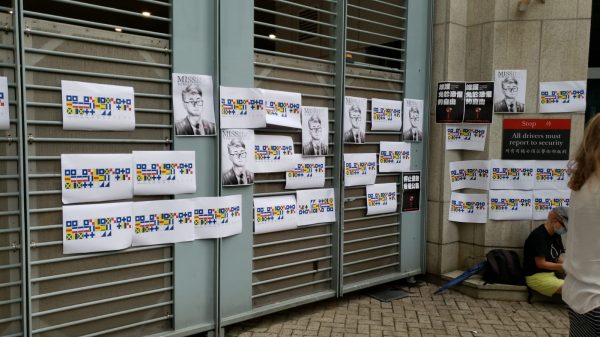 On a Facebook page created in support for Simon Cheng on Aug. 20, many users left comments referencing the ongoing protests in Hong Kong.
A user named Man Shun Tam wrote: "This case demonstrates very clearly why HK people object to the introduction of Extradition Law from the very beginning!"
Another user, Christina Lai, said, "Before the extradition bill is even passed, [the Chinese regime] has already sent someone to China."
In Hong Kong, millions of people have taken to the streets since early June in protest against a proposed extradition bill that would allow any country, including mainland China, to seek extradition of criminal suspects. Many expressed fears that they or any individual in Hong Kong would be vulnerable to being extradited to and tried in China, where there is no rule of law.