China Confirms 12th Human Bird Flu Death
April 20, 2006 12:00 am Last Updated: April 20, 2006 12:00 am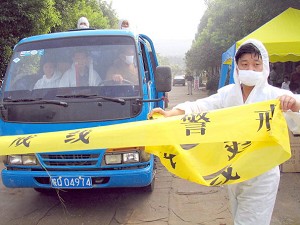 BEIJING – A man in central China has died of bird flu, the official Xinhua news agency said on Thursday, reporting the country's 12th H5N1 virus death since November.
There have been more than 30 outbreaks in poultry in a dozen provinces over the past year in China, making it one of the countries worst-hit by a virus that has spread with surprising speed this year, with outbreaks in more than 30 countries.
Epidemiologists fear that bird flu could mutate to a form where it could pass easily among humans, potentially triggering a pandemic in which millions could die.
Xinhua, quoting local health authorities, identified the victim as a 21-year-old migrant worker surnamed Lai who worked as a security guard in Wuhan, capital of the central province of Hubei.
It said he had returned to his home outside Wuhan last month to attend a funeral and developed symptoms of pneumonia on April 1. On Tuesday the Health Ministry had confirmed that he had the H5N1 virus, making him the country's 17th human case.
Xinhua said people who had had close contact with Lai had shown no abnormal symptoms. It added that there were no reports of flu outbreaks among poultry in his home town and the reason for his infection was unknown.