The Chinese regime is recruiting retired soldiers and Chinese Communist Party (CCP) members to work at an Apple iPhone assembly factory in Henan Province after a large number of employees fled a couple of weeks ago due to the strict "zero-COVID" measures.
Some China observers are skeptical about the untrained manpower on the production line while suspecting a government takeover of the Taiwanese-owned Foxconn Zhengzhou factory in mainland China.
According to a recent statement from Apple, the current production capacity of Foxconn's factory in Zhengzhou city has been greatly reduced, the production output of the iPhone 14 Pro and iPhone 14 Pro Max will be lower than expected, and customers will have to wait longer to receive new phones.
According to international media outlets, China has begun to recruit military veterans and CCP members to work at the Foxconn iPhone factory to help resume production after regular workers fled due to COVID-19 cases and fear of being locked down in the factory dorms indefinitely.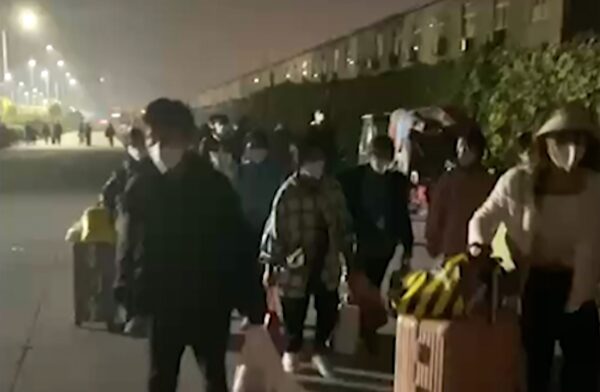 A screenshot of Foxconn's recruitment notice has been circulating on Chinese social media since Nov. 16. It states that to get low-level communist cadres to work part-time at Foxconn's assembly line, the local government offers at least 13,000 yuan (about $1,817) per month and promotion for exceptional performance.
A citizen journalist with an account called "Cold Eye on Finance and Economics" posted on Twitter on Nov. 16 that there was no one left in the Foxconn factory's dormitory, and they either ran away or were sent to centralized COVID quarantine sites. There is no one in charge in the factory area. Now a group of people was recruited, and communist cadres and veterans were sent in.
Huang Jinqiu, a media professional in mainland China, told The Epoch Times: "The Henan government is in a dilemma. The government must show its political loyalty and stick to the 'zero-COVID' policy. But on the other hand, Foxconn has a pivotal position in Henan's economy. If the control measures continue, Foxconn will move to Vietnam and India sooner or later, and this loss is not only for Henan, but also for China."
Untrained Workers and Government Intervention
Huang believes Henan authorities are now assigning civil servants and veterans to the Foxconn factory, promising them double salaries. But they have trouble recruiting workers because of the CCP's excessive propaganda about the pandemic. "Even civil servants have been brainwashed so badly that they are terrified of COVID-19. It is tough to develop the economy," he said.
Wang Jun, a mainland Chinese business commentator, criticized the decision to send civil servants to the factory. He told The Epoch Times: "Our country's civil servants are the largest in the world. What do they do? They just sit there doing nothing."
Wang believes that Foxconn is China's largest export company, which can earn foreign exchange through exports and bring tax revenues to local governments. "But the government demonized COVID-19, and the extreme isolation measures scared away employees," he added.

Gao Weibang, chairman of the Taiwanese Victims of Investment in China Association, is not optimistic about the local government's call for low-level communist cadres to work in the Foxconn factory.
"Any production line is very professional, and it is impossible to start immediately without training. If they have to use untrained civil servants to fill the posts, it must be due to the pressure of product orders and export sales. But what would be the outcome? It can't be good," he told The Epoch Times.
Gao said the situation reveals that Beijing is in charge of Foxconn's factory in Henan. "Are the Taiwanese managers in Foxconn still in charge? The regime has intervened. Who can order civil servants to work on production lines? Only the Chinese Communist Party can command them."
Lin Cenxin and Zhang Danxia contributed to this report.