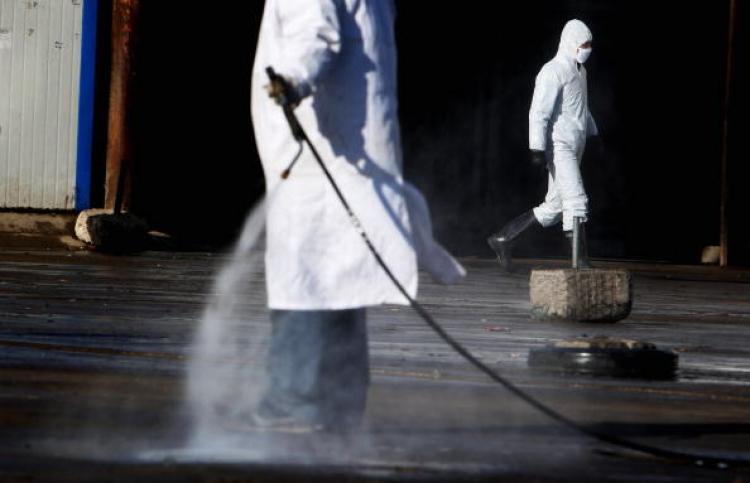 Jan 13 — Bird flu found in chicken from China
HANOI (AFP) – Vietnam has detected bird flu in chicken smuggled from China as the illegal trade picks up ahead of the lunar New Year later this month, state media reported Tuesday.
Eight out of 16 poultry samples tested by animal health officials in the northern border province of Lang Son were infected with the deadly H5N1 strain of avian influenza, said the Lao Dong (Labour) newspaper.
Both China and Vietnam last week reported their first human cases of bird flu since early 2008.
Jan 13 — Pet food suspected of killing dogs in China
SHANGHAI, China (Associated Press, Elaine Kurtenbach) – A local distributor of a popular brand of dog food said Monday it had suspended sales of the product following reports that dogs who ate it died from poisoning.
Jan 13 — Group: China fails to improve human rights in 2008
TAIPEI, Taiwan (Associated Press, Debby Wu) – China failed to enact democratic reforms in 2008 despite promises to do so, a private democracy watchdog organization said Tuesday.
The statement from the Washington, D.C.-based Freedom House came as the group unveiled its 2009 "Freedom in the World," report, an analysis on levels of freedom in almost 200 countries around the globe.
Asia researcher Sarah Cook called China's progress toward freedom in 2008 "disappointing," particularly following its promises to expand opportunities for free expression in connection with the holding of the summer Olympics.
Jan 13 — China's authorities are running scared
THE GUARDIAN UK (Simon Tisdall) – As economic hardship begins to bite, the Chinese government's tough attitude towards dissent may not be enough to quell social unrest.
Last week's jailing for six years of veteran dissident Wang Rongqing for "subversion of state power" was more than just another unpleasant instance of official vindictiveness, supporters and human rights groups say. China is facing a turbulent year of deepening economic hardship, social unrest, and tense anniversaries. The authorities are running scared. And so they made an example of Wang.
The diagnosis seems to apply to other prominent dissidents, also feeling the heat as economic boom times fade and political jitters increase. Liu Xiaobo, a noted literary scholar, has been held without charge since 8 December. His apparent offence was supporting a new campaign for political and legal reform known as Charter 08.
Jan 13 — China's Activists Challenge Government on AIDS, Property Rights
Bloomberg (Dune Lawrence) – In one of Beijing's oldest neighborhoods, a citizen-activist group with five full-time employees is challenging China's powerful Ministry of Foreign Affairs over its plans for a historic residence the government owns.
The campaign demonstrates the increasing assertiveness of advocacy groups in pushing China's government to follow its own rules and account to the public for its actions. Such confrontations may become more common as China seeks to expand its cooperation with nongovernmental organizations in alleviating poverty, stemming the spread of AIDS and halting environmental degradation.
Jan 13 — Family Urges China To Let South Korean Escapee Come Home
SEOUL (AFP) – A South Korean fisherman kidnapped by North Korea in 1975 has finally escaped to China but hasn't yet been allowed to fly home, relatives and an activist said Tuesday.
Family members appealed to Beijing to let Yoon Jong-soo, 68, return as soon as possible. He has been in protective custody at a South Korean consulate in northeast China for the past eight months, they said.
Jan 13 — China: Future French ties depend on Tibet policy
BEIJING (AP) – China warned Tuesday that the future of its ties with France depends on whether Paris can "correct its wrongdoing" over Tibet.
French President Nicholas Sarkozy triggered a firestorm of criticism from Beijing when he met with the Dalai Lama last month in Poland.
French Foreign Ministry spokesman Eric Chevallier said Tuesday, "I do not see very well what 'wrongdoing' is being talked about."
Jan 13 — Better China-US ties not 'one way' effort: Clinton
WASHINGTON (AFP) – Secretary of State designate Hillary Clinton said on Tuesday in testimony to a Senate confirmation hearing that improving ties with China was not a "one way effort" and depended on Beijing's behavior.
Jan 13 — China's trade slump worsens in December
BEIJING (Associated Press, Joe McDonald) – China's trade slump worsened in December as exports fell at their fastest rate in a decade, the government said Tuesday, aggravating a decline that has fueled a wave of layoffs and fears of unrest.
Jan 13 — Citigroup to close China private banking unit: sources
SHANGHAI/HONG KONG (Reuters, Samuel Shen and George Chen) – Citigroup Inc (C.N) will close its private banking unit in China, which had sought to attract funds from the country's fast-growing ranks of millionaires, as it streamlines its businesses, sources familiar with the situation said on Tuesday.
Jan 13 — Royal Bank of Scotland Selling Bank of China Stake (Update2)
Bloomberg – Royal Bank of Scotland Plc , the biggest government-controlled bank in the U.K., is selling its entire $2.3 billion stake in Bank of China Ltd. to replenish capital depleted by writedowns.
Jan 13 — China's population of Web users hits 298 million
BEIJING (AP) – China's fast-growing population of Internet users has risen to 298 million after passing the United States last year to become the world's largest, a government-sanctioned research group said Tuesday.
The latest figure is a 41.9 percent increase over the same period last year, the China Internet Network Information Center said in a report.
China is preparing to launch third-generation mobile phone service — which supports wireless Web surfing — that is expected to set off a new surge in Internet use.
Jan 13 — Low water traps boats on China's Beijiang river
Reuters (Lucy Hornby) – Low river levels have trapped 160 boats on the industrial Beijiang river, in southern China's Guangdong province, the Xinhua news agency said on Tuesday. Some vessels have run aground, as water levels dropped to under a meter in some places due to lower than usual rainfall, it said.