The Chinese regime has had residents in Ruili, the country's border city with Burma, locked down for almost a year as a means to curb the COVID-19 outbreak in China, but it hasn't given the people enough support, according to a local resident.
The local resident, using the pseudonym Gao, told The Epoch Times on Sept. 2 that he hasn't been able to work for most of the past 12 months. As a result, his family has had no income, but as they aren't yet beggars, the regime has only given them seven potatoes over the course of the year.
Unfortunately, things might worsen in the future, according to Gao, who lives with his family in the Mengxiu township of Ruili.
"Our savings can only support our family to live for two more months. It's horrible but we have no solution," he said
"We, the ordinary residents, have no way to make a living. We have no income! … Who dares to protest? The troops at the border are five times our population. Once we protest, we will be detained immediately!"
Gao explained why the Jiegao trade zone in the city—the former center of several COVID-19 outbreaks in past months—has been reported by the communist party as being free of the CCP (Chinese Communist Party) virus, commonly known as novel coronavirus.
"The regime announced Jiegao is virus-free. That's because it is actually free of people. All residents were [forced to] move out. … We are not allowed to go there," Gao said. "Recently, we [a total of 210,500 residents in the city of Ruili] were asked to take a COVID test every three days in urban areas and once every week in rural areas."
To control the spread of the CCP virus, the regime is enforcing strict controls on people's movement.
"Every day, [the Chinese government] only allows a few dozen people from Burma [also known as Myanmar] to enter Ruili, but there are over 100,000 Chinese still in Burma who want to come back. … Ruili is the only port where [the regime] allows people to enter from Burma," Gao said.
Due to the border passage passing through many villages, several Chinese citizens have married Burmese citizens and thus have relatives in both countries. Gao said that it's very difficult for residents to leave Ruili and even harder for them to reenter the city.
Before the COVID-19 pandemic, local people could easily cross the border at different ports by using a pass that was valid on either side. After the pandemic, the Chinese regime drove out Burmese citizens, but also didn't support the return of Chinese citizens from Burma.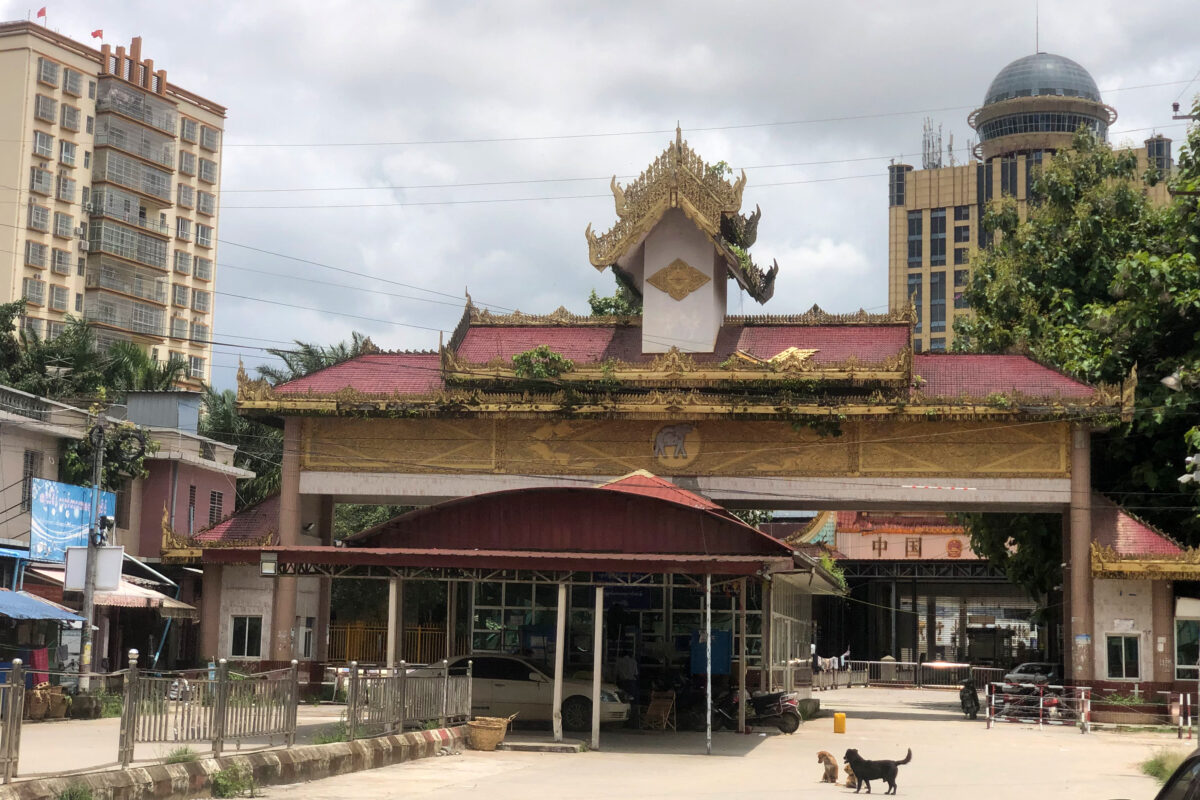 Year-Long Lockdown
The Chinese regime has been locking down cities immediately upon detecting any local CCP virus infections for the past 17 months. Ruili was locked down on Sept. 14, 2020. Since then, the city has suffered from a continual outbreak, which has caused it to remain under partial or full lockdown.
"In the past year, we've been locked down at home most of the time," Gao said. "We have no income. Ordinary residents' lives are very difficult. Local authorities told us that if we are as poor as beggars who have no savings, we can apply for social security. Then, the government will give us some rice and instant noodles.
"Currently, there are no work opportunities in Ruili. All factories and companies are closed. The authorities told us that it's highly possible that we will be locked down continually for another half-year."
However, living costs are higher than they were before the outbreak, Gao noted. Food prices have gone up due to limited government-approved suppliers and tight transportation controls. Children attend classes online, but tuitions have remained as high as they were prior to the pandemic.
Gao said some local residents have left or are planning to leave the city, but they need to apply for a special permit and pay for a COVID-19 test at a local hospital, which isn't cheap.
He also said the residents from Jiegao are in a worse situation, because they haven't been able to go back to their homes for months and have to rent rooms in other townships in Ruili or, if they're lucky, stay with relatives or friends.
Since April 2020, the Chinese regime has claimed that the CCP virus outbreak has been under control and has only announced limited infections each day. On Sept. 5, the regime announced one new COVID-19 infection in Guangzhou, Guangdong Province. The regime stated that the patient had contracted the CCP virus when she was removing trash from a hotel that was used to quarantine passengers returning to China from overseas.