San Francisco Bay Area-born freestyle skier Eileen Gu crashed the Chinese internet after winning gold for China on her debut at the Beijing Winter Olympics, the first of three medals she hopes to claim on behalf of her mother's home country.
"The future is bright" for Gu and her teammates, reads a Feb. 8 letter from China's Winter Sports Administrative Center, congratulating them for claiming China's first gold on snow.
"Score greater glory for the Party and the people," the letter urged the team.
On China's Twitter-like Sina Weibo, the outpouring of adulation from Chinese fans for the 18-year-old champion, who is listed on the Olympic program as Gu Ailing, temporarily overloaded the site.
"Dad with Harvard, mom with Peking University and Stanford, grandmother an athlete, she herself beautiful and stylish," said one post that was shared 115,000 times.
The reception to Gu's performance sharply contrasts with the intense scrutiny faced by Zhu Yi, the figure skater who gave up her U.S. citizenship and changed her name from Beverly to Yi after deciding to compete for China in 2018.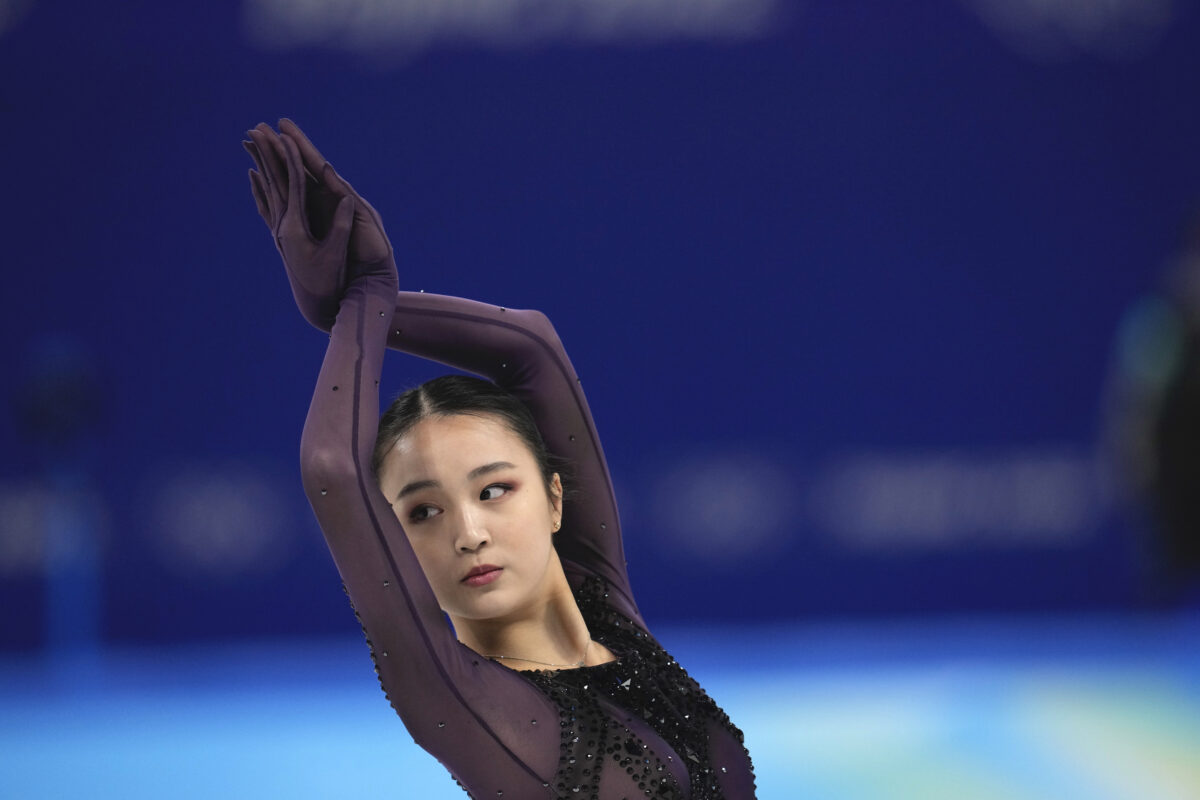 Only a year older than Gu and also born in California, Zhu was mocked on Chinese social media for crying after falling during her competition two days in a row, knocking the Chinese team to fifth place from third in the team event.
"Stop crying, I want to cry too," wrote a Chinese Weibo user, with some others deriding her spoken Chinese and telling her to "go back to America."
Gu and Zhu are among the dozens of athletes born and raised in North America that Beijing has enlisted to bolster its Olympic success across the field, especially in sports it historically hasn't been strong in. But the disparity in responses that the pair has received shows that the Chinese public can be unforgiving if an adopted athlete's performance fails to live up to expectations.
The recruitment drive is perhaps most notable among China's ice hockey teams, with 28 foreign-born athletes among the 48 men and women players, including six with no Chinese heritage at all.
All of them are playing under Chinese names, including American Chinese defenseman Jake Chelios, son of Hockey Hall of Famer Chris Chelios who spent his last three seasons with Kunlun Red Star, a China-owned team in Russia's Kontinental Hockey League. In China, he's known as Jieke Kailiaosi (the Chinese transliteration of his name).
"My new name? I love it. It's cool. It's part of the experience. Since I've been over here, everything's kind of new for me, and that's the exciting part about playing overseas," Chelios said during a Feb. 5 practice.
He acknowledged that his Chinese vocabulary consists of only "two or three words."
"I took six years of Spanish in high school. I couldn't even learn that, so I didn't even try," he said.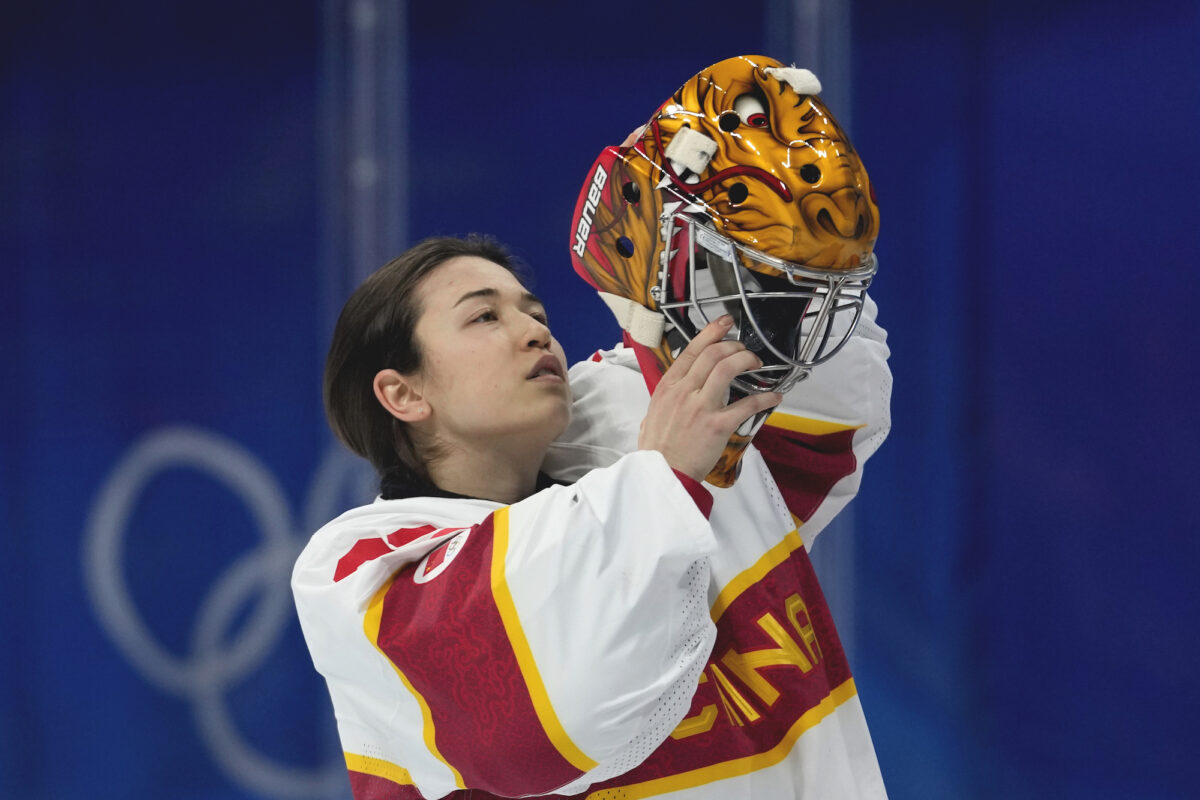 An awkward moment came when Vancouver-born goaltender Kimberly Newell, playing as Zhou Jiaying, said she was "not allowed to speak English" during a media appearance on Feb. 6 and let her aide do the talking. Zhou, whose mother was born in China, is fluent in English, Mandarin, and French, according to her Olympic bio.
The aide had to turn to Zhou several times during the translation.
'Living My Best Life'
Gu, currently China's biggest Olympic star, also was mindful about what she revealed to the public.
At a press conference after her win on Feb. 8, Gu dodged questions half a dozen times about whether she is still a U.S. citizen—given that China doesn't allow dual citizenship.
"I definitely feel as though I am just as American as I am Chinese. I am American when I am in the U.S., and I am Chinese when I am in China," she said, when pressed twice by a reporter. She stressed that she was using sports as "a force for unity" and not a "divisive force," a line that echoes narratives used by Beijing to deflect outside criticism.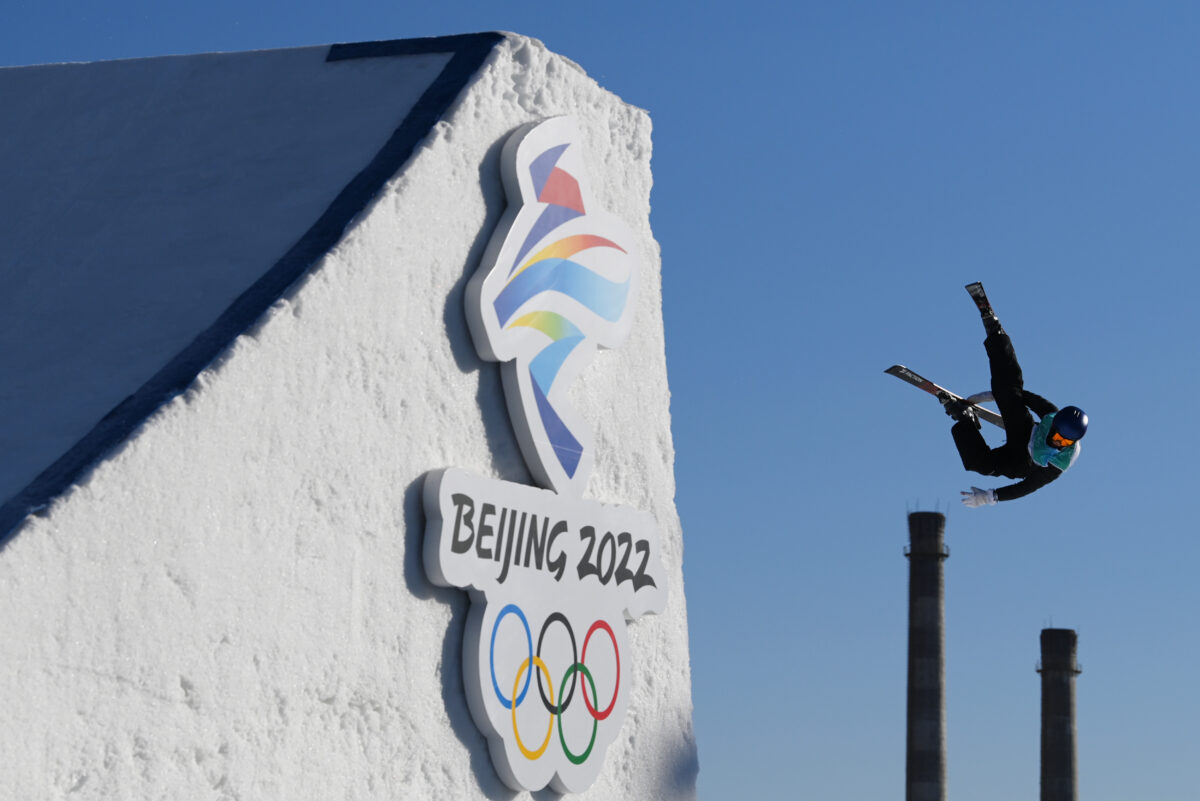 "Here's the thing, I am not trying to keep anyone happy. I am an 18-year-old girl out here living my best life. Like, I'm having a great time," Gu said. She added that she has a "good heart" and is making decisions "for the greater good."
"I'm not going to waste my time trying to placate people who are, one, uneducated, and, two, probably are never going to experience the kind of joy and gratitude and just love that I have the great fortune to experience on a daily basis," she said.
"If people don't believe me and if people don't like me, then that's their loss. They are never going to win the Olympics."
Tennis player Peng Shuai was among the audience watching Gu compete on Feb. 8. Peng, whose disappearance from the public eye for several weeks following a November social media post alleging that she was sexually assaulted by a senior Chinese official sparked international concern, wore a black knitted beanie with white Olympic rings and a black jacket with a Chinese flag. She clapped frequently, occasionally nodding and waving to the camera.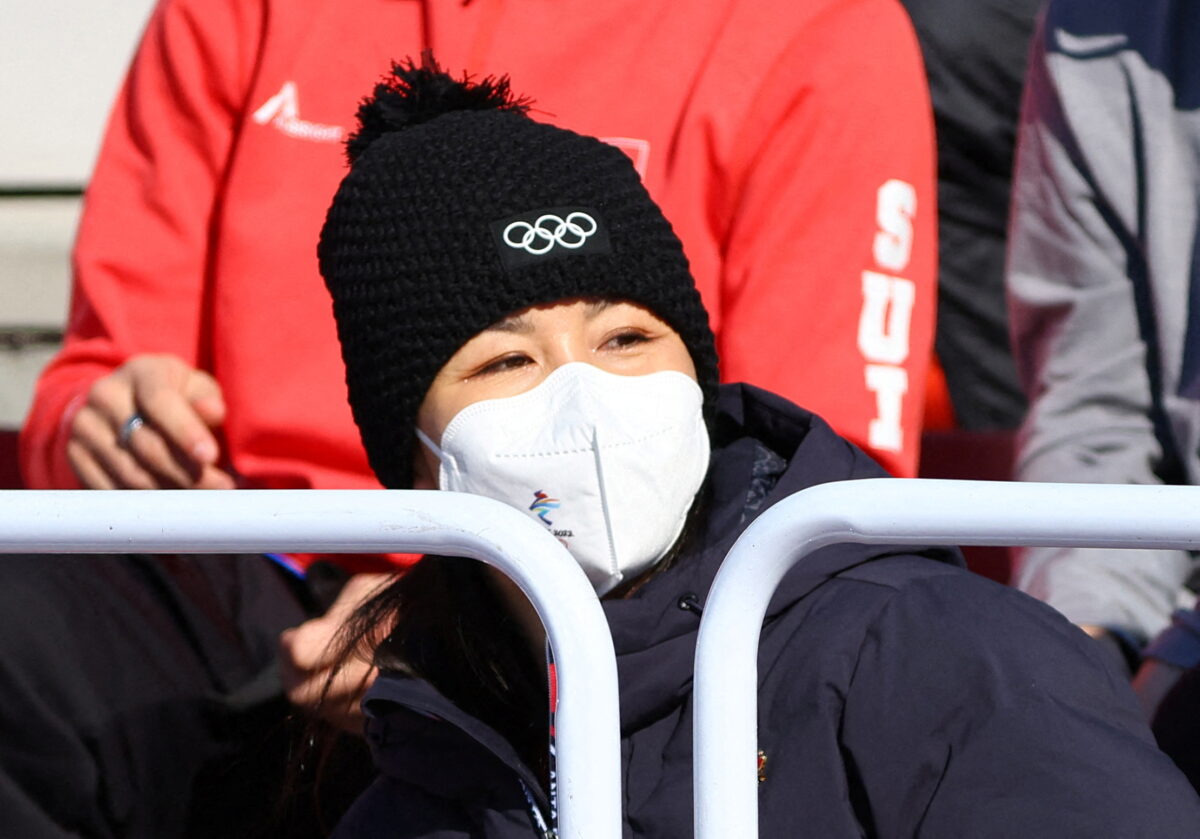 International bodies and officials have remained concerned about Peng's security and well-being despite her reemergence, believing her appearances and statements to be tightly controlled by Chinese authorities. In a story published on Feb. 7, Peng recanted her allegations during a supervised interview with the French newspaper L'Equipe inside the Olympic bubble, while also announcing her retirement from the sport.
Asked about Peng's situation, Gu sidestepped the question, replying that it was a "big honor" that she "would pay attention to smaller niche sports like freeskiing."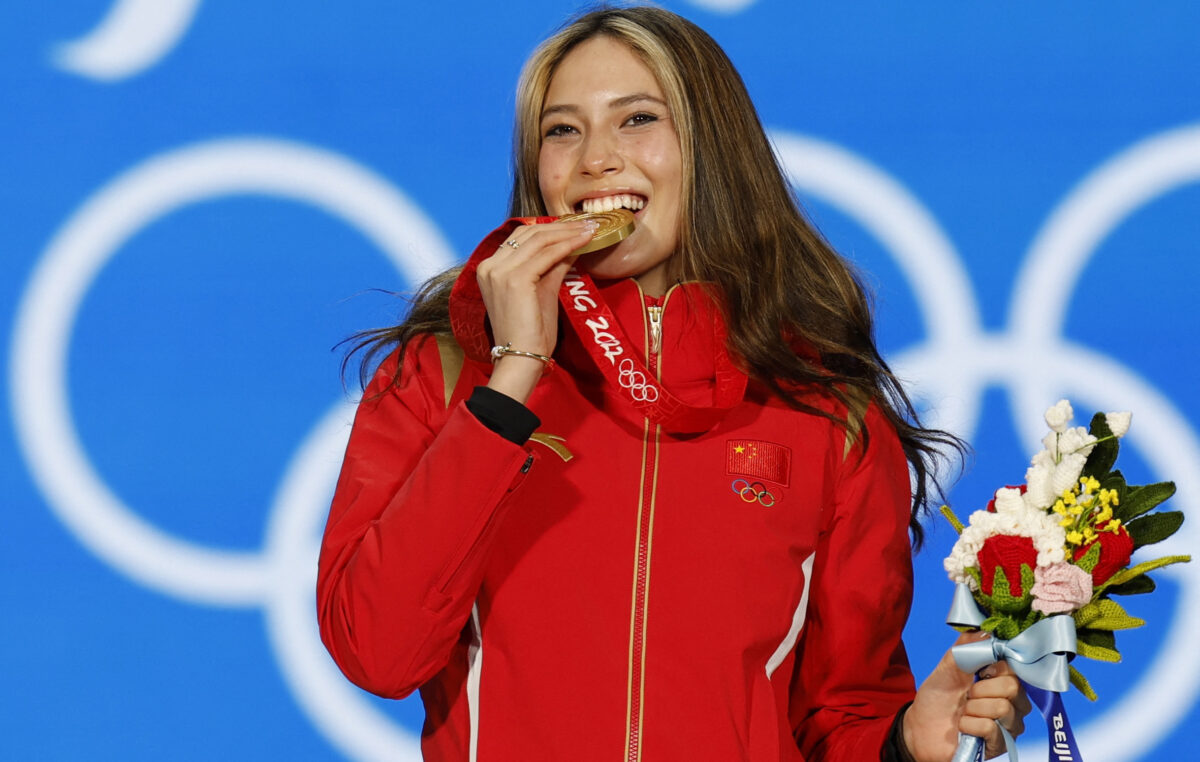 "I am really grateful that she is … yeah, happy and healthy and out here and doing her thing again," she said.
Meanwhile, the Chinese authorities haven't hesitated to show their fondness for Gu.
On Feb. 7, China's anti-graft watchdog, which isn't normally known to comment on sports, published an exclusive interview with Gu, in which she shared about the "great honor" she felt in representing China. The dragon design on her ski suit is intended to "showcase Chinese elements to friends all around the world," she said.
At the Beijing Olympic opening ceremony, Gu was "extremely excited" to wear the gown—featuring the red used in the Chinese Communist Party's flag—for the Chinese sports delegation, she said, adding that she wanted to bring it home so she could wear it in the future.