China Bars Miss Tibet from Miss Tourism Pageant
July 15, 2005 12:00 am Last Updated: July 15, 2005 12:00 am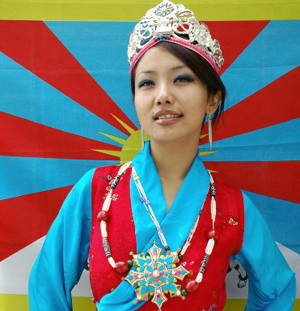 DHARAMSALA, India – Organizers of the 2005 Miss Tourism Pageant in Malaysia have barred Miss Tibet, Tashi Yangchen from the competition after China stated that a resident of India should not represent a region of China.
Ngawang Samdup, spokesperson of Miss Tibet pageant, said that, "Miss Tibet has made all the necessary preparations for the 2005 Miss Tourism Pageant in Malaysia. However, she will not be attending the competition because the organizers requested that she compete under the title of Miss Tibet-China."
The pageant began on July 9 in Sarawak Malaysia and will conclude with the final competition on July 23. Contestants from 32 countries participated in this year's event.
According to Ngawang, the sponsors of the event revealed to Tibetan officials that the Chinese Embassy prevented Miss Tibet from competing in the pageant. Looking for a compromise, the sponsors asked Tashi to compete under the title of Miss Tibet-China but this was unacceptable to Chinese Tibetan government.
Ngawang is based in Dharamsala, a city located in the northern Indian state of Himachal Pradesh. Dharamsala is also the seat of the Tibetan government in exile, the main residency of Tibet's spiritual leader – the current 14th Dalai Lama.
Ngawang said, "Participating in the competition under the title of Miss Tibet-China would be politically incorrect as China has not yet resolved the political issue of Tibet. It is very unfortunate that the China government has intervened to block the participation of Miss Tibet in this year's international pageant."
Tashi was crowned Miss Tibet in Dharamsala, India in October 2004. She is currently studying for a master's degree in MBA at Huron University in London, was ousted from a Miss Tourism World Pageant in Zimbabwe this February due to the pressure from the Chinese Embassy in Harare.