China Audits 1,700 Military Officers
September 8, 2006 12:00 am Last Updated: September 8, 2006 12:00 am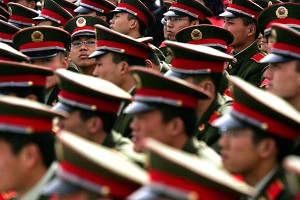 The second wave of anti-corruption audits, involving more than 1,700 Chinese military officers above the Division level, is taking place from July 2006 to March 2007.
Military Audit and Inspection
On July 25, the Chinese Central Military Commission passed and launched its No. 445 Resolution, "Economic Responsibility Audit of the Military System and Military Cadres" with completion estimated at March 2007.
The Central Committee of Chinese Communist Party and the Central Military Commission (CMC) announced the establishment of an Audit and Inspection Team, consisting of: lead Cao Gangchuan (Board of Political Bureau and the Vice-Chairman of CMC), deputy head Xu Caihou (Secretariat of the CCP Central Committee, vice chairman of the CMC), Liao Xilong, Sun Zhongtong (Lieutenant General, Deputy Director of the General Political Department and Secretary of the Discipline Inspection Commission), and several specialist teams.
Cao Gangchuan said, "the military system was not built in a vacuum, and the military cadres do not live in an ideal world." The amount of corruption and passivity is believed to be shocking and on the increase. Corruption, passivity, and slacking off have seriously endangered the organization and morale of the military. Reorganization of the military is one of the goals of the Chinese Communist Party.
Items Being Audited
The audit will look at the following 10 items: the authenticity of annual budgets, itemization and costs of construction projects, purchases of equipment and commodities, funding for scientific research and production, income from stations, barracks, and bases leased for civil urban development and construction, revenue from regular paid services provided in local areas, expenditures for military exercises, military construction funds diverted to unapproved welfare, misappropriation of military funds reserved for personal or department savings, colluding with local authorities and enterprises to carry out illegal economic activities.
Targeted Military Organizations
Targeted organizations include the Navy, the Guangzhou Military District, Shenyang Military District, Jinan Military District, the five of the military equipment design institutes directly affiliated to the Central Military Commission, and eight of its associated military academies.
According to an internal source, 75 percent of the military organisations have expenditures exceeding 25 to 40 percent of their annual budgets (the Central Military Commission has regulations to strictly control the over-expenditure to within five to seven percent).
Unscheduled Audit in May
This May, the Army Discipline Inspection Commission and four Military Headquarters (Staff, Political Warfare, Logistics, and Equipment) conducted a surprise audit of 2,350 officers above the regiment level. The results showed that 330 officers were involved in various violations and illegal activities. The most common violations were: reserving funds for personal use, operating economic entities in collaboration with local authorities and enterprises, unregulated purchasing of vehicles, and construction of housing and resorts, among others.
In Guangzhou Military Region, a campsite of more than 40,000 square metres in Huizhou was sold for 43.29 million USD. The money was not deposited to the army but, instead, was used to purchase housing for high-ranking officers and also divided into funds for personal use.
In Jinan Military Region, the annual income of 24.73 million USD from more than 300,000 troops involving more than 1,500 hours of local paid services had been allocated for officer's vacations and entitlements.
Military Operating Economic Entities
The CCP Central Committee issued an order for all military organizations to withdraw from all economic entities in 1999, and announced the completion of the task in March of 2000. Compensation to the military totaled 3.71 billion USD. However, military organizations are in fact still involved with at least thirty five percent of the entities operating under local governments.
It is said that this is going to be the second wave of "anti-corruption" activities within the military.