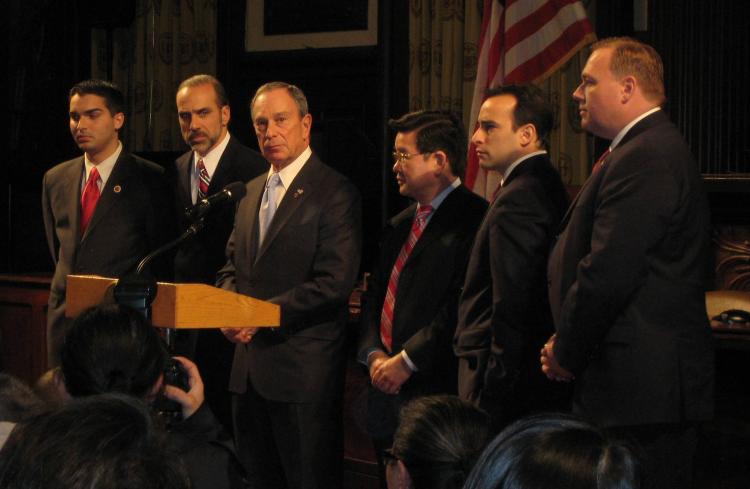 AIDS was the leading cause of death among the infectious diseases in China last year, according to statistics from the Chinese Communist Party (CCP) officials, with farmers and low-income Chinese forming the largest victim groups.
Dr. Gao Yaojie, known as China's top anti-AIDS activist, says that China's AIDS epidemic stems from its "blood trade".
Chinese media reported that AIDS was responsible for 7,000 deaths in the first nine months of 2008. Because of high cases of deaths due to AIDS, tuberculosis and rabies have dropped to the nation's second and third causes of death.
According to a report from China's Ministry of Health, the number of deaths caused by AIDS has increased dramatically. Official statistics show that starting from the country's first case of AIDS death, a total of 8,000 people have died from the disease up until 2005. Yet the latest statistics show that the total number has risen to almost 40,000. Still, analysts believe that official statistics on AIDS are not reliable. Local and provincial departments often report figures that are much lower than the actual statistics.
In the beginning of China's struggle with AIDS, the disease was concentrated among a high-risk population, such as drug injection users. Today, however, AIDS has spread throughout the population. Transmission through contaminated blood bears much of the blame for the spread of the disease.
CCP authorities publicize that AIDS is spread through unsafe sex. As China sees a large number of migrant workers throughout the country who live for months or even years at a time far from their wives and families, prostitutes have prospered to meet the demand of this growing population. Official media even offers prostitutes sex education classes and distribute condoms to them.
Yet Dr. Gao says that AIDS in China is actually mainly spread through the country's blood trade, including infection from blood transfusion. One study investigated 500 couples and showed that with one of the partners had AIDS, the infection rate for the other is lower than 9 percent. Gao believes that many official experts deliberately mislead the public into believing that the spread of AIDS is mainly due to sexual promiscuity and drug abuse.
Gao has exposed that China's main problem in preventing AIDS is that the blood trade has gone underground and is no longer regulated.
From midnight to 6am, people all over China line up to have their blood collected. Many poor and rural Chinese are selling their blood for money. While there are high profits earned in the blood trade, donors make very little.  Farmers can only get 80 yuan (US$10) for 800ml of blood, yet once applied in clinical use, 100ml blood is worth 100 yuan (US$12.50).
Gao's own investigation shows that a lack of understanding of AIDS has resulted in an expansion of illicit blood trade outside of Henan. Gao has been to Yunnan, Guizhou, Sichuan and Guangdong provinces, to discover a dangerous blood trade in every area.
Chinese officials control 38 AIDS villages that Gao was unable to visit due to the high security guarding the areas. So Gao turned her attention to villages unknown to the Chinese communist regime.  In every area she visits, Gao gathers information from villagers, to glean what might be the only true picture of China's growing AIDS epidemic.