Chick-Fil-A came out with a diet plan that's raising eyebrows.
Rodger Sherman, an SBNation writer, took a photo of a Chick-Fil-A bag that says, "Kick off the New Year by adding one healthy habit to your routine."
Chick-Fil-A suggests adding "one healthy habit" to your day, like eating chicken nuggets every three hours pic.twitter.com/PO3ADjyWUZ

— Rodger Sherman (@rodger_sherman) January 27, 2016
It then suggests: "Eat smaller meals (like an 8-count pack of grilled nuggets) every three to four hours."
The nuggets aren't fried or breaded, meaning they are actually quite low in fat and carbs.
As Eater.com noted, the nuggets contain only 140 calories, 3g of fat, 23g of protein, 1g of saturated fat, and 530mg of sodium. Eater released its own joke list of dietary guidelines, such as, "Do not be tempted to substitute an original Chick-fil-A sandwich: Thanks in no small part to the buttery bun, that admittedly glorious creation contains 440 calories."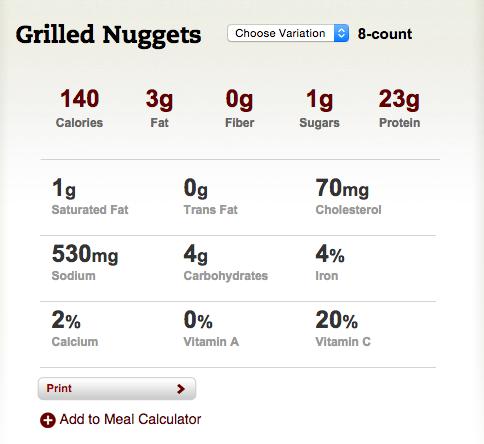 In reality, the chain probably isn't suggesting that people eat its chicken nuggets every three hours and is merely using it as a suggestion—or just as a form of marketing (it apparently worked because several stories on the nuggets went viral).
Nevertheless, it would be hard to recommend anyone eating grilled chicken approximately four or five times per day. It's even more strange that it was printed on the side of a take-out bag that has fast food items like waffle fries, fried chicken, and sugar-loaded sauce.