CCTV Broadcasts Propaganda Adapted to DC Audience
October 11, 2011 9:25 pm Last Updated: October 1, 2015 3:25 pm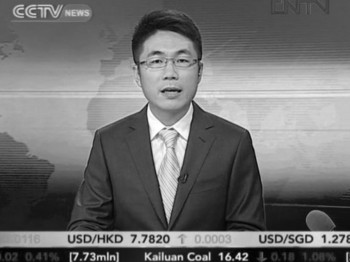 At the headquarters of China Central Television (CCTV) in Beijing, in the senior editorial offices, there is a special red telephone reserved for taking orders from the Central Propaganda Department. It's one of the means by which high-level Communist Party leaders directly control the mixture of news and propaganda that the station produces for the Chinese public.
And now the Party's propagandists have a direct signal into millions of homes in the Washington, D.C., area. CCTV began broadcasting in English on Oct. 1 on MHz Networks, a public broadcaster based in Northern Virginia.
It's no accident that Oct.1 is China's "National Day," marking 62 years since the Chinese Communist Party (CCP) seized power. "They usually put big things on these important dates for the Party," says He Qinglian, a scholar of Chinese media who has written about the Party's external propaganda efforts.
"The impression is that they're presenting a gift to the Party and the government by starting on this date—that was done quite openly," she said in a telephone interview.
MHz Networks will carry two of CCTVs channels—CCTV News and CCTV Documentary—through digital broadcasts and on Verizon and Comcast, 24 hours a day.
The broadcasts and the bureau are part of a long-term, multi-pronged strategy by the CCP to change how China is perceived around the world, according to analysts of Chinese media.
Party leaders want to actively define the terms of discussion about modern China, the Communist Party, and their place in the world, experts say. English-language propaganda on China beamed into the homes of Americans will become an important part of the overall effort, marching in lockstep with the expansion in New York of the Chinese regime's official news agency, Xinhua.
"They want to, through media propaganda, subtly and imperceptibly change people's views of China so they're the same as those of Xinhua and the Chinese government," He Qinglian said. "They want Americans to stop using American values and concepts of human rights to understand China."
This would include, for example, encouraging Americans to believe that "the government's control of media is necessary," she said.
In previous years, the Communist Party's overseas propaganda efforts focused on infiltrating or controlling Chinese media outlets overseas. The lion's share of that work was completed years ago, and now the aim is to influence mainstream views through their own English-language media, Ms. He said.
News Made to Order
CCTV is one of the main propaganda organs of the Chinese Communist Party. Administratively, it is a deputy ministry of the national government, directly subordinate to the State Administration of Radio, Film, and Television, according to that agency's website.
CCTV describes itself as "an important mouthpiece of the Party, government, and people" and "China's important ideological and cultural battle front."
Being the Party's mouthpiece and a battlefront for ideology often trumps truthful reporting. On June 4, 1989, for example, News Simulcast, CCTV's flagship program, reported the massacre of students in Tiananmen Square as merely a group of thugs attacking the Chinese military soldiers.
Another fabricated news item was a clip that showed athletes involved in the Olympic torch relay pretending to make donations to earthquake relief, as a way of encouraging the general public: Another used footage from the movie Top Gun to show supposed Chinese air force training exercises.
CCTV, China's only national broadcaster and a backbone to the Communist Party's system of propaganda and information control, is also culpable for the cover-up of domestic news of significance to public welfare. For example, the SARS scandal in late 2003 was kept from the public until a doctor in Beijing spoke to international media. The story was only reported by CCTV with guidance from the Central Propaganda Department.
Other public health incidents that CCTV followed propaganda directives on include the melamine milk scandal of 2008, when infants drank contaminated milk powder and developed kidney stones, and the Henan AIDS scandal throughout the 1990s, when local officials were found to be exposing poor farmers who donated blood to HIV, infecting hundreds of thousands with the disease.
CCTV also pushes forward political campaigns for the Party, including the persecution of Falun Gong, a popular spiritual practice that became the target of the CCP's wrath in July 1999. "CCTV is the Party's propaganda vehicle to defame Falun Gong and demonize Falun Gong practitioners," said Erping Zhang, spokesperson for the Falun Dafa Information Center.
With marathon sessions of fabricated news stories in the days after the Party's decision to suppress Falun Gong, the channel contributed materially to an atmosphere of hatred and discrimination against practitioners, which ultimately lead to violence and deaths, Zhang said. "This has been going on since 1999."
The D.C. Connection
CCTV's broadcasts in D.C. will take on a more moderate tone than the hard-knuckled form of propaganda that appears on TVs across China.
"There is a difference between external propaganda and internal propaganda," He Qinglian said. "If they used the Chinese approach, they would fail completely. In English, they use a kind of soft-packaging to make it not look like propaganda."
CCTV is establishing a news bureau downtown that is bringing in a fair-sized production and editorial staff with attractive packages. It will field reporters and host programs from the office on 13th street.
Continued on the next page: The "localization strategy" of foreign propaganda