After securing a third term as leader of the Chinese Communist Party (CCP) at its national congress, Xi Jinping ordered the nation's military for the first time to focus on fighting wars.
That remark was made mainly for domestic political purposes, experts say.
Xi said at the Joint Operations Command Center of the Military Commission on Nov. 8 that the entire CCP military should "focus all its energy on fighting wars, work hard on fighting wars, and speed up the improvement of its ability to win to defend national sovereignty and security," according to Chinese official media reports.
He claimed that his visit was to show the determination of his new military commission to comprehensively strengthen training and preparation for war.
"Xi is actually very clear that no country will take the initiative to attack China at present, including the United States," Li Zhengxiu, a military expert at the Taiwan National Policy Foundation, told The Epoch Times on Nov. 9, noting that most countries don't deliberately reveal their military preparations.
"Therefore, he issued such an order while inspecting the Central Military Commission with only one purpose, that is, to spare no effort to maintain the rule of the CCP and its stability in mainland China. His speech is not directly related to other countries."
Li added that Xi's emphasis on war preparation only highlights his vanity as the CCP military's top leader as a warning to his domestic opposition not to challenge his absolute authority.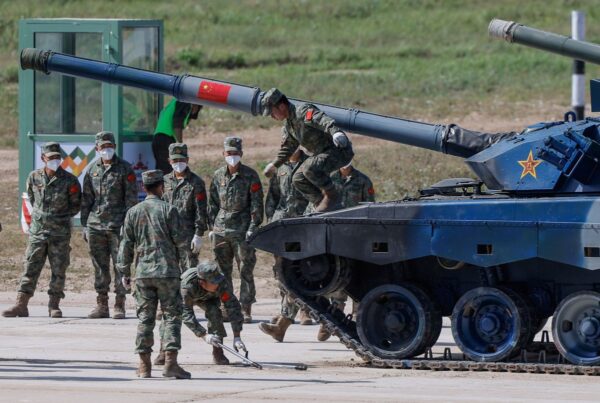 Xi's words are "mainly for domestic politics," Hu Ping, editor-in-chief of Beijing Spring, told The Epoch Times on Nov. 9. "It is to emphasize that military power is in his hands. Of course, it also includes the consideration for the actual preparation for war."
Su Tzu-Yun, a researcher at Institute for National Defense and Security Research in Taiwan, also told The Epoch Times that he sees Xi's war preparation orders as "mainly political demands, because his words have not gone beyond what he said in the past, such as national sovereignty and security."
"We should be cautious, but no need to read too much into it," he said.
Possibility of Invading Taiwan
Xi reiterated at the recent Party congress that he wouldn't rule out using military force to resolve issues with Taiwan, and added "resolutely opposing and containing Taiwan independence" into the Party Constitution. Meanwhile, the outside world has been analyzing the possibility of a CCP military invasion of Taiwan.
Li believes Xi is bluffing "because if a full-scale war really broke out, with the current strength and experience of the CCP's military, it would be difficult to compete with the U.S. military, which has actual combat experience."
Su said the CCP isn't likely to take military action against Taiwan in the short term "because Xi has just entered his third term and, amid internal instability, the probability of failure when taking military action is very high."
"However, it's precisely because of the serious internal instability that he wants to hype up the issue of invading Taiwan to unite the CCP," Su said.
Ning Haizhong and Luo Ya contributed to this report.