The CCP virus outbreak in Hebei Province continues to worsen as two hospitals reportedly had large numbers of medical staff members who have tested positive for COVID-19, the disease caused by the Chinese Communist Party virus.
Meanwhile, authorities detected a superspreader in Jilin Province and scrambled to find all those who were in contact with the person in recent days.
Public transportation throughout the provinces of Heilongjiang, Jilin, Liaoning, and Hebei, as well as the Beijing and Inner Mongolia regions were suspended. Over 50 million people are currently under some form of lockdown.
Hebei Province
In a phone interview, Amy Wang, who currently lives overseas but is originally from Gaocheng district, Shijiazhuang city—a current virus hotspot—recalled that her family members informed her that many medical staff at the Gaocheng People's Hospital and Gaocheng Chinese Medicine Hospital were diagnosed with COVID-19.
She asked that her current location information be withheld, for fear that her family members still living in Gaocheng could be punished by authorities if they found out about her speaking to the media.
"If one doctor or nurse is diagnosed, the whole department that he/she works in would be closed quickly and all patients would be removed to a quarantine center," she said.
The Epoch Times was able to contact several patients at the Gaocheng People's Hospital, who confirmed that they were removed from the facility and taken to quarantine centers. But the hospital didn't explain why they were being removed.
"Don't come to visit our hospital. Our situation is very bad now," a hospital telephone receptionist told The Epoch Times. The person declined to elaborate, only noting that the facility lacked the capacity to treat any more patients.
Calls to different departments of the Gaocheng Chinese Medicine Hospital went unanswered.
Meanwhile, a copy of an internal Hebei government document, issued on Dec. 4, 2020, that details emergency plans to respond to an outbreak was obtained by The Epoch Times. Marked as "not for public disclosure," the document, from the Office of the Hebei Leading Group for Response to the Epidemic, laid out three possible scenarios for a potential surge in COVID-19.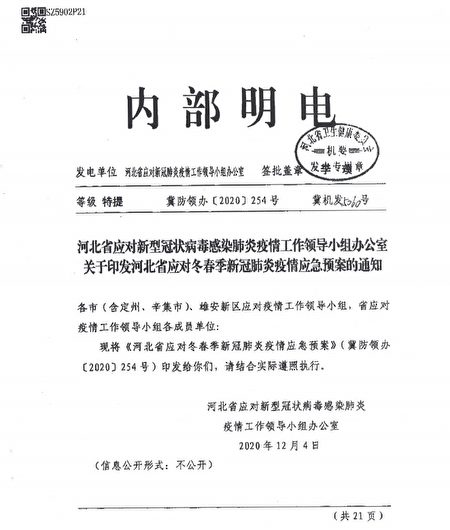 Scenario 3 was the most serious, which would be community spread occurring in the main urban areas of two or more major cities of the province.
Despite the document describing prevention measures, today's outbreak already has the characteristics of the third scenario—with Shijiazhuang and Xingtai experiencing upticks in cases.
A second document issued by a special Shijiazhuang team in charge of traffic rules during quarantine, dated Jan. 5, detailed "three lines of defense" to block travel and set up security checkpoints in different parts of town, focusing on areas with cluster infections, bus stations, and railway stations.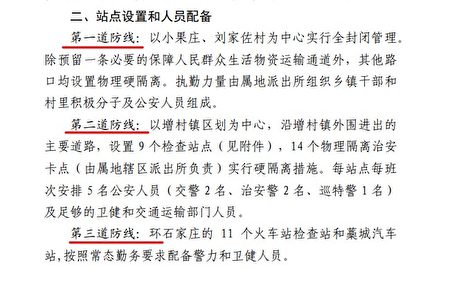 While those measures were meant to isolate infections and prevent COVID-19 from spreading, the outbreak continues to advance beyond city borders and into other provinces and regions.
Restrictions
Zhang Ying (pseudonym) is studying at a training school in Shijiazhuang with over 4,700 students.
She said the school recently told all students to go home, but all public transportation has been suspended in the city due to the lockdown. As a result, over 2,700 students are currently stranded with nowhere to go.
"It has been over ten days. No teacher or government official is taking care of us," she said.
Others are worried about the safety protocols during mandatory mass COVID-19 testing.
Guo Lifang said when she went to a hospital in Beijing to get tested, the doctor picked up a swab from the table, and it was unpackaged.
"You don't know what's on the swab after being exposed in open air," she said, worried that the swab might have come into contact with the CCP virus.
Locals in other Chinese cities mentioned that medical staff did not change their gloves after taking a swab from each person.
Superspreader in Jilin
Chinese state-run Xinhua reported on Jan. 17 about a superspreader, a 45-year-old man surnamed Lin, who had transmitted the virus to at least 102 people in the province. Lin is a lecturer on healthy eating habits and travels frequently to give lectures on behalf of different health food companies.
According to the Jilin provincial health commission, Lin contracted the virus from infected passengers who sat in the same train car while traveling on Jan. 5 to Harbin city, the provincial capital, from Nancha county in Heilongjiang Province.
Xinhua reported that Lin also visited Gongzhuling, Tonghua, and Changchun cities in Jilin Province and several other cities in Heilongjiang by taking buses and trains. Authorities said the people who attended Lin's recent lectures in Jilin came from different parts of the province.
Jilin officials are treating him as a superspreader and plan to isolate any of his close contacts at quarantine centers.
On Jan. 17, at least 17 neighborhoods in Changchun, Tonghua, and Gongzhuling were designated as "medium-risk regions" for virus spread and were fully locked down. Residents aren't allowed to leave their homes at all.
Alex Wu contributed to this report.