Catharsis, Romance, and Good Advice
It all happened at the Fashion Institute of Technology's 2014 Graduation Ceremony
May 28, 2014 12:05 pm Last Updated: May 28, 2014 11:22 am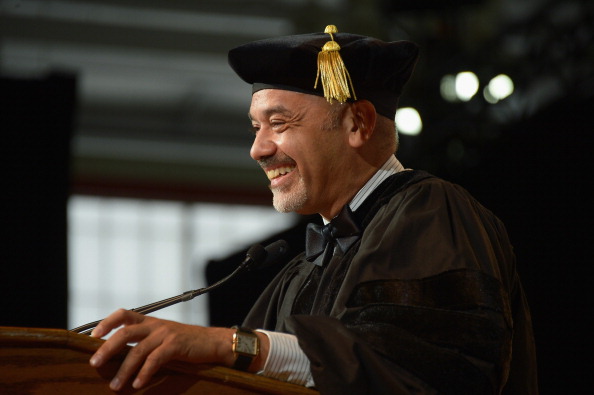 NEW YORK—Graduation ceremonies follow a certain time-honored pattern. There are the speeches, of course, and the seemingly endless parade of students stepping up to receive their diplomas. The Fashion Institute of Technology's 2014 graduation, also known as the "Commencement Ceremonies" had all that, and something extra.
Media representatives were invited to cover the event that included cosmetics executive Bobbi Brown and shoe designer Christian Louboutin as keynote speakers, so how could we refuse?
An unlikely speaker stole the show quite early in the day, and proved to be a hard act to follow.
The perky and probably over-caffeinated student association president, David Hamilton, had many words of wisdom in his remarks to the graduates. Among them was a passage from "The Alchemist" on the nature of love; no, not love for one's profession, or passion for creation—this was all about the love between two kindred spirits.
The looks on faculty members faces grew increasingly confounded, though patiently restrained, as Hamilton read the passage that made us feel like we were part of a book club with unusually numerous members. With a final flourish, all was revealed as a masterful plan in which Hamilton proposed to his girlfriend. We later learned that she did accept.
As inspirational as the rest of the speeches were, all eyes were poised on makeup magnate Bobbi Brown who was due to speak and receive an honorary degree.
When her turn came, Brown took the proverbial bull by the horns and, in a tough but maternal tone, shared her five pillars of success: "do what you love, more doing and less thinking, work hard but work smart, have no fear, and just be nice."
As the founder and chief creative officer of Bobbi Brown Cosmetics, she revolutionized the whole idea of makeup and beauty by following her belief that women can look beautiful and natural at the same time with makeup that doesn't mask but enhances a woman's natural beauty.
She recounted how in the 1980s, when she started out, the makeup style was to have very pale skin, red lips, and contoured faces—something that never made sense to Brown.
She was told by a very well-known makeup artist that if she is to be successful, she must conform. Instead, Brown followed her instinct and did what felt right. "I made the girls look natural, pretty, and fresh."
Brown talked about how she had to work as a waitress to make ends meet when she moved to New York but stuck to her passion. "If you always worry about what you want to do, you won't do it. Don't overthink it, just do it," she said.
Her brand was launched with Bobbi Brown Essentials, a handful of 10 brown-based lipstick shades created to fill a void in the market of simple, flattering, and wearable makeup.
"For me it wasn't that I was confident—I wasn't, I just was really naïve. I never thought it wouldn't work. I still don't think my crazy ideas won't work and if they don't, oh well, I'll do something else."
Eight books later and with her brand in more than 60 countries, she is clearly doing everything she dreamed of and more. She was also recently named editor-in-chief of "Yahoo! Beauty."
Brown did give one sobering piece of advice that may be far from the graduates' minds but would do well to heed. She said: "Nothing is handed to you and nothing is easy. You're not owed anything. No task is too small or beneath you. If you want to get ahead, volunteer for the jobs that no one else wants to do and do it better."
Now for Shoes
Next, all hearts were aflutter in anticipation of the afternoon's guest speaker—French shoe designer Christian Louboutin.
"I wonder what he'll think of my shoes?" must have crossed a few graduate minds. Or was it just me?
Christian Louboutin whose namesake brand was ranked the most prestigious luxury shoe brand in a survey by the Luxury Institute in 2008, was standing right in front of us. And we were all eyes and ears.
Was he going to talk about how he pushed the limits of how high a heel can go, or his passion for shoemaking that he started at the age of 12?
Louboutin is not just a shoe designer but living testimony to the fact that being flamboyant and eccentric, as well as pragmatic in business are not mutually exclusive concepts.
He turned out to be a candid speaker, both shy and mischievous at the same time.
His talk was a meander through periods of his life as well as thoughts on friendship, freedom, and leaving doors open—his tenets for living a good life and becoming a successful designer.
Contrary to advice he received when he started out, Louboutin talked about how for the first eight years after launching his brand, he slept where he worked and there was not even a shower in the studio. Another piece of advice he defied was to never work with friends. Louboutin is still working with his two best friends after 23 years.
He told the students that he values his freedom to the point that even looking at his French passport makes him happy, because it means that he go anywhere. On a deeper note, the extension of that idea is that his vision for shoe design is never compromised and he owns his own company.
He is known to have turned down immensely lucrative licensing deals on everything from cars and glasses to swimwear and ready-to-wear, as he does not want his name to be one that can be licensed.
"If you have to listen to something, it is your inner timing—this is what counts if you want to do something," he said.
He also told the FIT graduates that their age still allows them to explore career paths. He cited his own two-year detour into garden design, when he had had enough of designing and making shoes. It came after 13 years of making shoes, starting at the age of 12. Although he went back to shoemaking, Louboutin's work in gardening turned out as inspirational and fueled his creativity.
"Do not necessarily pursue a very specific goal, be more supple and enjoy the process of everyday. It is the journey of all these 'every' days that will constitute your career. Not a precise target," he said.
He reminded the graduates that an achievement per se is not one day in the future, but the sum of all the moments during which they learned and nourished their passion.
"One needs to live well and love well in order to then create some desirable element which will show passion. But what you unveil and share with the world must be a passionate message," Louboutin said. "So, live your passion—something you like so much that you cannot not share it with the rest of the world."