Canadian Opera Company's Spring Season Showcases Diversity
The COC's general director shares insight into the opera world
April 18, 2013 9:15 am Last Updated: April 18, 2013 10:05 am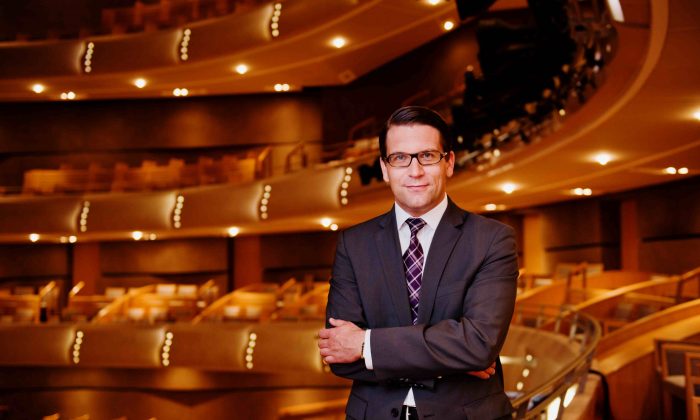 The Canadian Opera Company (COC) is off to a busy spring season with three largescale operas gracing the stage from April 17 to May 25: Donizetti's gothic tragedy "Lucia di Lammermoor," Richard Strauss's dark and sensual "Salome," and Poulenc's spiritual work "Dialogues des Carmélites."
"When you do a season, you always want to create a balance of repertoire—different styles, different periods, different languages, and also the different production styles," says COC general director Alexander Neef in a phone interview from his Toronto office. 
He said one aspect that the three operas have in common is that they have not been performed by the COC for at least 10 years. 
Neef explained what makes each of the spring productions unique.
"'Lucia [di Lammermoor]' is probably the most famous bel canto piece—bel canto means beautiful singing. In the case of Lucia, it's very lucky Donizetti, the composer, succeeded to combine the beautiful singing with a powerful dramatic story," he said.
"'Salome' is one of the big classics of 20th century opera. It's extremely sensual music and very powerful singing. And the production we're doing is by Atom Egoyan, the famous movie director, and he has a very personal way of telling that story that makes it very relevant for us today. It's great.
"'[Dialogues des] Carmélites' is one of the most spiritual and moving pieces of the repertoire. It's the story of a group of nuns during the French Revolution that get caught up in the troubles of the revolution and eventually go to the guillotine. It's extremely powerful and moving."
Reaching out to the Public
In recent years, the advent of filmed operatic productions (such as those of the MET) has given audiences more opportunities to be exposed to opera. This works well, especially for those in remote areas. However, it cannot replace the experience of being in the audience of a live opera, said Neef. 
"There's a lot going on between the stage and the people in the auditorium. It can change the dynamics of a performance substantially according to how the public reacts and how they follow. It can give the singers a lot of energy or it can make them work much, much harder if they feel there's no connection."
The COC has embarked on a mission to attract audiences to the opera house and also to go out in the community to reach out to new audiences, especially young people, through education and outreach programs.
Neef said some people have the misconception that one needs to be knowledgeable about opera to enjoy it, but that this has been proven wrong when introducing it to young children. 
"They usually get it immediately," he said.
"It's a fairly complicated medium," Neef added. "It's visual, it's text, it's singing, it's an orchestra, it's a big thing. But I think the earlier we can expose young people, the more normal that it will become for them as something they like to do."
'Totally entranced'
He said the opera has a repertoire of many stories with beautiful music to choose from, and this can be appealing to young children.
"Usually they're totally entranced," says Neef of the children's reaction when the COC goes to schools to perform children's operas.
"Usually kids immediately get what this is all about. It's very beautiful to see. Kids from all kinds of cultural backgrounds connect to music theatre performance. We do a school version of 'Hansel and Gretel,' and they scream and yell and clap. They get really excited."
However, he does admit that parents need to be wise in choosing how to introduce their children to the opera.
"I have a 6-year-old daughter—I wouldn't take her to 'Salome.' I'm just debating with myself if I should take her to 'Lucia'" he said with a smile. 
"But I'm definitely going to take her to 'La Bohème' next season, and I'd always take her to 'Magic Flute' or 'Cinderella.' 
"There's a lot of great entry pieces for children," he adds.
Neef advises those who are reluctant, to try the opera. "I think it's very, easy to connect to opera if you give up your fear, and just try it out. Walk in there and try it out."
For more details on the COC's spring season and the upcoming 2013-2014 season, visit coc.ca