Canadian Fathers Want Quality Family Time for Father's Day
June 17, 2010 4:20 am Last Updated: June 17, 2010 11:33 am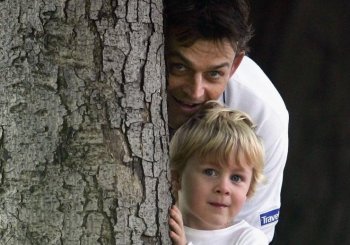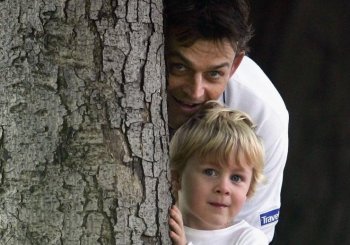 OTTAWA—With Father's Day just around the corner, the question of what to give dad is on the minds of many Canadian families. While looking for gift ideas, recent studies show that families may not need to look very far.
While a Statistics Canada report released this month says that today's dads are more involved in raising their children than the previous generation, a recent survey suggests that the vast majority of fathers in Canada simply want quality time with family as a Father's Day gift.
The survey of more than 850 Canadian fathers found that 80 percent just wanted quality time with their families for Father's Day—more than any other gift category. Results of the survey, commissioned by Future Shop and conducted by Leger Marketing, also suggested that 82 percent of women would prefer to give good quality time with family as a gift.
Meanwhile, "Making fathers 'count,'" a Statistics Canada compilation of results from a collection of studies done in recent years, summarized that both the representation of fatherhood and how it is practised in daily life have changed.
"Once considered only an authority figure and a breadwinner, today's father actively participates in the day-to-day care giving and emotional support of their children," said the report.
It notes that this has come about from major socioeconomic changes: "more people spending more time pursuing higher levels of education; weaker marital ties (with common-law unions becoming more common and marriage losing popularity); and increased participation of women in the labour force."
Research on parental involvement with children in recent years suggests that today's fathers are more involved with their children than their own fathers were with them, including during pregnancy, labour, childbirth, and children's early growing years.
Noting that fathers come in many forms, including biological fathers, adoptive fathers, stepfathers, lone fathers, and fathers who don't necessarily live with their children, the StatsCan report gave a number of snapshots of the current situation of fatherhood in Canada.
Just as the overall population is aging, the average age of fathers is rising, said the report. While it was 39.8 years in 1995, it jumped to 41.6 in 2006, an increase of 1.8 years over the study period.

Another finding is that fatherhood is starting later in life.
Over the past 20 years, the fertility rate of Canadian women in their twenties has dropped, while that of women in their thirties has steadily risen.
Similarly, the average age of fathers on entry into fatherhood increased from 27.8 to 29.1 between 1995 and 2006. This includes fathers who entered into fatherhood with the birth of their first child, or through adoption, becoming a step-parent, or other means.
And while almost all children were born to and grew up with married parents 40 years ago, today many are either born outside of marriage or experience parental divorce at young ages.
Most fathers today are married, but the proportion of unmarried fathers—in common-law unions or without a spouse—has increased, especially in Quebec.
Nearly 40 percent of Quebec fathers were living common-law in 2006 compared to 26.4 percent in 1995. In other provinces, nearly 11 percent of fathers were living common-law in 2006 compared to 8.6 percent in 1995.
The report also said that in 2006 fathers were more likely to be the head of a lone-parent family than in 1995, due to separations and divorces becoming more common.
In addition, according to Statistics Canada's "Father's Day…by the numbers" webpage last updated on June 8, Canada had 8.1 million fathers in 2006, and 3.7 million fathers with children under 18 living with them, including biological fathers, adoptive fathers, and stepfathers. For mothers, the figures were higher at 9.2 million and 3.9 million, respectively.
The webpage also showed that men and women spent less time with family members on workdays in 2005 than in 1986. Men spent 250 minutes in 1986, with the figure dropping to 205 minutes in 2005. Women spent 248 minutes in 1986 compared with 209 minutes in 2005.
As for other Father's Day preferred gift ideas, 55 percent of the fathers in the Leger survey chose new electronic gadgets, 49 percent said they wanted a day off from household chores, and 49 percent said they would like new clothes. Sports items, home renovation tools, and movies were other gifts ideas selected by at least 40 percent of the fathers surveyed.