WASHINGTON—President Donald Trump and Canadian Prime Minister Justin Trudeau repeatedly stressed their commitment to working together after their first face-to-face meeting Monday.
The neighboring leaders, who stand at opposite ends on the issue of globalization, took two questions—one on immigration, the other on the North American Free Trade Agreement (NAFTA)—during a joint press conference.
Trump gave Canadians some assurance that his plans to overhaul NAFTA were primarily aimed at the trade deals southernmost partner.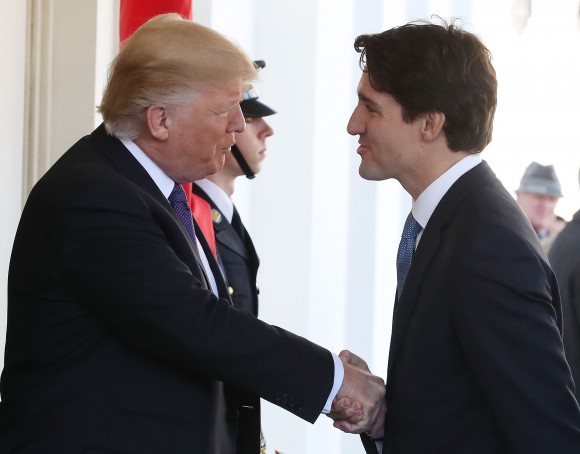 "We have a very outstanding trade relationship with Canada. We will be tweaking it, we will be doing certain things that are going to benefit both of our countries," said Trump.
"On the southern border, for many many years, the transaction was not fair to the United States. It was an extremely unfair transaction."
Relations between the two countries are crucial, as more than 75 percent of Canada's exports go to the United States, while 18 percent of U.S. exports go to Canada. There are fears among Canadians that they could be hurt as Trump targets Mexico in a re-negotiation of NAFTA.
Trump downplayed any issues with the Canada-U.S. trade relationship, saying it was "much less severe" than with Mexico.
The two emphasized their shared goals. Trump pledged to work with Canada "in pursuit of our many shared interests." Trudeau spoke of a special bond and the "deep abiding respect" between the two countries, though he also said that "relationships between neighbors are pretty complex."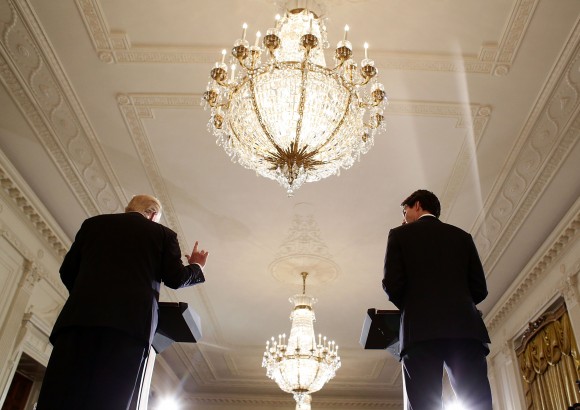 Their contrasting views were also on display. Responding to questions from reporters, Trump defended his refugee and immigration orders, saying that "we cannot let the wrong people in." Trudeau, on the other hand, said Canada continues to "pursue our policies of openness."
Trudeau said the two countries have differences in their approaches and that has always been handled "firmly and respectfully."
"The last thing Canadians expect is for me to come down and lecture another country on how they choose to govern themselves," said Trudeau.
At a roundtable discussion with female executives from the United States and Canada, Trump and Trudeau announced a task force focused on women in the workforce. Trump said it was important to ensure the economy is a place where "women can work and thrive."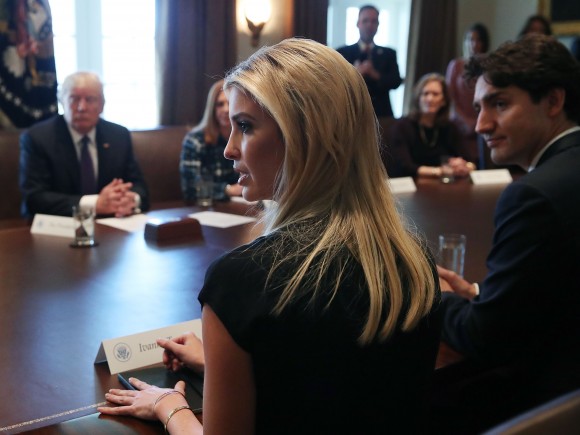 Trump's daughter Ivanka was in attendance at the meeting and helped recruit participants and set the agenda.
A Canadian official said Trudeau's administration had suggested the task force, because the prime minister considers the issue of working women an important part of his agenda and economic growth plan.
"It's a smart thing if Canada proposed this," said Nelson Wiseman, a professor at the University of Toronto. "It takes attention off of NAFTA. And from Trump's point of view, it contributes to softening Trump's image."
Roland Paris, a former senior foreign policy to Trudeau, said the prime minister needs to build a relationship with Trump to ensure Canada is not shut out economically.
"The overriding priority will be for Canada to maintain secure and reliable access to the U.S. market and the supply chains that crisscross the border," Paris said.
Trudeau has been preparing for the Trump meeting for months. He will also meet with legislative leaders on Capitol Hill.